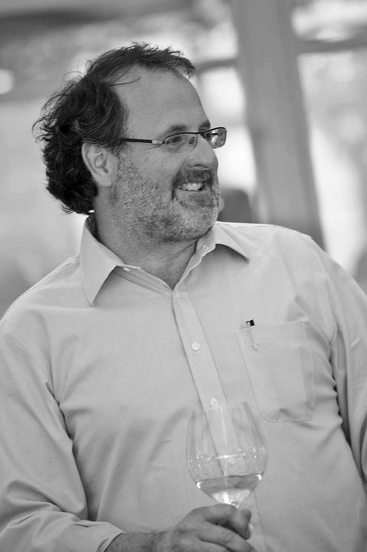 Owner Jeff Gaffner (yes almost the same last name as mine) made 210 cases the first year after leaving Chateau St. Jean where he spent 15 years. At Chateau St. Jean he started out as a cellar rat, rising to enologist before leaving in 1997 to become operations manager for Beringer. He started Saxon Brown while at Beringer. Saxon Brown is now thriving, and Jeff has to laugh about the old days. Besides Pinot Noir, he makes a Semillon (from Alexander Valley) and Zinfandels (from Sonoma Valley), for a total of 2,500 cases annually. I had a Saxon Brown Pinot Noir in the late 1990s that I thought was terrific and have kept the winery in my radar ever since.
Jeff christened his brand after Jack London's willful heroine in the novel The Valley of The Moon. He identified with a male version of Saxon Brown, a rags-to-riches type who persevered.
Jeff concentrates on site-specific, vineyard-designated Pinot Noir and Chardonnay, and in 2016 was producing 14 different releases from various vineyards.
A second label, Etre, offers exclusively unoaked Chardonnay from the Sonoma Coast.
Jef is a consulting winemaker for Ram's Gate and Black Kite in Sonoma, as well as Napa's Xtant and Stephanie. He doesn't employ assistants, preferring to stay tightly connected to his wines, although he has a business partner, Tracey Walker, who oversees marketing, sales and distribution.
Saxon Brown Winery address is PO Box 1832, Sonoma, CA 95476. The phone is 707-939-9530. The wines are sold through a mailing list with some retail distribution. Jeff is also the winemaker at Black Kite Cellars in the Anderson Valley.