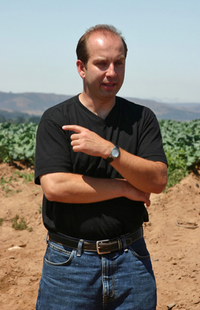 Paul Lato is a Polish-born professionally trained and educated sommelier who first visited California's Central Coast in 1996 on the invitation of Au Bon climat's Jim Clendenen. Clendenen told him, "You don't need to read any more wine books. Just come out and work for me one harvest and you will understand how this works." After three months with Clendenen, he returned to Canada where he was a sommelier for Toronto's best restaurant, and worked for six more years in the wine trade until he was ready to make a permanent move.
In 2002, he decided to follow his dream to make wine and returned to California's Central Coast. He brought all his savings (which wasn't much), and his life folded into two suitcases. He had plenty of passion, a little craziness, and considerable innocence, convinced he could actually become a successful winemaker. In fact, above all, the motivation for Paul is passion.
Bob Miller, the late co-owner of Bien Nacido Vineyards, gave Paul a job as a $10-an-hour cellar rat, and let him stay for free in a bunkhouse at the vineyard. Miller also encouraged Paul to make his own wines. During the long harvest days, he watched many experienced winemakers at work and asked many questions.
Starting with the 2002 vintage, he made six barrels of wine. By chance he met Robert Parker who said, "I hear you are this sommelier who makes wine. I want to taste it." Paul sheepishly told him he had only three barrels of Pinot Noir and three barrels of Syrah. Parker said, "You are starting with the hardest grapes to vinify. But don't worry about it. I'm a wine taster and I taste everything. But, if its shit, I'm going to tell you."
Parker was impressed with the wines and as he jotted down notes in his black book, he asked Paul, "What is the name of the winery?" Paul said he had not decided. Parker responded, "You have a tremendous talent. Hurry up with the name, because I want to be the first one to write about your wines." To this day, Paul says, "If I live another 100 years, I will never forget that. It brought tears to my eyes."
He has grown slowly, crafting under 500 total cases of Pinot Noir and Syrah, but gaining a reputation, and consequently having more and more access to fine vineyards. His distant mentor has been the late Henri Jayer of Burgundy and the Chave family of Rhone, and admires the older style of Williams Selyem wines as well. He found the road to success to be brutally hard, but without Parker's blessing of the first vintage, he might not have survived.
The first year, he stayed in several friends' places, and one friend invited him to live in his house, knowing he had no money for rent. In one of his darkest moments, a helpful call came from Thomas Keller, who said he loved Paul's wine and wanted it for the French Laundry. Somewhere along the way, he also discovered the writings of Joseph Campbell, and took to heart his reassurance that pursuing what you love is what matters most in life. Throughout his first ten years, many people gave him a helping hand when he needed it most. Many days he had enough gas to get to work, but not enough to drive back home. And every time, someone would show up and ask to buy a bottle or two of my wine. Paul's independent spirit forbade him from taking on investors.
Paul tastes with Parker annually and he found him to be a great taster with an incredible sense of humor. "As a critic, he wants to bring new stars up, rather than break established ones."
Paul Lato wines are sold through a mailing list with very limited retail distribution. He is not as well-known now as he should be, but very knowledgeable pinotphiles, including myself, sing his praises. His Pinot Noirs are sourced from several premium vineyards, including Gold Coast, Fiddlestix Vineyard, Solomon Hills, Zotovich, and Pisoni. He is married to Pinot Noir, but also maintains a friendship with Chardonnay and Syrah and all varietals are top notch.
Paul is aiming for an ultimate production of 2500 cases annually. At some point, he would like to have an estate vineyard.