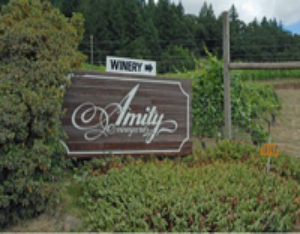 Myron Redford became interested in wine at a young age working at Washington's Associated Vintners (now Columbia Winery). He bought a small vineyard in Amity, Oregon in 1974 and had his first vintage in 1976. He released a Beaujolais Nouveau-style Pinot Noir in 1977. He was part of the first wave of pioneering vintners in Oregon's Willamette Valley which included David Adelsheim, Dick Erath, David Lett and Dick Ponzi, and was one of the organizers of the first International Pinot Noir Celebration. Redford introduced a Gamay Noir varietal-designated wine to Oregon in 1988 and debuted sulfite free wine from organically grown grapes in 1991. He also has been a proponent of Pinot Blanc over Chardonnay in Oregon.
Redford and Viki Metle met in 1980 when Wetle visited the winery to participate in a harvest party. Redford's mother invited her to stay for dinner and she never left. The harvest party has remained an annual tradition since 1978 and centers on a small block of estate Riesling.
Redford farmed 15 acres of vineyards and had contracts with many family growers in the Willamette Valley. He adhered to organic practices in his vineyard and was a respected veteran vintner who oversaw a 10,000 case production of 17 wines including Pinot Noir, Pinot Blanc, Gewürztraminer and Riesling. The Pinot Noirs included an Amity Cuvée, Willamette Valley, "Eco" Pinot Noir, Estate, Winemaker's Reserve and a few single-vineyard offerings.
Darcy Pendergrass, who was Redford's assistant at Amity since 2001, became the winemaker in 2008 with Redford in a senior consulting position. As Redford's protege, Pendergrass upheld his winemaking traditions including minimal manipulation and limited oak aging.
Redford was an advocate of little or no new oak in vinifying Pinot Noir and his early Pinot Noirs were somewhat austere and acidic. In recent years, he has embraced more modern tastes and his Pinot Noirs show more extraction, ripeness and less acidity. His white wines have always been lauded for their purity and vibrancy.
In 2014, Amity Vineyards transitioned ownership from the founders to Ryan Harms, the owner of Union Wine Company. New packaging gives a nod to the pioneering spirit of the founders while speaking to the modern folk culture of today. The creation of sleeping decks scattered throughout the property is part of the new owner's attempt to create unique ways for the modern nomad to connect to Amity Vineyards. The new owner is focusing on introducing the new Amity Vineyards wines to more consumers and expanding distribution. A sparkling wine program was launched with the first release planned for 2017.
Amity Vineyards is one of the few Oregon wineries to have a tasting room open year round. The wines are available on the website as well. 18150 Amity Vineyards Rd, Amity, OR (Yamhill County). 503-835-2362.