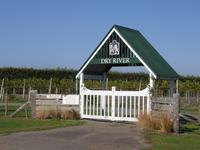 Dry River was the name of one of the oldest Martinborough sheep stations in New Zealand, dating to 1877. It was later renamed Dyerville, and it was near here in 1979 that Neil and Dawn McCallum planted a vineyard. This area has come to be known as the Martinborough Terrace, a gravelly, free-draining area within the lowest rainfall zone in the North Island, located just across the Huangarua River from Te Muna. The Martinborough Terrace appellation has the lowest rainfall on the North Island, a cool-climate appropriate for growing Pinot Noir, and free-draining gravelly soils. There are now more than twenty-five labels originating from this special terroir. In 2002, the winery and 30 acres of vineyards were sold to New York businessman Julian Robertson and California winegrower Reg Oliver who owns El Molino Winery in St. Helena, California. The new owners have infused cash into the operation for expansion and updated equipment. Neil McCallum continues as Chief Winemaker with Katie Hammond assisting. Reg Oliver passed away in 2005 so I am not sure about the current ownership situation.
Two features of vineyard management at Dry River contribute to the style here. No irrigation is employed, despite the low rainfall, causing roots to go very deep for nutrients, stressing the vines, and producing small berries with concentrated flavors. Secondly, crop thinning at veraison is employed to severely limit yields. Neil McCallum makes no apologizes for his resulting style: "My suspicion is that New Zealand and cool maritime climates could have a large impact on the world perception of what Pinot Noir is capable of, although it will take some time before the new styles are completely accepted because Burgundy has been center stage for so long. Our own terroir can yield a predominance of plump, exuberant fruit flavors - to a fault in some instances, but they can also be rich and complex varietal statements. Add concentration and longevity to this, and great wines are possible."
The Dry River Pinot Noirs are sold mainly by mail order with a small proportion are exported to the United States. One source is Southern Hemisphere Wine Center.