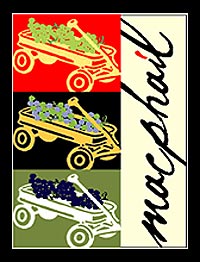 MacPhail Pinot Family Wines was founded in 1998 by James MacPhail with the sole passion to handcraft Pinot Noir from premier North Coast appellations. The inaugural Pinot Noirs were released in 2002.
MacPhail is a native son of Marin County in a family with roots dating to the 1880s. He has had a broad range of interests including dairy farming near Tomales Bay as well as ventures into appliances, building materials and natural gas. He became an accomplished classical pianist and bagpiper and in 1983 became the youngest swimmer to swim across the Golden Gate, and remains a nationally ranked Masters Class competitive swimmer.
After a short career in hospitality, he learned winemaking under Merry Edwards, Gary Farrell and Greg La Follette and quickly focused on Pinot Noir. He was the founding winemaker for Sequana Vineyards in 2007.
The wines are handcrafted in small lots by MacPhail at a 5,000-case winery in Healdsburg. The style is rich and ripe and reflective of Merry Edward's Pinot Noirs. Grapes are sourced from various well-regarded vineyards in the Sonoma Coast and Anderson Valley.
In 2011, a "Home Girl" Pinot Noir was introduced which is a blend of each of the winery's eleven Pinot Noirs. Mailing list members only, reasonably priced at $29.
The wine's label features a childhood wagon that captures the simple joy and sense of a loving family, a value that guides MacPhail's life. His daughters played in the same wagon his sister and he played and he still cherishes it today.
The wines are allocated through a mailing list with some national distribution. The wine label and marketing program are very eye-catching, and the wines do not disappoint, especially after a few years in the bottle when they really shine. Production has been just under 5,000 cases of Pinot Noir.
MacPhail Family Wines and Sequana Vineyards became part of The Hess Collection in 2011 with MacPhail remaining as the winemaker for both labels.
The winery, at 851 Magnolia Drive in Healdsburg is open by appointment Monday - Saturday. A new tasting room is planned for The Barlow in Sebastopol.
A small, hands-on project was launched by the MacPhails with the 2013 vintage called Tongue Dancer Pinot that are sold through a mailing list.