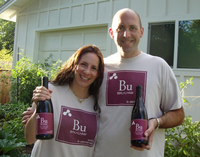 A new label beginning with the 2008 vintage, Bruliam (the tagline is "Wine is Elemental" - with wine elemental in the life of the husband-wife owners) is the project of two wine enthusiasts, Kerith and Brian Overstreet. Brian is the CEO of fast-growing Sagient Research Systems. Kerith is a medical doctor who started out in general surgery, moved into pathology, and finally left medicine to raise a family of three kids. She did not discard her scientific background completely, using it to become a winemaker.
Bruliam is an amalgamation of their kid's names (Bruno, Lily and Amelia)
The first release was a Pinot Noir from the Santa Lucia Highlands (Annahala Vineyard) crafted at Crushpad in San Francisco. In 2009, Bruliam added Pinot Noirs from the Sonoma Coast and the Anderson Valley and moved production to a winery in Healdsburg. The Overstreets have relocated in 2011 from their home in La Jolla (Kerith lived in La Jolla since 1978) to Healdsburg to be closer to their wine venture. With the 2010 vintage, a Pinot Noir was released from the new Sierra Mar Vineyard in the Santa Lucia Highlands. In 2012, the Overstreets acquired the small Two Sisters Vineyard in the Russian River Valley which has old plantings of Martini clone.
The winery's blog is very informative and has documented the creation of this winery from its earliest beginnings. Cool label too.
The wines will be sold through a mailing list and all proceeds will be donated to the Overstreet Family Foundation with multiple beneficiaries. The Bruliam Pinot Noirs may be purchased online. A Zinfandel was added in the 2009 vintage.