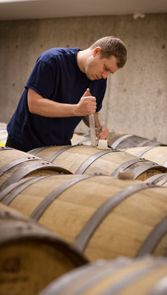 The Maresh family has had a long and memorable presence in the Dundee Hills of Oregon. I spoke with Martha Maresh and she detailed the family history. Jim and Loie Maresh were Wisconsin natives who met as students at Marquette University. The two bought a 26-acre farm in the Dundee Hills in 1959. They expanded their holdings to 140 acres while Jim worked for Dunn & Bradstreet and served as a reserve officer in the Navy in Portland. Originally theirs was the only home on their hill and they enjoyed the life of farming cherries, nuts and prunes. In 1969, David Lett had the only vineyard in Yamhill County. At the time, Dick Erath suggested to the Maresh family that they had a superior site for growing grapes. In 1970, they followed his suggestion and planted three acres of vines. This was the first vineyard on Worden Hill Road and Oregon's fifth oldest vineyard.
Jim and Loie had five children. One daughter, Martha, married Fred Arterberry who was one of the first Oregon winemakers to have a degree from University of California Davis. Arterberry was well known in wine circles in Oregon and produced many award-winning wines. Martha and Jim had a son, Jim Arterberry Maresh. When the eldest Jim died, Martha remarried but kept the last name Maresh.
The Maresh estate now consists of 124 acres of several varieties including Pinot Noir and Chardonnay. About half the grapes (600 cases) are vinified as Red Barn Pinot Noir. This wine has been made by several winemakers through the years (the Maresh's traded grapes for wine) and sold only through the Red Barn tasting room. The remainder of the grapes Pinot Noir have been sold to Daedelus Cellars, et Fille, Scott Paul, and Sineann. Rex Hill produced a Maresh Vineyard Pinot Noir for many years until the winery was sold a few years back.
Jim Arterberry Maresh is only twenty-seven years old (in 2011), but is already becoming touted as the "Best Young Oregon Winemaker" in an article at www.avalonwine.com. His father's label, Arterberry Cellars, disappeared when Fred died. Jim began "messing around" making wine in 2001, and in 2007 he revived the label as Arterberry Maresh, releasing his inaugural wines from the 2005 vintage. He may qualify as the first to represent a third generation in Oregon's wine industry.
Jim Arterberry Maresh made his wines at Torri Mor initially, but now has his own winery in the Dundee hills on the Maresh property.
James draws from his grandfather's vines at Maresh Vineyard as well as many other highly regarded vineyards in the region such as Juliard, Winderlea and Weber. His 2006 Pinot Noirs are quite impressive and three of them are reviewed in the PinotFile. The aromatics and elegant style are especially notable. Subsequent vintages have been solid but not extraordinary. All wines are hand-crafted and spend 18 months in barrel. New oak is kept to a minimum.
The signature wine is from own-rooted old Pommard and Wädenswil vines at Maresh Vineyard.
Arterberry Maresh wines are sold through limited retail distribution within Oregon. Avalon Wine Co. is a source (http://avalonwine.com/Arterberry-Maresh-Cellars-2006-Wines.html). 503-434-7689. You can reach Jim Maresh through the website at www.arterberrymaresh.com.