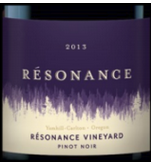 Kevin and Carla Chambers originally farmed the 20-acre Resonance Vineyard biodynamically (Demeter certified) and made the wine at Carlton Winemaker's Studio under the corporate name of Reed & Reynolds. For nearly 20 years, the Chambers sold all of their grapes to other wineries (inlcuding Sineann, LaBete and Lemelson), but starting with the 2006 vintage, they held back 14 tons of their Pinot Noir harvest and started producing wine under their own label. They kept about 50% their production for their own Resonance Vineyard label and sold the other half to winemaker Peter Rosback of Sineann and Brian Marcy of Big Table Farm.
Kevin and Carla own Oregon Vineyard Supply and Results Partners, a vineyard management and development company that farms over 800 acres of vineyards in the northern Willamette Valley. Kevin was named Oregon Wine Industry Man of the year in 2005.
The 20-acre Resonance Vineyard is located on a south-facing hillside at 250 to 450 feet elevation in the Yamhill-Carlton District AVA. Soils are a mix of sedimentary depositis and ancient basal. The entire site is dry-farmed. The Biodynamic® certification by Demeter encompasses the entire 32-acre farm. The Chambers craft a 150-ton organic compost pile every other year for ground application. The vines were planted in 1981, are virtually all own-rooted and the oldest blocks are more than 26 years of age.
Winemaker Brian Marcy joined the team in 2008. Three wines were produced: Resonance Vineyard Estate Pinot Noir, Pulse Oregon Pinot Noir and a Resonance Vineyard White Blend.
Resonance Vineyard was acquired by Maison Louis Jadot, the first acquisition of this legendary Burgundy house outside of Burgundy. Jacques Lardiere made his name for Maison Louis Jadot as the winemaker for 42 years. He oversaw the production of more than 140 different wine from more than 100 different classified appellations around Burgundy and Beaujolais. After retiring from Maison Louis Jadot, he now focuses on crafting Pinot Noir from the Résonance Vineyard. The first release, from the 2013 vintage, arrived in February, 2016.