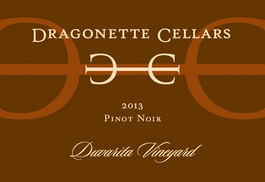 Dragonette Cellars is a partnership between brothers John and Steve Dragonette and close friend Brandon Sparks-Gillis. The three spent a number of years learning the wine business through tasting, wine sales and winemaking under the tutelage of respected winemakers. To pursue their dream of making wine in the Santa Ynez Valley, they moved their families (a combined three spouses, three children, three dogs, and a cat) to the Valley, to be close to the land and its bounty. Garage-style production was tested in 2003-2004 and they became bonded in 2004, releasing the first commercial vintage for Dragonette Cellars in 2005.
The winery began production at Central Coast Wine Services in Santa Maria, moved to Demetria Estate in Los Olivos, and ended up with their current cohabitation with Ampelos in 2008 in Lompoc (with whom they share equipment). Dragonette also produces about 1,000 cases of Liquid Farm Chardonnay.
The emphasis is on minimal intervention winemaking with natural yeast fermentations and very little filtration. Grapes are sourced from about a dozen vineyards in Santa Barbara County.
The wines (there is a Rosé, Syrah, Viognier, and Sauvignon Blanc available as well) are sold through a mailing list with limited retail distribution. The Hilliard Bruce Vineyard Pinot Noir is especially notable. Production is about 3,200 cases annually. Chardonnay from Duvarita Vineyard (formerly Presidio), the first biodynamic vineyard planted in Santa Barbara County, was added with the 2014 vintage.
Tasting is available in Los Olivos Thursday through Monday.