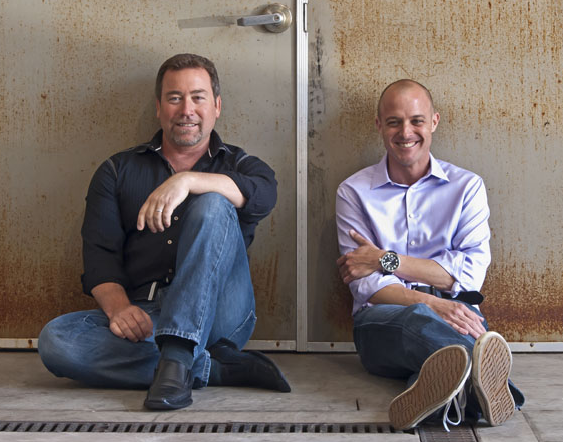 The Brewer-Clifton label represents the partnership of two outstanding winemakers, Greg Brewer and Steve Clifton. Clifton developed a passion for winemaking while working as a buyer for a restaurant in San Diego in the late 1980s. He moved to Santa Barbara in 1991, staying with a family friend and working as a cellar rat in a number of Santa Barbara County wineries. He moved up the winemaking chain quickly, first becoming assistant winemaker at Rancho Sisquoc Winery, followed by a stint as winemaker at Beckman Vineyards.
Clifton hooked up with another young winemaker, Greg Brewer, who became the winemaker at Melville Vineyards and Winery when it was formed in 1997. Brewer's originally came into wine from an academic background, working as a French literature professor at the University of California, Santa Barbara. The pair decided to dedicate their new label to single-vineyard Pinot Noir and Chardonnay at a time (1996) when many Santa Barbara wineries were concentrating on varieties blended from multiple sources. They started with their combined meager savings, without assistance from family or investors, and began producing their wines in the unglamorous Lompoc "Wine Ghetto." They hit pay dirt in 2002 when Robert Parker, Jr., reviewed their wines from the 2001 vintage, and proclaimed the Brewer-Clifton wines to be "the single greatest revelation of my 2001 tastings." Clifton also produces wine under his Palmina label, which focuses on Italian varietals.
The wines have always been crafted in a full-throttle, neuvo California, driven by very ripe prodigious fruit, high alcohol, and healthy tannins. Vineyard sites in the Sta. Rita Hills appellation have always been carefully chosen and emphasis has been placed on the vineyard as the ultimate determination of wine quality. A vineyard management team has been assembled under the direction of Francisco Ramirez and is currently farming Mount Carmel and Huber vineyards as well as 3-D Vineyard which they planted and developed. The winery now uses 100 percent estate fruit.
Brewer and Clifton share winemaking duties while Crystal Clifton oversees sales and marketing. The winemaking regimen is aimed at extracting the maximum amount of flavor. 100% whole cluster fermentation is extended, consisting of a 7 day cold soak, followed by a 2 week fermentation, and at least 10 days of extended maceration. Barrels are sourced from the Sirugue cooperage in Nuits-St.-George. All racking is by gravity and timed with the beginning of the waning moon following Summer Solstice when the wine is most settled. The bottles are capped with an attractive red wax seal. The owners recommend driving the corkscrew through the wax into the cork, but I found cutting the wax on top with a serrated corkscrew knife much easier. The wines are sold in standard-sized Burgundy bottles which are easy to rack and handle and I applaud them for this.
Brewer-Clifton has continued to evolve. With the 2007 vintage, they are offering an "appellation" blended Pinot Noir and Chardonnay which are handled in the winery identically to the other bottlings. These two wines were bottled with Diam cork and eventually all the vineyard-designate wines were converted to Diam cork closure within a few years (Diam corks are produced with a high pressure carbon dioxide cleansing process which eliminates the risk of cork taint). Brewer-Clifton eventually moved into a new winery production facility in Lompoc.
In 2015, the owners announced that they sold a majority share in their winery. A group of investors led by Ken Fredrickson, a master sommelier and wholesaler (Tenzing Wine & Spirits), bought a 70 percent stake in the winery. Founders Greg Brewer and Steve Clifton, as well as Crystal Clifton, now each own 10 percent of the winery. The goal of the sale was to use new capital to maintain the brand's quality, continue vineyard development, and use the financial and business experience of the new partnership.
Brewer-Clifton wines are sold primarily through a mailing list. There is a spring and fall release. The wines used to be highly allocated, but with more production now (about 10,000 cases), availability has increased and buyers may choose among the offerings on a first come, first serve basis. The website is www.brewerclifton.com and the winery's address is 329 North F Street in Lompoc. 803-735-9184. Greg Brewer is also the winemaker for his own label, diatom, and Melville Winery and Vineyards. Steve Clifton produces highly regarded Italian varieties under his label Palmina and is the winemaker for Tritono, an Argentine producer of Malbec.