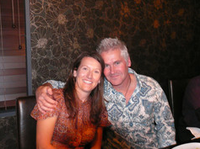 Pyramid Valley Vineyards is a boutique winery owned by Mike and Claudia Weersing who buy grapes by the acre from vineyards in New Zealand (Growers Collection Wines). The Weersings have also planted their own vineyards in limestone-rich soils near Pegasus Bay in Pyramid Valley, about 20 minutes west of Waipara. Winemaker Mike Weersing has an impressive winemaking resume, having worked in many top estates in Spain, Germany and France and also brings meticulous and hands-on attention to the management of his vines. Because of extra canopy management, yields are typically 40-60% of that realized by other buyers of the same vineyard (0.7 tons per acre in 2007) with significantly better maturity. Farming is biodynamic.
Winemaking features a strict minimum of additions - little or no sulfur, natural settling, no enzymes, fermentation exclusively with natural yeasts, natural malos, no finings, and filtration only when necessary. The grapes are tread by foot and fermented in tiny clay vessels. Production is tiny. The obvious commitment to quality and authenticity here suggests this label is poised for future stardom.
The wines are imported by Terra Firma Wine Co. LLC, Oakland, CA.