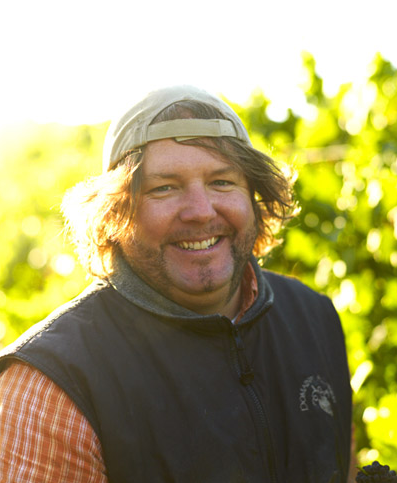 The husband and wife team of Mike Sinor and Cheri LaVallee Sinor founded Sinor-LaVallee Wine Company in Arroyo Grande in 1997. Mike and Cheri met as students at Cal Poly San Luis Obispo in 1993 where they had "Chemistry." They were married in 1996 in the town of Beaune, in the heart of Burgundy. Both have a colorful background in the wine industry.
Mike grew up in Visalia. His history is intimately tied to the Edna Valley region of California. His first job in the wine business was at Corbett Canyon Vineyards in 1991. Many of you will remember those Corbett Canyon commercials featuring the echo of "canyon, canyon, canyon." Corbett Canyon was one of the first wineries in Edna Valley, founded in 1978, but has changed ownership several times through the years. Today, it is owned by Rob Rossi, and is a custom crush facility (SLO Winemaker's Studio) where Sinor now produces his Sinor-LaVallee wines.
Back in 1991, Mike was just trying to earn some money to pay for college, but this job quickly led to a passion for wine. After finishing his studies at Cal Poly in 1994, he started his career at Corbett Canyon Winery and then he took a harvest position at Byron Vineyard and Winery in Santa Maria. Soon he had a permanent cellar position, advanced to enologist, and then became assistant winemaker at Byron working under noted Central Coast vintner Ken Brown. During his time at Byron, Mike traveled to Burgundy and the Rhone Valley to study winemaking. Mike left Byron after the harvest of 2000 to become the winemaker at Domaine Alfred Winery in San Luis Obispo at the site of Chamisal Vineyard. Mike directed the vineyard operations, instituted biodynamic farming, and crafted wines that brought the winery considerable national acclaim, particularly for Pinot Noir.
In 2006, Mike resigned from Domaine Alfred to focus on Sinor-LaVallee Wine Company and Ancient Peak Winery (several warm climate varietals from Margarita Vineyard near Paso Robles). He continues to be much in demand as a winery consultant. Those of you who attend the annual World of Pinot Noir in Shell Beach, California, have probably seen Mike running around directing the show. He is one of the founding board members for the World of Pinot Noir and served as Board President for the 2005 event.
The initial inspiration for Sinor-LaVallee wines was the Burgundy model: finding specific rows of vineyards with world class terroir near where you live, contract for those rows, and make the best wine you can. Mike produced Pinot Noir along with small amounts of Syrah under the Sinor-LaVallee label. The main vineyards, Talley-Rincon and Aubaine were within a bicycle ride from where he lives in Arroyo Grande. Total production was about 500 cases annually.
Beginning with the 2013 vintage, Mike decided to turn his Sinor-LaVallee brand into an all-estate program. all wines are sourced from the Estate Bassi Vineyard acquired in 2013. The vineyard, originally planted in 2001, is perched alongside Highway 101 just inland of Shell Beach and the 30 acres are planted half to Pinot Noir (8 clones), and the remainder split among Syrah, Chardonnay (3 clones), Pinot Gris and Albarino. Mike stopped selling fruit to other wineries in the 2015 vintage and the grapes now go into the 2,000 cases of his own wine.
From the 15 acres of Pinot Noir, Mike produces 44 1-ton lots of Pinot Noir and the best results are shared with wine club members through a white label (lighter wines) and a black label (darker wines).
The wines are currently only available at the winery's tasting room which opened in early 2015 located at 550 1st Street in AVila Beach (open Friday, Saturday and Sunday from 12:00 to 6:00).