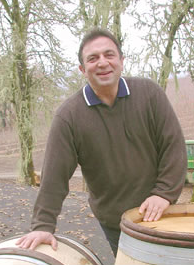 Moe and flora Momtazi fled from Iran when the Shah was deposed and Khomeni came into power. The escaped on a motorcycle, with Flora riding on the back, pregnant with their first child. The Momtazis bought 532 acres of abandoned wheat farm in McMinnville, Oregon. Starting from scratch and without the use of any chemicals, planting began in March of 1998 consisting of self-rooted Pommard clone Pinot Noir totaling 13 acres. In 1999, 120,000 plants were grafted in greenhouses and later planted at the end of summer. Today over 200 acres are planted. The first vintage arrived in 2001.
Farming has been holistic from the beginning strictly employing organic and biodynamic methods. Compost plays an important role in achieving long-term earth and vine health. The property is very impressive (the largest Demeter-certified, biodynamically farmed vineyard in Oregon), and I highly recommend you visit for a tour and tasting.
In 2012, a new winery was under construction, consisting of over 40,000 square feet.
The Momtazi's daughter, Tahmiene, is the winemaker. The portfolio includes whites (Pinot Gris, Pinot Blanc, Riesling) and Pinot Noir (currently five different bottlings plus a rosé). An inexpensive offering, Three Degrees Pinot Noir, is very popular. The wines are available for sale on the winery's website. Tasting is available Monday through Saturday from 12:00 to 5:00. 503-843-1234.