Sokol Blosser Winery
| | |
| --- | --- |
| Owner(s) | Alex Sokol Blosser, Alison Sokol Blosser, Bill Sokol Blosser, Susan Sokol Blosser |
| Web site | www.sokolblosser.com |
| | |
| Link to this site | |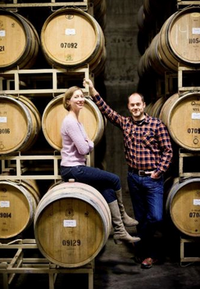 Sokol Blosser Winery is one of Oregon's oldest and largest wineries, founded by Bill and Susan Sokol Blosser in 1977. The Sokol Blossers first planted grapes in the Dundee Hills in 1971. They borrowed equipment and started with five acres.
The winery, vineyards and tasting room are located off Highway 99W in the Dundee Hills appellation of the Willamette Valley. The winery has been a leader in research into vineyard cover crops, crop load, canopy management, and sustainable vineyard and winery practices. Their barrel cellar was the first winery building in the country to attain LEED certification.
Since 2008, second-generation siblings, Alex and Alison Sokol Blosser, are now at the helm. Alex became vineyard manager in 2006 when his mother retired and the head winemaker in 2014. Winemaker Russ Rosner, who had been at the winery 15 years retired. Alex draws from a 125-acre certified organic estate vineyard in the Dundee Hills appellation. Alison is the head of sales and marketing. Production was about 62,000 cases in 2014, with a projected increase to 88,000 cases for 2015.
Sokol Blosser also produces an accessibly-priced Evolution brand ($15-$19) which is set to be re-branded in 2015. Evolution White will be changed to Evolution Lucky No. 9, and Evolution Red will become Evolution Big Time Red Blend. In addition, an Evolution Pinot Noir will be launched.
Sokol Blosser features a walk-through showcase vineyard for visitors including a self-guided tour. There are beautiful views of the Willamette Valley from the deck and picnic grounds. Wines are available online.
Reviewed Wines

NV Sokol Blosser Winery Evolution American White Wine

12.0% alc., residual sugar 1.2%, $15. A blend of 9 white varietals including Pinot Gris, White Riesling, Muscat, Gewürztraminer, Müller- Thurgau, Semillon, Pinot Blanc, Sylvaner and Chardonnay. 17th edition. Fermented in 100% stainless steel, fff dry. · A unique wine that offers no special varietal correctness. The aromas are complex and include lemon, dried mango, honeysuckle, pastry cream and roasted almonds. On the palate, the delicately flavored wine is bright and easy to like, with tastes of pineapple, pear eau de vie, spice and citrus infused with bright, refreshing acidity and a very slight finishing sweetness. Very versatile at the table, and can shine with Thai curry, Tandoori chicken, spicy tune rolls or baked sole with lemon butter. Score: 88. Reviewed April 19, 2014 ARTICLE&nbsp»

2012 Sokol Blosser Dundee Hills Willamette Valley Pinot Noir

14.5% alc., $38. Extended maceration and 16 months of barrel aging. · Medium reddish purple color in the glass. Bright cherry aromas with generous oak overlay. Generous and forward, with a charge of ripe cherry fruit on the mid palate, holding on through a fruitdriven finish. Better oak integration on the palate. Score: 88-89. Reviewed April 4, 2015 ARTICLE&nbsp»

2012 Sokol Blosser Dundee Hills Willamette Valley Pinot Noir

14.5% alc., pH 3.70, TA 0.52, 7,600 cases, $38. The winery's flagship wine made from organic grapes. It is distributed around the world. Aged 16 months in 100% French oak barrels, 40% new. · Moderately light reddish purple color in the glass. An oak-dominated nose leads to a mid weight core of juicy black cherry fruit that lacks some Pinot character because of a strong tug of tobacco-laced oak. The wine finishes with some delicate fruit, somewhat vigorous tannins, and a hint of alcoholic warmth. Score: 87. Reviewed September 29, 2015 ARTICLE&nbsp»

1999 Sokol Blosser Winery

This Salud cuvee consisted of 12 cases of Pinot Noir. Delicate crimson in color. Cherries and spice are featured in the aromas and flavors with a slightly tart finish. Holding up beautifully with brightness and vigor. Tasted November 7, 2008. Reviewed --/--/--