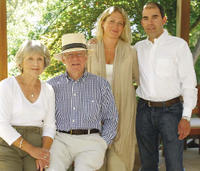 Peter Michael produces several Pinot Noirs, Le Moulin Rouge ("the red mill" in French), sourced from the Pisoni Vineyard in the Santa Lucia Highlands and three Sonoma Coast bottlings from an estate owned vineyard. Although best known for the superb Chardonnays, Sauvignon Blancs and Cabernet Savignons they have crafted since 1982, the Sonoma Coast Pinot Noirs and Pisoni Vineyard Pinot Noir are outstanding performers. Sadly, it is only available through a mailing list and currently only long-standing members of that list can purchase the wine. It is worth pursuing on the secondary market, albeit quite expensive.
The 400-acre Fort Ross-Seaview property was acquired in 1998 and 30 acres of this site were planted to Pinot Noir in 2006 and 2007 with the first wines from the Seaview vineyards property released from the 2009 vintage. Three wines are offered: "Le Caprice," "Ma Danseuse," and "Clos du Ciel."
The winemaker is Nicolas Morlet, who took over for his brother Luc in 2005. Born into a winegrowing family in Epernay, France, he and his brothers are the fifth generation to grow wine on the family estate for Champagne Pierre Morlet. His first taste of Peter Michael wine was at Paris' famed Hotel De Crillon, over dinner with his brother, Luc, then Peter Michael's winemaker. After a stint at Joseph Phelps vineyards, working on the Insignia and Backus labels, he joined Peter Michael Winery in the winter of 2005. Previous notable winemakers have included Mark Aubert and Helen Turley.
This is a family-owned winery that began in 1982 with the purchase of the winery's Knight's Valley property. In 2015, Sir Peter and Lady M are turning over operation of the winery to son Paul and his spouse Emily.
The winery is not open to the public.