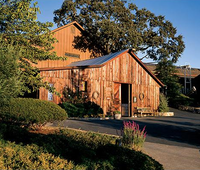 Founded in 1970 by wine enthusiasts from the San Francisco Bay area who refurbished the former Pagani Brothers Winery, originally established in 1906 and subsequently acquired by the Lee family. Kenwood Vineyards sits on a 22-acre estate in Sonoma Valley and is housed in the original winery building.
The winery produces multiple varietal wines including Pinot Noir. Grape sources include estate vineyards and other vineyards in Sonoma County.
Small-lot winemaking is a hallmark of this winery. Kenwood has 125 small stainless steel fermenting tanks and 12,000 small French oak barrels. Each vineyard is grown, raised, picked, pressed, fermented and aged separately.
The Senior Winemaker is Pat Henderson who has been at Kenwood since 1983 when he was a harvest intern. Since then, the winery went through several changes of ownership, including acquisition by Pernod Ricard in 204. Pernod Ricard has invested heavily in winery equipment since assuming ownership.
The value-priced Pinot Noirs are sourced from the Russian River Valley and are released under the Reserve, Six Ridges and Sonoma County designates. Nothing extraordinary, but decent daily drinkers. Total production is 500,000 cases annually.
A tasting room is open daily on California Highway 12 in Kenwood. The wines are sold online and through retail distribution.