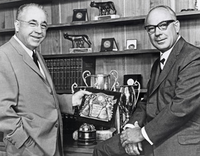 Guiseppe Gallo (Joe) and Assunta Bianco Gallo (Susie) ran a boarding house in the Sierra Nevada town of Jackson, where their first son, Ernest, was born in 1909. They relocated to Oakland and operated another boarding house with a downstairs saloon where another son, Julio, was born. Trying to manage the boarding house and care for two children was a challenge, so Ernest was sent to live with his grandparents in Hanford for six years. His grandparents were from Piedmont in Italy and had a winery behind their home where Ernest got his first tastes of wine.
After Prohibition closed the saloon, the Gallos settled in Escalon in the San Joaquin Valley, where they purchased a 20-acre vineyard with Carignane and Alicante grapes in 1922. They turned a profit selling to home winemakers. The vineyard was later sold and a 40-acre vineyard acquired in Modesto for $1,000 an acre. An additional 30 acres was bought a few years later. During the depression, the family's economic fortunes fell along with the grape market. As circumstances became grim by 1933, Susie Gallo was found shot in the back and Joe Gallo was also found dead, with a self-inflicted gunshot wound, on their raisin farm in Fresno.
After his parents' death, Ernest convinced Julio to join him in a winery. Julio had saved $900, and Ernest's wife Amelia offered to ask her family, friendly competitors in the grape business, for a loan. She went to her mother, Teresa Franzia, who lent them $5,000. They rented space near the rail yards in Modesto and applied for a winery permit, number 3597 approved on September 22, 1933. Unable to afford a winemaker, Ernest went to the Modesto library, where he found some pamphlets in the basement on fermentation and care of wine. Ernest was 24 and Julio was 23. They sold their first shipment of wine to Charles Barbera, a grape dealer who bought 120 50-gallon barrels at 50 cents a gallon.
The brothers went on to build the largest wine company in the US, with Julio making the wine and Ernest selling it. Today, Ernest's son Joseph E. Gallo is CEO, and Julio's son Bob and his son-in-law Jim Coleman are co-chairmen of the company. Nine members of the third generation work at E&J Gallo and two members of the fourth generation have now joined the business.
The most recent members of the Gallo family, two young girls born to Gina, co-join the Gallos with the third largest wine company in France, a firm based in Burgundy and owned by the family of Jean-Charles Boisset, Gina's husband. Today, Gina is in charge of the wines with the family label.
Gallo is the world's largest family-owned winery and possibly American's biggest wine company. Gallo owns fifteen wineries, has at least 60 brands of still, sparkling and dessert wines as well as spirits, and is the largest exporter of California wine. The company has 90,000 acres under long-term contracts. By some published accounts, worldwide sales are 80 million cases (75 million of those in the United States). Estimated annual revenue is $3.4 billion. Gallo's Carlo Rossi brand of red wines is the top imported wine brand in China, with 2011 sales of approximately 1 million cases. Gallo is the largest exporter of California wines.
Gallo imports and markets wines from France, Chile, Germany, Italia, Australia, South Africa, New Zealand, Spain and Argentina.
Gallo has continued to acquire vineyard properties including Edna Valley Vineyards in the Central Coast and Snow Lake Vineyards in Lake County. Gallo also purchased Covey Run and Columbia wineries in Washington State in 2012. In 2015, Gallo bought J Vineyards & Winery, Talbott Vineyards including the 525-acre Sleepy Hollow Vineyard, The Ranch Winery in St. Helena (a large-scale custom crush facility), the historic Asti Winery and the Souverain brand, and the Cypress Ranch and a portion of the Palisades Vineyard in Napa Valley.
The company has been pivotal in establishing Sonoma County as one of the premier wine growing regions of the world and is the world's largest family owned winery. The winery has many brands. Those that produce Pinot Noir include Anapamu, Barefoot Cellars, Frei Brothers, Gallo Family Vineyard Estate, Gallo Family Vineyard Sonoma Reserve, Gallo Signature Series (Santa Lucia Highlands Pinot Noir) and MacMurray Ranch in the United States.
Gallo's Barefoot brand has estimated annual case sales of 16 million and is the top-selling bottled wine in America and the top selling brand in history.
The company will celebrate its 80th anniversary in 2013.
Gallo wines are sold on the winery's website through The Barrel Room.