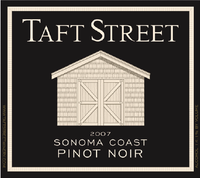 In the 1970s, Cal Berkeley student John Tierney began making wine in the garage of his brother's home on nearby Taft Street. John graduated from Cal and moved to Sonoma County to work at Souverain Winery. He returned to Berkeley to be the winemaker at Wine and the People where he met Mike Martini. The Tierney's house on Taft Street in Oakland was built in 1918, and its garage was so small that a car could no longer fit comfortably inside. The brothers decided to turn it into a winery, a true garagiste winery. The reputation of Taft Street Garage wine grew and a few years later they moved to a winery in Sonoma, officially opening on April Fool's Day, 1982 in the town of Forestville. They released their first Taft Street wine in 1982.
Robert Parker, Jr., rated their wines highly and the label became quite well known. I can remember drinking Taft Street wines in the early 1980s when I was developing a passion for wine. By 1990, they were producing 20,000 cases of good wine. Unfortunately, Taft Street wondered off the original intended course and was bought by a Manhattan, New York importer. The label soon faded into obscurity.
Mike Tierney and Mike Martini resurfaced and reinvented Taft Street eight years ago. Their tagline is "Garagistes since 1979." The winemaker since 2007 has been Evelyn White (formerly at Clos Du Bois) and the wines have been solid since that time. The principals are holding to a policy of reasonable prices, quality grape sourcing and moderate production. The grapes are brought in from the Russian River Valley, Sonoma Coast, Alexander Valley and Dry Creek Valley. Several varietals are produced including Chardonnay ($17 to a $30), Sauvignon Blanc ($16), Pinot Gris ($16), Riesling ($16), Gewürztraminer ($16), Merlot ($15), Syrah ($22), Zinfandel ($24) and Rosé of Pinot Noir ($16) and Pinot Noir ($20 to $36).
Taft Street wines can be enjoyed at the winery's tasting room located at 2030 Barlow Lane in Sebastopol. Open Monday through Friday from 11:00 to 4:00 and on weekends to 4:30. The wines are sold online.