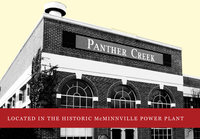 Panther Creek Cellars, located in McMinnville, OR, has been producing Pinot Noir, Pinot Gris and Chardonnay since 1986. The more recent history of the winery is told in the charming book written by Linda Kaplan, whose spouse, Ron, quit his law firm in Des Moines and bought Panther Creek Cellars. With little wine knowledge, the story details their trials and tribulations. Liz Chambers and family members were the second owners who passed the name and brand on to Bacchus Capital, a San Francisco-based private equity firm. Chambers and family retained the winery in McMinnville and plan to launch a new label, Elizabeth Chambers Cellars.
In 2013, Bacchus Capital hired winemaker Tony Rynders replacing Michael Stevenson. Stevenson will be the winemaker for the Elizabeth Chambers label and continue to make wine under his own label, Stevenson-Barrie, at the same winery.
Grapes are sourced from well-known vineyards in the Willamette Valley and the winery is known for producing consistently high quality vineyard-designated PInot Noirs including wines from Shea Vineyard, Temperance Hill Vineyard, and Freedom Hill Vineyard. The winery is in McMinnville's former power plant in downtown McMinnville. The tasting room is located inside the main winery production area and is open daily. The wines are sold through the winery's online store.