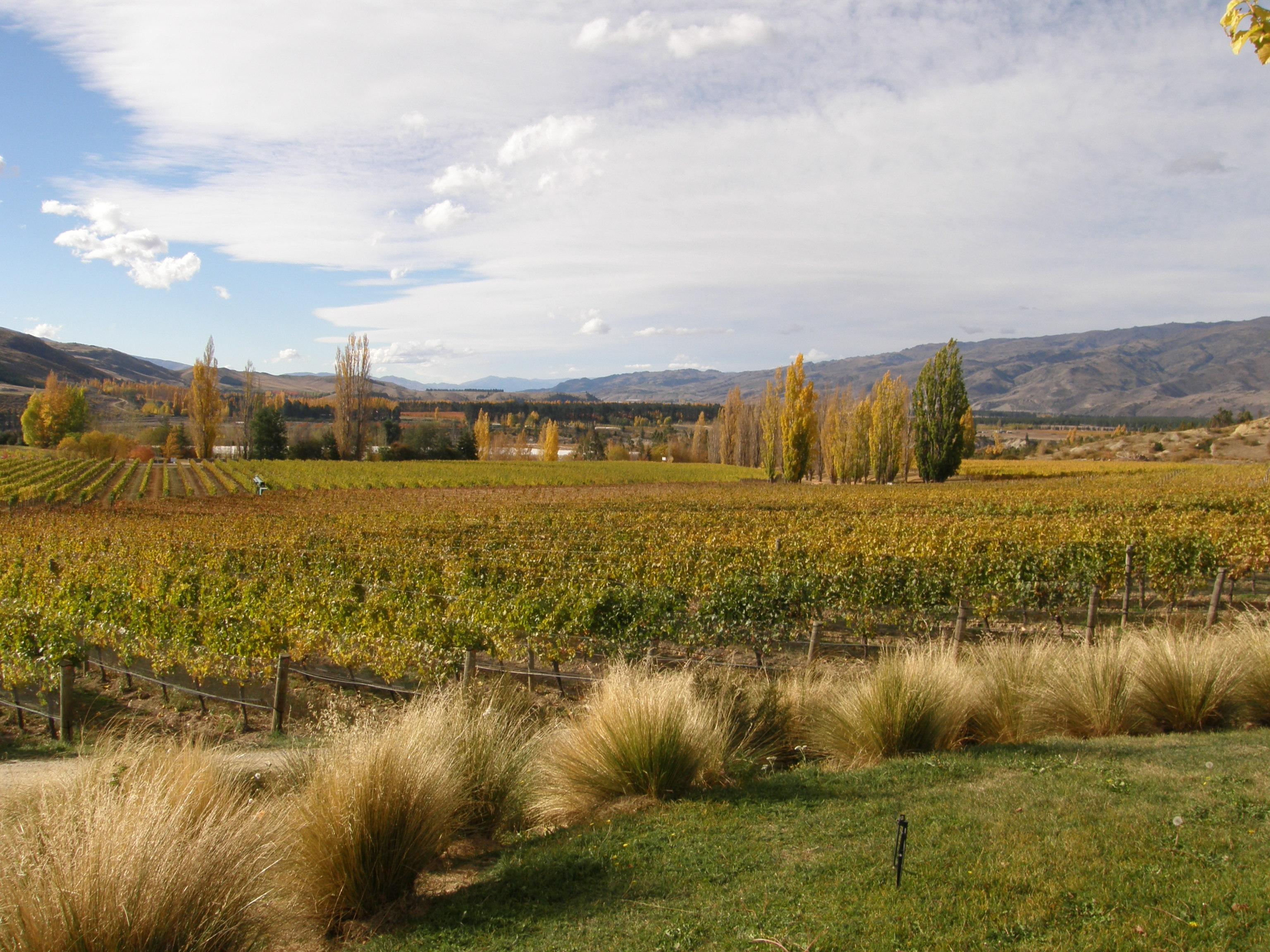 Nigel Greening, a Brit, sold his film production company and moved to Bannockburn, New Zealand, to plant the Cornish Point Vineyard. Shortly after, the owner of Felton Road, Stuart Elms, decided to sell his vineyard and winery and Greening snapped it up in 2000. Greening had been the largest private customer of Felton Road in the UK. Greening kept the team in place including winemaker Blair Walter and viticulturist Gareth King.
Felton Road Wines is located in Bannockburn, Central Otago in New Zealand, the most southerly wine growing region in the World. Here, vineyards are nestled into small macroclimates totally surrounded by high mountains, many of which are snow capped all year round. Though the location is on the edge of sustainable viticulture these microclimates consistently combine hot days, cool nights and long dry autumns: perfect for the creation of fine Pinot Noir, Chardonnay and Riesling. The latitude of 45 degrees south is similar to the Willamette Valley in Oregon and some of the finest wine regions of France. Of the five distinct microclimates so far identified in Central Otago, Bannockburn, with its gentle north facing slopes and deep loess soils seems well suited to the production of complex Pinot Noir.
The first vineyard, The Elms, was selected by Stewart Elms in 1991 and planted the following year. There were fewer than 75 acres of vines in Central Otago at the time. It located is a north-facing gentle valley, one of the few in Bannockburn to escape the attentions of the gold miners who sluiced many of the Bannockburn slopes. Careful attention was given to the matching of vine varieties and rootstocks to the soil variations that are found on the site. Natural gullies have been retained which guide cold frosty air through the vineyard away from the vines. Today, there are 35 acres of vines at The Elms, about half Pinot Noir, the rest Chardonnay and Riesling
In addition there is a 20-acre vineyard at Cornish Point Vineyard in Bannockburn, dedicated entirely to Pinot Noir. This 25-acre vineyard is planted in loess over river gravels derived from schist. At Cornish Point, there there are 18 different combinations of variety and rootstock, each carefully matched to the soil profiles. The vineyard is designed to allow separate vinification of each section: a veritable laboratory of Pinot Noir and its possibilities.
The winery also has a long term lease on a neighboring vineyard: Calvert Vineyard, which is entirely devoted to Pinot Noir. All of the vineyards are farmed biodynamically and have Demeter certification.
Viticulture makes extensive use of handwork and is heavily influenced by organic and biodynamic practices. The canopies use the Vertical Shoot Position trellis system with all pruning, positioning, shoot thinning, leaf plucking and fruit thinning performed carefully by hand. There is extensive use of cover crops to supply a natural biodiversity in the vineyard which aids vine balance as well as helping control disease and pests. The use of natural manure obtained from organic sources creates a "gentle touch" approach to the vines. Harvesting is by hand starting around the beginning of April and each block is harvested and vinified separately. The three level gravity-flow winery is specifically created to make wine by hand in the gentlest way possible.
Felton Road's winemaker, Blair Walter, studied at Lincoln University and Oregon State University, before working in New Zealand, Australia, Oregon, Napa, and Burgundy. Walter was working in Oregon at Sokol Blosser when Elms started to plant and later helped plan the winery, and ended up becoming both winemaker and a shareholder. His philosophy is to let the fruit speak for itself: gentle handling, as little intervention as possible; wine is given a helping hand to express itself rather than molded into an artificially created winery style. He ferments with indigenous yeasts, uses minimal additions, and avoids fining and filtering.
The Block 3 Pinot Noir is from Elm's original plantings where the soils are schist-derived, fine sandy loam known as Waenga. Block 5 Pinot Noir is planted on loam, clay and gravel and is darker. The Cornish Point Pinot Noir is spicy with strawberry up front. Felton Road Chardonnay and Riesling are also superb examples of Central Otago wine.
The wines are exported to the United States by Wilson Daniels. Production is 12,000 cases annually, 100% of which is estate grown, and includes Riesling and Chardonnay in addition to Pinot Noir.