Prince's Excellent Adventure at WOPN
Every March, several hundred pinot geeks converge on the small seaside community of Shell Beach, California and revel in their beloved passion. Over 190 producers of Pinot Noir and several importers provided samples to the seemingly insatiable throng. This was the Eight Annual World of Pinot Noir (WOPN), and the event truly lived up to its worldly theme. There were Pinot Noir producers from every corner of the earth including British Columbia, Chile, France (Burgundy), Germany, Italy, New Zealand, Switzerland, and Tasmania. Although California dominated the winery participants' roster, Oregon was well represented as well.
(1) Many producers at the walk-around tastings are pouring their latest vintage (2006) and in some cases, even barrel samples, but the wines that really show the best , are the ones from recent vintages which have some bottle age such as those from the 2005 vintage. Producers should hold back some of their wine for these events so the consumer can see what the wines are capable of with a little bottle age. In defense of some wineries, a few offered small verticals.

(2) Walk-around tastings are not a format that lends itself to seriously tasting wine. There are simply far too many distractions (smells, noise, and laughter). It is a whoop-up meant for enjoying Pinot Noir and not critiquing it. For me, these events are more about renewing friendships, making new ones, and becoming better acquainted with the people behind the wines. As Master of Wine Tim Atkin has said, "The character, ambition and talent of the person who made it is highly relevant to how the wine tastes. I want to know about these things, just as I want to know about vintage conditions, personal eccentricities, and a winemaker's take on the world. All of these things make wine different; all of these things make wine special."

(3) The program listed the producers and most relevant information, but there was no inclusion of the specific wines they poured, including case production, alcohol %, price and winemaker. Trying to write this information down while holding a stem, a spit cup, a program, a pen, and a notepad requires at least another arm.

(4) At the end of the walk-around tasting, it would be nice to be able to check off from a complete list of wineries those that you wish to receive mailings and offerings from. This would avoid repeatedly writing your name and address at each winery's pouring station.

(5) Serving the wines at the proper temperature is a real challenge, especially since the days were rather sunny and warm. Warmish Pinot is never enjoyable. Anyone want to donate 200 coolers?

(6) The crowds descended on the Kosta Browne, Sea Smoke and Pisoni/Lucia/Roar wine booths and they were out of wine before the sessions ended.

(7) There are few millenials attending the seminars other than winemakers. Perhaps we need to put more fun and conviviality into some seminars, attracting younger people and encouraging them to fawn over Pinot Noir so its surge in popularity will continue. Young people are refreshing for they are more adventurous and tend to underestimate their wine knowledge, unlike many older pinot geeks who often stick with the tried and true and overestimate what they know.

(8) When will wine events enter the this century and adapt the use of modern presentation tools such as Power Point presentations and video to complement their seminars?

(9) At the end of an extended walk-around tasting, it is always surprising to look down and see your purple-stained fingers used to hold your wineglass throughout the afternoon. It is almost a badge of recognition and honor.

(10) The buzz from many winegrowers was that the 2007 vintage in California was one of the best in recent memory. Everyone seems to think the wines are great, with considerable depth of fruit and structure that will hold up well for many years.
New Faces at WOPN
Anglim Winery A small family-owned winery in Paso Robles which was launched in 2005. Winemaker Steve Anglim produces several varietals including a Pinot Noir from the Fiddlestix Vineyard in the Santa Rita Hills (2005 sold is out at the winery, 2006 will be released in the Spring). The website is www.anglimwinery.com.
Anthony Dell Cellars Joy Dell Means and Douglas Anthony Drawbond started their winery in 1996 and released their first Pinot Noir in 2002. Located in McMinnville, OR. The website www.anthonydellcellars.com.
Asuncion Ridge Vineyards Winegrower Philip Krumal has a small estate Pinot Noir vineyard at 2000 ft in the hills above Atascadero and released his first Pinot Noir from the 2005 vintage. I sampled the inaugural release last year and was quite impressed. The website is www.asuncionridge.com.
Derby Wine Estates This new producer was pouring their inaugural 2006 Pinot Noir from the Derbyshire Vineyard in San Simeon. The vineyard is just 1¼ miles inland from the Pacific Ocean (photo below). 62 acres are planted to clones 115, 667 and 777 of Pinot Noir (2002) and 11 acres to Pinot Gris. Yields here are extremely low. The website is www.laurasvineyard.com.
Fulcrum Wines
Owner David Rossi's background was in food marketing. He began his winemaking career at home over ten years ago and his success in amateur winemaking competitions led him to launch Fulcrum wines. Christinna Rossi assists David with the sales and marketing. David has a admirable philosophy: produce wines that are balanced with respect to acid, tannin, alcohol, fruit, oak, and age-worthiness. A fulcrum is a point of balance for a lever and his goal is to leverage the best wine out of the best grapes while maintaining balance. That is what Fulcrum is all about. He crafts his wines at Crushpad in San Francisco. His years of marketing experience are reflected in the impressive presentation of his wines. Each bottle is carefully wrapped in tissue and encased in a paper collar that has a seal depicting an acrobat juggling. This image embodies David's guiding theme of balance (see photos next page). Six bottles are presented in a handsome engraved wood box - very classy.
In 2007, Fulcrum Wines will also release Pinot Noirs from the Sonoma Coast, Santa Rita Hills, as well as Anderson Valley. The very informative website is www.fulcrumwines.com.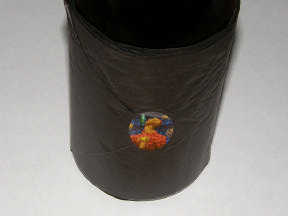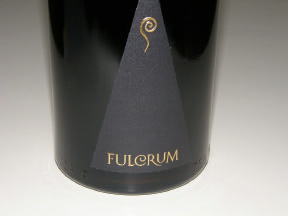 Johan Vineyards
Talk about Pinot Noir now being international. Dag Johan Sundby discovered Pinot Noir (Burgundy) while living in Norway. Subsequently, he visited the United States and was struck by Oregon Pinot Noir. He purchased a unique 65-acre vineyard in the Van Duzer corridor west of Salem, Oregon. The initial vintage was 2005 and production is 1,000 cases. The website is
www.johanvineyards.com
.

Lucienne Vineyards This new winery produces estate bottled Pinot Noir sourced from Hahn Estates vineyards in the Santa Lucia Highlands. Lucienne takes its name from two sources: Nicky Hahn's middle name, Lucien, but in the feminine form to honor Santa Lucia, the patron saint of light who is known for bringing light to the darkness. The 2005 vintage is the inaugural offering of a Santa Lucia Highlands appellation Pinot Noir and a Lone Oak single vineyard designated Pinot Noir crafted by winemaker Paul Clifton. The website is www.luciennevineyards.com.
McIntyre Vineyards Steve and Kim McIntyre have been involved in the wine industry for 28 years including growing grapes for many well-known wineries through their vineyard management company, Monterey Pacific. Together, they decided to start their own label, sourcing Pinot Noir from Arroyo Seco and the Santa Lucia Highlands. They also craft a sparkling wine labeled "L'homme qui ris" (the man who laughs). The website is www.mcintyrevineyards.com.
Olson Ogden Wines Located in Sebastopol, Sonoma County, this newer winery is a partnership between Tim Olson and John Ogden and crafts Pinot Noir from the Russian River Valley. A small feature on this winery and tasting notes were featured in a recent PinotFile (Volume 6, Issue 51).
Prodigal Wines A new face in the Santa Rita Hills that released a Santa Rita Hills appellation Pinot Noir and Estate Quinta Santa Rosa Vineyard Pinot Noir in 2005. Stephen Russell, along with wife Mary, are the smiling faces behind their new venture. I re-tasted both wines at the WOPN and enjoyed both for their elegance and demure fruit flavors. The winery has been prominently featured in past issues of the PinotFile. The website is www.ProdigalWines.com.
Rhys Vineyards Rhys vineyards consists of seven different small Pinot Noir plantings in the Santa Cruz Mountains appellation. Planting and farming these vineyards has been a challenge, and only recently (2007) have estate wines been barreled from each separate vineyard. A second label, Alexia, offers Pinot Noirs from purchased grapes in the Sonoma Coast, Chileno Valley, and Russian River Valley. This was the first estate Rhys Pinot Noir I had sampled and it created quite a buzz at the event.
Rhys Vineyards wines are sold through a mailing list. The website is www.rhysvineyards.com.
Surh Luchtel Cellars Owners and winemakers Don Surh and Gary Luchtel have been producing wine under this label since 1999, but their first Pinot Noir was released in 2003. Most of their production has been Bordeaux varietals. Don was pouring a 2005 Russian River Valley Pinot Noir which was a bit subdued (Don said it drank much better in barrel and hadn't recovered), and an excellent 2005 Garys' Vineyard Santa Lucia Highlands Pinot Noir.
Surh Luchtel Cellars is located in Napa. The website is www.surhluchtel.com.
Thorne Wine Group The Thorne family has owned the Rio Vista Vineyard property in the Santa Rita Hills for over 50 years. Bobbie and Gramer Thorne planted 26 acres of Pinot Noir in 2001 and another 38 acres in 2006. There are seven winemakers sourcing Rio Vista Vineyard fruit including Thorne Wine which debuted their initial 2005 offering at this year's WOPN. Www.thornewine.com.
Cream of the Crop
With so many Pinot Noirs to taste, I could only sample a small number of them. The following wines really impressed me and are worth searching out for your own cellar.
Seminars at Domaine Alfred Winery
Old Clones/Old Vines vs New Clones/New Vines
Moderated by Patrick Comiskey, Senior Editor of Wine & Spirits Magazine
Panelists & Tasting Order
Amity Vineyards, Willamette Valley, Oregon, Myron Redford - Winemaker
Ancien, Carneros, California, Ken Bernards - Winemaker
Laetitia Vineyards & Winery, Arroyo Grande Valley, California, Eric Hickey - Winemaker
Thomas Fogerty Winery & Vineyards, Santa Cruz Mountains, CA, Nathan Kandler - Winemaker
Handley Cellars, Anderson Valley, California, Milla Handley - Winemaker
Dutton-Goldfield, Russian River Valley, California, Dan Goldfield - Winemaker
* There is no clear definition of an old vine. It seems to vary with the site. Freddie Mugnier says he notices changes after his vines are 30 years old. Myron Redford said one definition is "when you walk through a vineyard and look at each other and your hair is turning gray, the vines are getting old."

* It is difficult to taste vine age in Pinot Noir as the effect of site often predominates.

* Old clones are actually field selections and heterogeneous.

* Old clone Pinot Noirs are more layered and interesting. The wines have more depth, more subtleties and nuances, and are not as upfront. Tannins are more balanced. New clone wines are more vibrant, expressive and exuberant with more grip and tannins.

* Old vine Pinot Noirs seem to age better.

* Old vines become infected with viruses causing the resulting wines to have less color.

* Old vines have better balance and produce grapes with physiological ripeness at lower Brix.

* New vine grapes ripen quicker. accumulate sugars faster, and generally have less acidity.

* New clone/vine fruit is more consistent.
Latitudes & Longitudes - A Global Perspective
Moderator Fred Dame, MS
Panelists & Tasting Order
Andrew Hood - Tasmania
Tasmania is a small island, about 190 by 150 miles in size. Wine production is less than 10,000 tons per year, about ½ % of Australia's total output. Tasmania is located at about 40° longitude, about the same as New Zealand. It is probably known more for its sparkling wine output, but Tasmania is an outstanding source of still Pinot Noir.
Ernst Loosen - Germany
Pinot Noir has a long tradition in Germany. It was brought to Germany in about 1885. There are 75,000 acres planted in Germany, second only to Riesling, and Germany has the second largest planting of Pinot Noir in Europe behind France. In 1996, Ernst Loosen took over the J.L. Wolf estate so that he could make powerful, traditionally crafted Pfalz wines to complement the light and elegant Dr. Loosen Rieslings from the Mosel. The Pfalz region lies between the Haardt Mountains and the Rhine River, directly north of France's Alsace region. As in Alsace, the mountains protect the area from harsh Atlantic weather, making it one of the warmer and drier area of Germany. All of the Burgundy grape varieties have a long tradition in the Pfalz region, which is known for its full-bodied and fruit-driven Pinot Noirs.
Nick S. Mills - Central Otago, New Zealand
The story of Rippon Vineyard in Central Otago has been told before in the PinotFile (see also page 7). Rippon's vines are some of the oldest in the region. The estate Pinot Noir is from 15-25 year-old vines planted over 40 acres. Farming is organic and biodynamic. The wines spend two winters (16-18 months) in barrel and are cellared for one year in bottle before release. $45.
Sergio Muttura - Italy
The Mottura family is originally from the Piemonte region of Italy, where there is a village bearing the Mottura name close to Turin. Here, traces of the family can be found dating back to the early 1500s. Sergio's uncle, Alessandro, bought Civitella d'Agliano in 1933, the large estate the family now owns. At the age of 20, Sergio took on the management of the family farm and moved from Turin to Civitella, where he has remained ever since. The Maottura estate grows vines, olives and various grains and has an 'agriturismo' hotel (La Tana dell'Istrice or The Porcupine's Lair) where guests can enjoy the farm produce and the farm's celebrated wines. Sergio is committed to organic farming and crafting small-scale, handcrafted wines using traditional local grape varieties. The Magone Vineyard is a hi-denisty planting begun in 1962. In 1980 it was regrafted to Pinot Noir and the first Pinot Noir was released in 1990. The wines are 100% Pinot Noir. Alcohols are 13.5%, $25.
Matthias Gubler - Switzerland
Pinot Noir is the most planted red wine grape in Switzerland. The country has a thirsty appetite for Pinot Noir - 35% of Grand Cru Burgundy is consumed in Switzerland. Clos Martha is very small, producing 200 cases per year, and sold directly to locals only. Winemaker and owner Gubler is Swiss-born, but California-based. The estate vineyard is located in the Basil AVA which consists of 250 acres of vines. Steeply situated at 1,200 feet, Clos Martha is surrounded by a wall to keep the soil and rocks contained.
Are We Losing Our Regionality?
Moderator - Peter Neptune MS
NOTE: The following two seminars were held at Tolosa Winery concurrent with the two seminars I attended at Domaine Alfred Winery. Obviously I could not attend both. A reader, Russell McCandless, was at Tolosa Winery, and he offered me his notes on the two seminars. I have reproduced them here with some editorial modification and addition with his permission.
Panelists & Tasting Order
The seminar included producers extending from the Western Hemiphere's Okanagan Valley in British Columbia to the Southern Hemisphere's Casablanca Valley in Chile Most wine grapes on this planet are grown between the 33rd and 48th parallels, with stretches to between the 31st and 50th parallels. A majority of the panelists in this seminar were from California which is between 39 and 33 degrees north latitude. British Columbia's Okanagan Valley is at 49 degrees north, while Chile's Casablanca Valley is at 33 degrees south. The most southerly Pinot Noir winegrowing region is New Zealand's Central Otago located at 45 degrees south latitude. (For reference, Oregon Pinot Noir is within a few miles of the 45th parallel, Burgundy's Cote d'Or is between 47 degrees 20 minutes and 46 degrees 55 minutes)
Grant Stanley - Winemaker
Steven Rogstad - Winemaker
Adam Lee - Owner & Winemaker
Christian Roguenant - Winemaker
Norm Yost - Owner & Winemaker
Evelyn Vidal - Winemaker
The point of the whole seminar was to see if Pinot Noir is losing its regionality. It is clear from the tasting notes that the answer is no, especially if you compare Pinot Noirs from different countries as in this and other seminars. There are many similarities for sure, especially when the same clones are used, but the experienced taster can recognize the subtle reflections of site differences that Pinot Noir offers. It's the dirt that matters, and the dirt varies significantly from region to region.
Exploring Oregon's New World Burgundy
Moderator - Harry Peterson-Nedry, Chehalem
The Willamette Valley was Oregon's first formal American Viticultural Area (AVA), created in 1984. Unofficially, it is divided into north and south halves along the 45th parallel. There are now 15 AVAs in Oregon and 6 sub-AVAs in the Willamette Valley (McMinnville Foothill, Dundee Hills, Ribbon Ridge, Yamhill-Carlton District, Eola-Amity Hills District, and Chehalem Mountains). The sub-AVA designations started appearing on wine labels (replacing "Willamette Valley") with the 2004 and 2005 vintages.
The AVAs are largely characterized by their soils and generalizations regarding flavors and styles of Pinot Noir can be made for the appellations based on the differences in soil type. The AVAs with Jory soils (red volcanic basalt soil), including the Dundee Hills, Eola-Amity Hills, and parts of Chehalem Mountains and McMinnville, tend to produce Pinot Noirs with bright red fruits including cherry and raspberry, and are softly textured. The Pinot Noirs from AVAs with Willakenzie soils (brown marine sedimentary soils) including Yamhill-Crlton, Ribbon Ridge, and parts of Chehalem Mountains and McMinnville, typically offer more dark fruit, spice (cola, anise), and wet leaf flavors and tend to be more tannic and structured.
The wineriesparticipating in this seminar were from Yamhill-Carlton and Ribbon Ridge (Willakenzie - Soter Vineyards, Penner-Ash Wine Cellars, Elk Cove Vineyards, Chehalem and Beaux Freres) and Eola- Amita Hills (Jory - Bethel Heights Vineyards, Cristom Vineyards). The challenge was to discover those characteristics that are expressed or not expressed differently by each AVA. Despite the panelists best efforts, Russell reported that he was not able to come away with any appellation-speicific characteristics that he could clearly discern. I attended a similar seminar a few years ago at an event and I was left with the same feeling afterwards. I think Oregon winemakers can make distinctions through years of comparative tasting, but the general consumer may find such differences frustratingly beyond their grasp.
The Wines of Domaine Jacques-Frédéric Mugnier
Moderator - Allen Meadows, Burghound.com
Each year, one of the highlights of the World of Pinot Noir is the Saturday morning tasting of Burgundy from a well-known domaine. Allen Meadows, one of the world's acknowledged authorities on Burgundy, offers colorful commentary and background information making the event highly popular and eagerly attended by lovers of fine Burgundy. I have divided this report into two parts. Part one includes the comments of Allen Meadows about Frédéric Mugnier and his wines and the remarks of Frédéric (his friends affectionately call him "Freddy") Mugnier about his domaine and wines. Part two offers a discussion of the three featured bottlings sampled with tasting notes of the wines. Meadows (vest) and Mugnier are pictured below during an interview by the Grape Radio crew.
In Burgundy, the stars are the vineyards, not the winemakers. Many centuries of careful study by the Cisterian monks led to a definitive demarcation of the terroirs of the Cote d'Or. As a group, these monks were very atuned to their environment and they did not have to make wine for a living - two very important facts that explain the evolution of the Cote d'Or viticultural mileu. With the French Revolution, rich owners replaced the church owners and the vineyards were subdivided many times over, but the "groundwork" for the Burgundian terroir-based viticultural system was firmly established.
Frederic Mugnier's philsophy is summarized very simply: let the message in the vineyard come through. Mugnier's background is engineering and he was a commercial pilot who came to wine as a second career. He started crafting wine while still a pilot and released his virst vintage in 1985 from 4 hectares of Chambolle Musigny vineyards (including.53 hectare of Les Amoureuses, .36 hectare of Bonne Mares, and a little over 1 hectare of Musigny - second only to Comte de Vogue) that had been in his family for generations and mostly leased to others. By his own admission, he didn't know anything about winemaking initially. He attended viticulture school in Beaune and experimented a lot. Over time his experience has served him better than formal winemaking education. He continued to work as a pilot until 2000. In 2004 his Domaine changed dramatically when Faiveley's lease of the Mugnier family's 9.55-hectare Nuits St. George 1er Cru Clos de la Maréchale expired. This more than tripled the size of Mugnier's vineyard holdings to 13.5 hectares. With the assuamption of the largest monopole in Burgundy, his Domaine became quite large, and he was forced to build a winery and hire several workers to assist him.
Mugnier's wines are among the purest in Burgundy and Meadows can think of only one other domaine that is in the same classs and that is D'Angerville. The wines are unadorned and unadultered. They do not overwhelm - the drinker must listen. Most people want volume turned up in wine, but Mugnier's wines are more subtle and the drinker must make an effort to really appreciate them. The wines require plenty of bottle age. Meadows quoted Matt Kramer, who said the distinguishing signature of Mugnier's wines was "the absence of a signature." As noted in the first sentence on this page, its not about the winemaker, its about the vineyards and "it is what it is." Meadows emphasized his admiration for Mugnier's ability to keep his hands off and let the vineyard and vintage speak.
Mugnier is a charming but painfully shy gentleman who said that his wines were an expression of "someone who likes beauty," more than wines "seen through the eyes of an engineer." Interestingly, he remarked that his vineyards do not have the ideal clones and rootstocks that he would choose today, but the vine age (many over 50 years old) obscures the quality of the plant material. Mugnier has farmed nearly organically since 1990, using only non-organic sprays for odium control, avoiding the use of copper sulfate (an organic treatment) which he feels accumulates in the soil and leads to undesirable adverse effects on the vines.
Meadows made a number of pertinent comments about recent vintages in Burgundy. He pointed out that the much-misaligned 2001 vintage is just now beginning to blossom and the wines are very terroirdriven (transparent) with good acidity and outstanding in quality. There has been considerable hype about 1999, 2002 and 2005, but the2001 Burgundies wines will truly reward those who had the foresight to buy and cellar them. This was evident in the tasting of the Chambolle Musigny and Musigny wines of Mugnier where the 2001 vintages were clearly the stars. The 2003 vintage was the hottest since 1893 (the modern parallel was 1947). The wines from this vintage are "power Burgundies," but are becoming more interesting with age. The 2004 vintage was a difficult one with hail and mildew pressures. There are a number of good wines with respectable fruit. Meadows is still touting the 2005 vintage as possibly the best since 1978, ripe and structured, classic old style and built for the long haul. However, the wines are now closing down and those who taste them currently may be disappointed. Meadows advised buying as much 2005 Burgundy as you can afford with good faith from producers you trust and lay the wines down for several years. Drink the 2004 and 2006 vintages in the meantime. 2006 is a "pure, pretty vintage," much like 2001 in that the terroirs show through, but showy early on.
Tasting Order
For the complete story of Domaine Jacques-Frédéric Mugnier and a vertical tasting of Mugnier Musigny, refer to Burghound.com (www.burghound.com), 3rd Quarter, Issue 19, 2005 (subscription only).
Chambolle Musigny
Chambolle Musigny is a villages-level wine of great quality from Mugnier because of the little known fact that 45% of the grapes come from declassified 1er Cru vineyards. The recent vintages have sold for a little more than $50 in the United States, an incredible value considering the pedigree. These wines have great purity of fruit and are extremely good with food. I chose to take the 2001 vintage to lunch after the tasting and was very pleased. Meadows said these wines have "tension, minerality, and edges."
Clos de la Maréchale
Clos de la Maréchale is located in the more southerly portion of Nuits St George where there is more sand in the soil. The result is additional elegance and sophistication compared to more northerly wines from Nuits St George such as Le St George Vineyard. The Clos de la Maréchale is a walled vineyard that has been in the Mugnier family for over 100 years and is the largest single-family owned vineyard in the Cote d'Or. The wine from this vineyard is vinified in the same fashion as the Chambolle Musigny. New oak is usually limited to 20% A small portion of this vineyard has been grafted over to Chardonnay.
Musigny
Musigny is one of the three greatest terroirs in the Cote d'Or, the others being Romanee-Conti and La Tache. In Musigny, the soils are shallow with rocks near the surface. The soil drains well and the vineyard in general is less dependent on the weather. The wines from Musigny personify the expression, "power without weight," or as others have expressed, "an iron fist in a velvet glove." Musigny needs at least ten years of aging in the bottle. Mugnier says that Musigny is an "integrated" wine, meaning you can't point out specific elements and it defies description. When it is young you can sense the intensity, but it is impenetrable. You can perceive the richness early on, but it takes more than ten years before it shows the explosion of fruit.
I did a quick search on the internet for Mugnier wines and all of the above wines (except 2006) were available. Chambolle Musigny $54-$60, Clos de la Maréchale $60-$70, Bonne Mares $175-250, Les Amoureuses $300-400, and Musigny $450-550. You know the old saying, "Burgundy is a fine drink, especially if you can get someone else to buy it."
More on Quails' Gate
According to John Schreiner's magnificent book titled British Columbia Wine Country (2004), in 1981 there were 14 wineries in British Columbia, most of which were trying to produce off-dry wines from hypbrid grapes. By 2002, British Columbia had 71 licensed wineries, with many others pending. Extensive plantings of vinifera grapes followed the Free Trade Agreement of 1988 (which eliminated price discrimination that had favored cheap hybrid-based British Columbia wines) and the wine industry in British Columbia reinvented itself. In 1991, the Vintners Quality Alliance program was begun which further strengthened the quality of wines from the region. The annual Okanagan Wine Festival began to draw large crowds and by 2001 there were twice the number of vinifera vineyards planted as existed in 1981. By 2006, there were 132 wineries and 5,462 acres planted to vineyards. One of the biggest factors in holding back international recognition of British Columbia wines has been the inability of producers to export their wines due to customs and duty regulations. For example, you cannot purchase Quail's Gate wines in the United States.
British Columbia does not have an appellation system but there are roughly thirteen regions. Quails' Gate is located among the vineyards of Mount Boucherie in the Okanagan Valley (map, page 23). The 125 acre lakefront estate is located on the historic home site of Okanagan pioneers, the Allison Family, who settled in Kelowna in the 1870s. The vineyards are planted in a mixture of volcanic rock and clay situated on south-facing slopes above Lake Okanagan and below the extinct volcano Mount Boucherie.
The pioneer of the current proprietors, Ben and Tony Stewart, was Richard John, who emigrated from Ireland to Canada in 1908. With his brother Bill, they formed Stewart Brothers Nurseries Ltd. in 1911 in the Kelowna area of British Columbia, growing fruit trees, shade trees, and potatoes. One of John's sons, Dick, along with three friends, purchased 65 acres where Quails' Gate Winery is now situated and planted a vineyard. Additional land purchases brought the total land holdings to 125 acres. The grapes were consigned to St. Michelle Wines in Victoria. In 1970, Dick bought out his three partners in the vineyard and renamed the company Boucherie Mountain Vineyards. The main varietal grown on the property was Chasselas. Pinot Noir was first planted in 1975, with additional plantings throughout the years as part of an extensive planting program to supply St. Michelle with a wider range of grape varietals. With the passage of the Free Trade Agreement in 1988, Dick's son, Ben, co-founded and incorporated Quails' Gate Estate Winery in 1989, and together the family has brought it to where it is today. Quails' Gate now employs more than sixty people and the winery produces 40,000 cases of wine a year. A new hospitality center was completed in June of 2007 which includes a modern tasting bar in the Wineshop, and a first-class, highly-awarded restaurant, the Old Vines Restaurant headed by Chef Roger Sleiman.
Today the vineyards consist of Pinot Noir, Chardonnay, Old Vine Marechalk Foch, Riesling, Chasselas, Chenin Blanc, Sauvignon Blanc, Pinot Blanc, Merlot, Optima, Cabernet Sauvignon, and Gamay plantings. Of all of its wines, Quails' Gate is best known for its Chardonnay and Pinot Noir. The 2004 Family Reserve Pinot Noir won Gold Medals at both the 2007 San Francisco International Wine Competition and the 2007 Grand Harvest Awards in California. The Quails' Gate Pinot Noir has recently been the top rated Pinot Noir in Canada and maybe Canada's top overall table wine.
Quails' Gate has had a long line of Australian winemakers including Jeff Martin, Peter Draper, Ashley Hooper, and since 2003, Grant Stanley. Stanley is breaking new ground and focusing the wine practices at Quails' Gate in pursuit of terroir-specific wines. I interviewed him at World of Pinot Noir and that videocast should be posted soon at www.graperadio.com.
The Quails' Gate website, www.quailsgate.com, offers further information and breathtaking photographs of the estate. This winery is a must visit for anyone venturing to the Okanagan Valley.
There are a number of other wineries in the Okanagan Valley pursuing Pinot dreams as well and the potential shown by Quails' Gate Pinot Noirs bodes well for success with this varietal in the Okanagan. Quails' Gate is located at 3303 Boucherie Road, Kelowna, BC, Canada VIZ 2H3. The phone is 250-769- 4451, toll-free 800-420-9463.
---
Pinot Events
Hospices of Sonoma
Hospices of Sonoma weekend is patterned after the famous Hospices de Beaune. Last year's event raised more than $450,000 for various Sonoma charities. This year's event will be held May 2-4 and will include winery dinners at various locations on Friday evening, May 2, a Barrel Tasting and Big Board Auction of 2007 vintage Sonoma Pinot Noirs and Gala Dinners at five host wineries in the evening on Saturday, May 3, and a La Paulee at Lynmar Winery in Sebastopol on Sunday, May 4. Nearly forty wineries will introduce Pinot Noirs crafted exclusively for the Hospices of Sonoma WCC Charitable Foundation, which disperses funds to a select group of charities dedicated to helping children at risk and disabled American military personnel and their families. Wineries participating include Capiaux, Davis Family vineyards, DeLoach, Donum Estate, Dutton Estate, Emeritus, Failla, Foppiano, Freeman, Freestone, Gary Farrell, Halleck Vineyards, Hartford Family, Iron Horse, J, Keller Estate, Kosta Browne, Kutch, Landmark, Lynmar, MacMurray, MacPhail, Martinelli, Marimar Torres, Mueller, Papapietro Perry, Olivet Lane, Patz & Hall, Paul Hobbs, Roessler Cellars, Rutz, Schug, Siduri Wines, Elliott Family Cellars, and Wild Hog. For tickets and information, visit the website at www.hospicesofsonoma.org. You can also bid in absentia by contacting Jane Hodges Young, Executive Director of the Hopsices of Sonoma through the website. I attended last year and enjoyed the event immensely.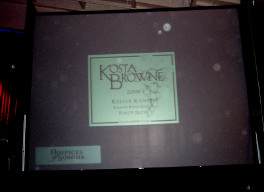 Santa Lucia Highlands' Winegrowers Annual Gala
The Wine Artisans of the Santa Lucia Highlands, an alliance of the appellation's winegrowers and the wineries that rely on the district's fruit, is sponsoring the 2nd Annual Gala Tasting, "Highlands' Fling," Saturday, May 17 at Paraiso Vineyards from 2:00 to 5:00 PM. The event will feature a strolling wine tasting hosted by the Santa Lucia Highlands' artisan winemakers paired with foods prepared by Master Chef Kurt Grasing. Participating wineries include Pelerin, Roar, Morgan, Testarossa, Pisoni, Pessagno, Tondre, Siduri, Paraiso, Manzoni, Hahn, Robert TAlbott, La Rochelle, Novy, Joullian, Bernardus, McIntyre, Tudor, Tamayo, Six Strings, Belle Glos, Mer Soleil, and more. Tickets are $85 per person and can be purchased online at www.santaluciahighlands.com.
Paraiso Vineyards, the oldest estate in Monterey's Santa Lucia Highlands appellation, is staging an airshow over the vineyards. The 6th Annual Paraiso Airshow will be on Mother's Day, May 11, from 10:00 AM to 4:00 PM. Besides many of the country's best stunt pilots performing their precision aerobatics, there will be plenty of wine, a gourmet luncheon by Moveable Feast, and live music and dancing. Tickets are $100 per person and are available online at www.ParaisoVineyards.com.
Rosé Avengers & Producers Annual PINK OUT!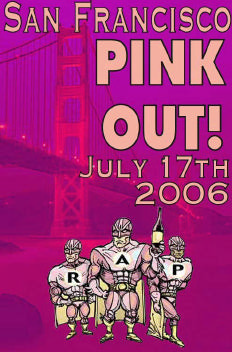 Rosé Avengers & Producers (RAP) will present their signature tasting event, PINK OUT! in San Francisco on Tuesday, May 13th at Butterfly Restaurant on the Embarcadero at Pier 33. This is the 4th annual fine rosé tasting and will feature 45 still and sparkling rosés from around the world. Many winemakers will be present and appetizers will be served by Butterfly's Chef, Robert Lam.
Since the inaugural event in 2005, PINK OUT! has drawn full house crowds. The trade and media portion takes place from 4:00 to 6:00 PM and the consumer tasting is from 6:30 to 8:30 PM. Consumer tickets are $35 in advance and available online only at www.rapwine.com. Media and trade credentials can be obtained by emailing RAP@paigepoulos.com.
According to The Nielsen Company, rosés priced $8.00 and up grew 53.2% on dollars and 49.1% on volume over the past 52 weeks ending February 9, 2008 (Total United States Food, Drug, and Major Liquor Markets). Rosé sales grew nearly 8 times faster on dollars and 17 times faster on volume than total table wine sales. Miami led the way with 89.4% growth, followed by Seattle (86.6%), New York (75.2%), and San Francisco (39.4%). In domestic versus imports, domestic rosés saw the greatest surge with 62.6% growth in dollars and 51.0% in volume. Imports continue to dominate the category, owning a 76.7% share on dollars.
Rosé Avengers and Producers was founded in 2005 by Jeff Morgan, Daniel Moore, Jim Kopp, Carol Shelton, and Paige Poulos. The organization consists of an international group of winemakers and wine drinkers dedicated to advancing the knowledge and appreciation of fine rosé. RAP is currently offering free memberships to keep everyone up to date on the latest events and developments in the world of fine rosé. To learn more about RAP and sign-up for free membership, visit www.rapwine.com.
An article from Australia published at www.decanter.com (March 18, 2008), reports a rising popularity of rosés in that country. The surge has been led by the drier style of both still and sparkling rosé as opposed to the sweeter wines that had been popular. The Aussies often use Shiraz, Grenache, Cabernet and Pinot Noir grapes in making their rosés. A comment posted about the article indicated that this "rosé revolution" has been going on for 3-4 years in Australia, especially in the warmer regions where barbecues are so popular.
Many California Pinot Noir producers are now releasing rosés to compliment their lineup of Pinot Noirs. These have become serious wines, not an afterthought made with left over juice or press wine as in the past. The producers of Radio-Coteau just announced the release of the 2007 County Line Anderson Valley Rosé. This wine was whole cluster pressed from a suitcase Champagne clone of Pinot Noir grown in the cool Anderson Valley. The wine is not a saignée. Its fruit was harvested specifically for this bottling, pressed immediately, and fermented in tank and neutral oak barrels. The winemaker notes that "You may find this wine more akin to the Brut Rosés of Champagne than to most of its counterparts in California, as it manages to balance a clean aristocratic structure with a fresh aromatic lift. 400 cases were produced, $18 per bottle. Contact County Line Vineyards at 707-823-2578.
2008 Dundee Hills Appellation Passport Tour
The Heart & Soil of Oregon Wine
Travel the Dundee Hills wine growing region armed with a passport good for visits to 20 wineries and vineyards in the Dundee Hills Appellation of the Willamette Valley. The dates are Saturday and Sunday, April 19 and 20, 2008 and times are generally 11:00 AM to 5:00 PM. At each stop, participants can enjoy the wines from this region as well as learn from experts about the unique climate, red volcanic soil (Jory soil), geology, and earth-friendly farming practices that make this appellation special. Prominent wineries include Archery Summit, Argyle Winery, Daedalus Cellars, DE Ponte Cellars, Dobbes Family Estate, Domaine Drouhin Oregon, Domaine Serene, Dusky Goose, Erath Winery, Ponzi, Sokol Blosser Winery, Stoller Winery, Torii Mor Winery, White Rose Wines and Winter's Hill Vineyard. Download your Dundee Hills Passport and map online. Full details as well as vineyard seminar sites and times are available at www.dundeehills.org.
Santa Barbara County Wine Futures Tastings
This year marks the 19th offering of Santa Barbara County Wine Futures started by Doug Margerum, the past owner of the Wine Cask Restaurant and retail wine store in Santa Barbara. The new owner, Bernie Rosenson, and the Wine Cask wine director, Cheryl Stanley, carry on the tradition (with Margerum's help as well who remains as a wine consultant for the Wine Cask). The goal is to bring to the wine enthusiast 100 or so top wines produced in Santa Barbara County that will be released in the next twelve months. Because they are offered on a futures basis, prices are reduced by about 20%. Two tastings of the wines are held on Saturday March 29 and Saturday April 12 at the Wine Cask Restaurant and El Paseo Restaurant, 813 Anacapa Street, Santa Barbara. These tastings are free to the public. An order form with a listing of the wines and a downloadable catalog are available at www.winecask.com.
As I perused the catalog, there were several Pinot Noirs that caught my eye and deserve your attention. The wines have to be purchased in 3 or 6 bottle lots in most cases. It is a good idea to find a couple of wine buddies and purchase several lots and share the bounty.
5th Annual Malibu Wine Classic
Over 60 wineries from Santa Barbara, San Luis Obispo, Los Angeles and Ventura Counties will showcase their wines on Saturday, April 5, from 12:00 to 5:00 PM. More than 20 hot Malibu and Los Angeles Restaurants will participate as well. Being in Malibu, it is not surprising that there will be several celebrity guests as well. Some of the wineries known for Pinot Noir that are participating include: Consilience, Demetria, Domaine Alfred, Fess Parker, Fiddlehead, Ken Brown, Laetitia, Lucas & Lewellen, Stephen's Cellar, Summerland, Talley Vineyards and York Mountain. A portion of the ticket sales benefit Childhelp, one of the oldest and largest national non-profits, dedicated to the treatment and prevention of child abuse. Public advance purchase tickets are $79 per person at www.malibuwineclassic.com.