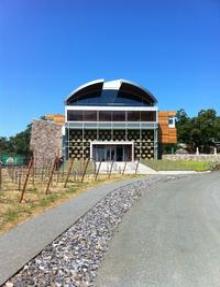 Burt Williams and Ed Selyem were among the first "garagiste" Pinot Noir producers in Sonoma County and their wines reached such heights of excellence that their own popularity eventually drove them out of the business in 1997. Their interesting story has been well-detailed in the PinotFile.
A friend of mine, Paul Root, who owned a wine retail store in Healdsburg for years, was one of the first retail outlets to carry the Williams Selyem wines, at a time when the label read, "Hacienda Del Rio," the original name of Burt and Ed's winery. Burt and Ed would show up twice a year with a pallet of their current releases in the bed of a pickup truck and unload the ENTIRE TRUCK at Root's receiving door. Customers would always ask Paul to describe the wines prior to purchasing (even by mid-1980 standards the wines were a bit expensive and also relatively unknown). Paul would say, "Strawberry jam and buttered toast and far more complex than their delicate color would lead you to believe. They have a finish you can time by a stopwatch, and an aftertaste that is sublime. They are like riding a bicycle without having to pedal!" Paul laughs, "I don't think anyone knew what the hell I was trying to say. You had to taste them yourself to understand."
In 1997, Burt and Ed sold the winery (really they sold just a name as they owned no vineyards or winery) for nine million dollars to businessman John Dyson and his wife Kathe. Dyson had been on the Williams Selyem mailing list for years and loved the wines. Dyson brought on winemaker Bob Cabral to work with a small team of other winemakers, built a 33,000-square-foot winery and hospitality center which opened in 2010 on a hillside off Westside Road (reportedly at a cost of $15-$18 million), planted vineyards (they now own 70 acres of estate vineyards), retained many vineyard sources, sought out new vineyard sources, and kept the Williams Selyem flag flying high.
All business and administrative operations, aging, blending, barrel storage and bottling are in the new modern winery facility as of 2011, with crushing and fermenting at the old Allen Ranch winery for continuity. Westside Road has been called the Rodeo Drive of Pinot Noir, and it now has a winery that fits the Beverly Hills image. The striking two-story front on the winery is constructed of steel, wood framing and glass and is decorated with salvaged redwood from the old Almaden Winery in Cienega Valley, CA. An arching barrel-shaped roof display stacked, empty barrels and in the reception area, a dramatic wall of bottle glass covers one wall and horizontal rows of Williams Selyem bottles line the other. The production part of the facility is in back, and sunk into the ground with a roof planted to native grasses to assist with energy conservation. The five barrel rooms are independently heated, cooled and humidified. The winery's most innovative technology is its interconnected hydronic heating and cooling system.
The wines do not duplicate the old Williams Selyem style, rather they are riper and richer with more color. Fermentation is still carried out in stainless steel open-top dairy tanks that Burt and Ed designed, using the Williams Selyem yeast strain that was isolated from a Zinfandel ferment in 1984, and aging the wines in only one type of barrel (Francois Fréres). Most Pinot Noirs are fermented with 25% whole cluster. 75% new Francois Freres barrels with medium toast and toasted heads are used for Pinot Noir.
Cabral focused primarily on California heritage clones, referring to Williams Selyem as a "Dijon-free zone." He found that the newer Dijon clones grown in the Russian River Valley were less desirable because they reach high sugar levels before phenolic ripeness.
Drake Estate was the first estate vineyard under Dyson's ownership. He bought and developed Drake Estate in 1998. This is located at the site of a former orchard in Guerneville and has the same soil type and climate as many other top sites in the Russian River Valley. Planted in 1999, the first crop was harvested in 2001 and an Estate Chardonnay from this property appeared with the 2006 vintage.
In 2001, the Williams Selyem Estate property was bought from the descendants of Cecil and Luella Litton, who homesteaded the property in the 1850s. Dyson worked closely with Chris Bowland, the Estate Vineyard Manager, to begin planting the Williams Selyem Estate Vineyard The estate Pinot Noir Vineyard (initially named Litton Estate, but changed to Williams Selyem Estate due to a conflict with another Litton Estate vineyard) was planted to Swan, Mt. Eden and Pommard clones adjacent Davis Bynum's original plantings, now named Baker Ridge, and next door to Arista Vineyards. A special small block (Block 10 Mass Selection) was planted in 2004 and was winemaker Bob Cabral's pet project. The block contains 18 clones of Pinot Noir all intermixed within the same block, and all are harvested and fermented together with one barrel 25% whole cluster and one barrel 50%, both using indigenous yeast. The first vintage of Mass Selection was 2008, and this wine is only available at the tasting room. To honor the heritage of the Litton family, an Estate wine is produced called Luella's Garden, in her memory.
With the 2010 vintage, a vineyard-designated Pinot Noir was added to the lineup from Burt Williams' Morning Dew Ranch Vineyard planted in 1999. The Morning Dew Ranch consists of 40-acres with 13 acres planted to Pinot Noir. Located in the northern end of the valley, the hillside vineyard is planted to Pommard, Dijon 115, and 777 clones, a Rochioli selection and a DRC suitcase selection.
The most recent property acquisition is a site near Eastside Road which had old vine Chardonnay and Pinot Noir vines as well as some older blocks in need of replanting. The first offerings from this Estate property will be in 2016.
A total of 120 acres are owned and annual production is 20,000 cases, half of which is estate grown. Viticulturists are Chris Bowland and John Dyson (Dyson is a graduate of the Cornell College of Agriculture and an expert in viticulture).
Bob Cabral and Chris Bowland handled management of the 85 acres of estate vineyards until Cabral left in 2014 to pursue other options and landed at Three Sticks Winery. Winemaker Jeff Mangahas was hired to help for the 2011 vintage. He is a research scientist turned winemaker who had been working at Hartford Court. Mangahas assumed Cabral's winemaking role when Cabral left. In keeping with tradition, the cellar team still crushes and ferments grapes at the Allen Vineyard facility where it was done in Burt and Ed's day.
Annual production has gradually increased to 15,665 cases and prices have crept up. 45% of production is estate grown. There are 4 appellation Pinot Noirs, 14 vineyard-designate Pinot Noirs, some special small lot Pinot Noirs only sold at the winery, as well as 3 Chardonnays and 5 Zinfandels. The wines are sold exclusively through a large mailing list, although by 2009, small amounts were made available to those who call to purchase. As of 2011, there is reportedly a 6 to 12 month wait for new members to joint the list. Once you purchase at least one bottle, you become a friend of the winery and stay on the mailing list. You are them entitled to visit the winery by appointment, do private tastings, stage a patio party, receive tours of the property, picnic, and have access to some the small production wines only available at the winery. At some point, the winery will be open to the public.