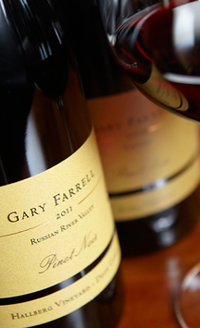 Winemaker Gary Farrell shuns the limelight but his Pinot Noirs do plenty of speaking. He was the original winemaker for Rochioli and Davis Bynum and his Pinot Noirs as well as other varieties have been nothing short of stellar. His winemaking career dates to the mid-1970s. Along with investor Bill Hambrecht, he built his own architecturally stunning winery on Westside Road which was sold in 2004 to Allied Domecq. Later it was acquired by Fortune Brands, then owned by Ascentia Wine Estates, and sold to The Vincraft Group in 2011. Farrell left his winery in 2006.
Farrell and business partner William Hambrecht are developing a new winery in the Russian River Valley concentrating on small-lot Pinot Noirs from vineyards they own together and other sources where Farrell has obtained grapes from in the past (Alysian Wines). The Gary Farrell Vineyards & Winery has continued to obtain high-quality fruit from Allen and Rochioli vineyards nearby. Farrell chose Susan Reed, who had worked with him for three years before his departure, to succeed him as winemaker and successfully maintained the high standard set by Farrell. Reed was replaced by Theresa Heredia, formerly of Freestone Vineyards, in early 2012.
A tasting room at the stylish winery is open daily and the larger production wines are distributed to multiple retail sources.