American Pinot Noir Awards for 2010
"I don't deserve this award, but I have arthritis and
I don't deserve that either"
Jack Benny
Heidi Montag Award (Biggest transformation): Carneros (Buena Vista Carneros, Donum Estate, Mahoney Vineyards and others); Foppiano Vineyards; Thomas George Estate (formerly Davis Bynum); J Vineyards & Winery
Paris Hilton Award (Most in news): E.& J. Gallo (Red Bicyclette); William Foley
Lindsay Lohan Award (Highest alcohol levels; not de-alcoholized): Brewer-Clifton, Aubert
Taylor Swift Award (Most hits): Cobb Wines
Rodney Dangerfield Award (Can't get no respect): Santa Cruz Mountains, perhaps California's least celebrated but great region for Pinot Noir (Mount Eden, Rhys Vineyards, Varner, Windy Oaks and more).
Fred Rodgers Award (Most admired): Richard Sanford
Bling Award (Most expensive): Domaine Serene Monogram ($225)
Justin Bieber Award (Relatively young, making a splash): Alexana Winery, Alysian, Big Table Farm, Bjornstad Cellars, C. Donatiello, Carabella Vineyard, Ceritas, Cherry Pie, Cornerstone Cellars, de Coelo, Evening Land Vineyards, Foursight Wines, Furthermore, Harrington Wines, Heart O' The Mountain, Kelley Fox Wines, Kokoma, Lucienne, Signaterra (Benziger) SPELL Winery, Three Sticks Wines.
Lada Gaga Award (Personality): Lane Tanner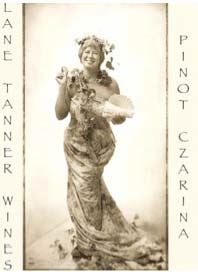 Angelina Jolie Award (Best Package): Belle Glos
Chip Off the Old Block Award (William Selyem spin offs carry on the tradition): Anthill Farms, Brogan Cellars, George Wines, Olson Ogden Wines, Papapietro Perry, WesMar, Woodenhead
Jimmy Wales Award (Great, obscure producers): Castalia, Clos Saron, Saxon Brown
John Steinbeck Award (Best winery blog): Anne Amie, Bruliam Wines, Pinotblogger (Capozzi Winery)
Jack LaLanne Award (Legends that are still in top shape): Calera, Dehlinger, Gary Farrell Vineyards & Winery, Hanzell, J. Rochioli, Joseph Swan Vineyards, Ponzi Vineyards, The Eyrie Vineyards, Williams Selyem
Black Friday Award (Best deals): Balletto Vineyards, La Crema Winery, Sean Minor Wines, Westrey Wine Co.
Steve Jobs Award (Most Innovative): LIOCO
Mark Zuckerberg Award (Best winery website): Big Table Farm, Clos Pepe Vineyards, Thomas George Estates (live web cams).
Vincent Van Gogh Award (Best labels): Big Table Farm, Cherry Pie, Eric Kent Wine Cellars, Red Car, Windy Oaks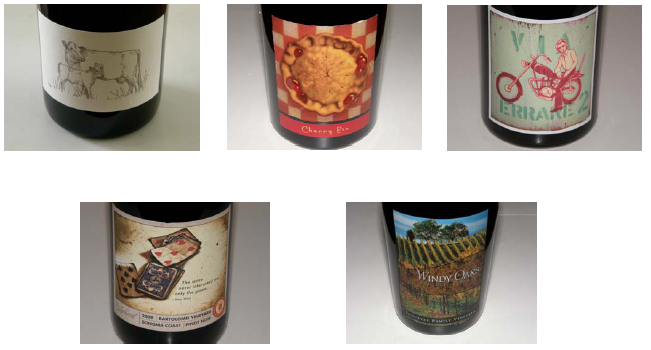 Anna Paquin Award (Winery goes gracefully both ways - great Pinot and Chardonnay): Benovia Winery, Calera, Domaine Drouhin Oregon, duMOL, Freestone Vineyards, Hanzell, Littorai, Mount Eden, Walter Hansel
Robert Parker, Jr. Award (Highest scoring Pinot Noir): 2007 Williams Selyem Litton Estate Russian River Valley Pinot Noir (100 pts by Steve Heimoff, Wine Enthusiast, $100).
Oscar Wilde Award (Best winery newsletter): Navarro Vineyards, Pisoni Vineyards, Red Car
Orson Welles Award (No wine before its time): Kalin Cellars
Play Hard to Get Award (Most allocated): Aubert, J. Rochioli, Kistler Vineyards, Kosta-Browne, Marcassin, Privé Vineyard, Rhys Vineyards, Rivers-Marie, Sea Smoke Vineyards
Tiger Woods Award (Surprise!): Briceland Vineyards (Humboldt County), Heart & Hands Wine Company (Finger Lakes), Heron Lake Winery (Wild Horse Valley)