Ponzi Vineyards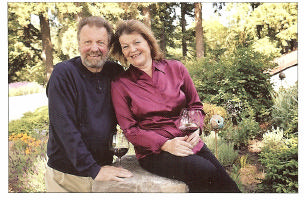 Dick and Nancy Ponzi established Ponzi Vineyards in 1970 in Beaverton, Oregon, 15 miles southwest of Portland. Dick has been active in promoting Oregon's wine industry for years. He was a founding member and first president of the Oregon Winegrowers Association, and served as a founding Director of the Oregon Wine Advisory Board (now the Oregon Wine Board). Nancy helped create the first Discover Oregon Wines guide, co-founded the International Pinot Noir Celebration, the Salud Oregon Pinot Noir Barrel Auction and, most recently, Oregon Pinot Camp. In 1997 they created a regional tasting room and a full service restaurant showcasing local wines and food called The Dundee Bistro. Ponzi Vineyards is one of Oregon's top 20 Oregon wineries by brand in 2007 with an estimated case production of 29,600.
Ponzi Pinot Noirs have won critical acclaim through the years. The wines have always been intense, savory and concentrated. Consistency has always been a hallmark, even during the uneven vintages of the 1990s. My Oregon wine epiphany was a 1992 Ponzi Reserve Pinot Noir made from a single vineyard that was 18 years old at the time and I have continued to enjoy many Reserve bottlings since.
The three Ponzi children, Michel (Operations Manager) , Anna Maria (National Sales and Marketing Director) and Luisa (Winemaker), grew up helping out in the vineyard and in the family's winery and operate the family business now. They are continuing the family tradition of community and wine industry service. Even their eight grandchildren are now being introduced to viticulture and the operation of the winery at an early age. Luisa is a highly respected winemaker who was trained in Burgundy and now is married to another notable winemaker, Eric Hamacher.
The Oregon Wine Board recently presented Dick and Nancy Ponzi with a Lifetime Achievement Award at the annual Oregon Wine Symposium in Eugene, Oregon. The award is put forth by colleagues currently working in the Oregon wine industry.
A new Ponzi winemaking facility is due for completion for the 2008 harvest. It is located closer to their vineyards on the east and north faces of the Chehalem Mountains. The property, as yet unnamed, is 42 acres and is being designed by Dick Ponzi. The tasting room will remain at its current location.
Ponzi Vineyards has two tasting rooms. The original tasting room is located at the site of the first estate vineyards and winery at 14665 SW Winery Lane in Beaverton and is open from 11-5 daily. Tours are available by appointment (503-628-1227). The Ponzi Wine Bar is located at 100 SW 7th St in Dundee and is open from 11-5 daily (503-554-1500). The wines are distributed by Wilson Daniels and sold on the website at www.ponziwines.com.