Thomas George Estates: On the Upswing
When I last made a significant mention of Thomas George Estates in the PinotFile in 2008, the iconic Davis Bynum Winery on Westside Road had been sold to the Baker family of Toronto, Canada. I visited President Jeremy Baker back then at a time the winery was undergoing a much-needed complete renovation. The exterior and interior of the old winery, which had been a hops processing room next to a former kiln, was being transformed into a modern winemaking facility with the latest winemaking equipment. The winery was expanded to allow eventual production of 16,000 cases annually, and the tasting room was upgraded, retaining its original location, but outfitted with a modern flair.
In 2010, caves (singularly unique to Westside Road) were built into the adjacent hillside to function as a barrel aging facility as well as an additional tasting and entertaining area that would appeal to wine romanticists. New landscaping was added to create an attractive outdoor picnic area. When I visited recently, I was amazed at the transformation. The winery had become a destination, a sterling, hi-collared addition to the Middle Reach array of prominent Russian River Valley Pinot Noir producers with an appeal to wine aficionados of all ages.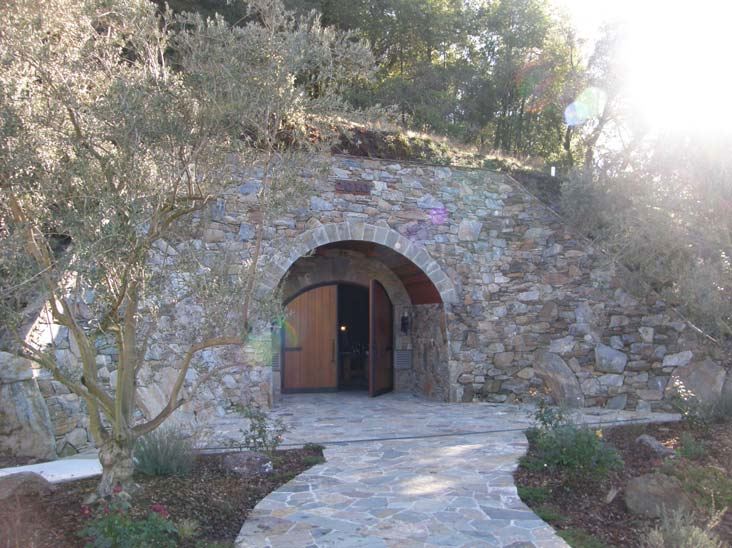 The wines of Thomas George Estates have been infused with a new spirit and quality as well. The estate Baker Ridge Vineyard (formerly Lindley's Knoll), which sits in a prime Middle Reach location adjacent the Williams Selyem Estate Vineyard and Arista estate vineyards, was revitalized and partially replanted under the direction of noted viticulturist Ulises Valdez. The Baker Ranch Vineyard now consists of 21 acres of Pinot Noir, 4 acres of Chardonnay and small amounts of Grenache and Viognier. The winery acquired the 26-acre Starr Ridge Vineyard on Windsor Road and the 14-acre Cresta Ridge Vineyard in the Green Valley appellation, both premium sources of Pinot Noir and Chardonnay. The new winemaker, Chris Rossi, is a University of California at Davis graduate who left an eight-year stint as winemaker at Christopher Creek to join Thomas George Estates. Like Jeremy Baker, Rossi is young and enthusiastic and has instituted modern winemaking techniques, beginning with the 2008 vintage.
The 2007 Thomas George Estates wines were made by a different winemaker and included a number of non-estate grape sources. After the winery officially opened in January 2009, these wines were offered and I received a number of disappointing reports about the wines from visitors. The 2008 vintage wines now available were the first produced in the new winemaking facility under the direction of Rossi are impressive and are a world apart in quality. Beginning with the 2009 vintage, essentially all Pinot Noir and Chardonnay was estate grown. The crew at Thomas George Estates is pictured below (L to R, Chris Rossi, Jeremy Baker, Operations manager Sean Tevik, and one of three winery dogs, Muki).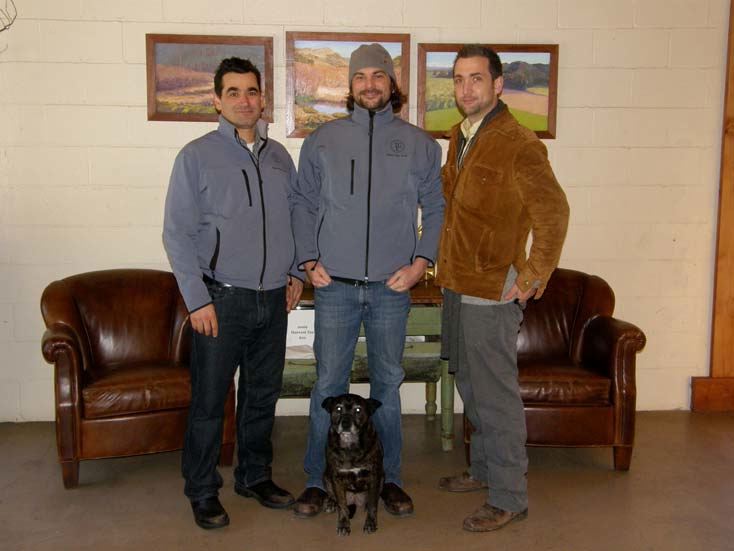 In January 2011 I tasted several 2008 Pinot Noirs out of bottle as well as a 2009 Russian River Valley bottling and a 2009 sparkling wine. I re-tasted several wines at home a month later. The 2008 and 2009 vintages will be the last for Sonoma Coast Pinot Noir as the winery concentrates solely on Russian River Valley vineyards. Rossi de-stems the grapes and uses a basket press for gentle pressing. New oak is kept to a minimum: no wine receives more than 40% and I found that none of the wines showed a heavy-handed oak influence (which I prefer). The ultimate goal of the winery is to feature primarily Pinot Noir (50% of bottlings as vineyard designated and 50% in the Russian River Valley blend) and Chardonnay, with a few other limited varietal bottlings and sparkling wine for fun.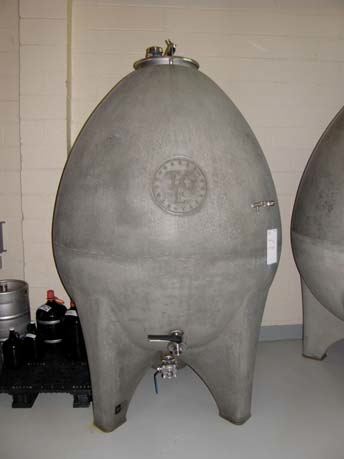 Thomas George Estates has an impressive, easily navigable website. Live views of the wine cave, winery and vineyards are offered. All wines are sold through the online store. The tasting room at 8075 Westside Road is open daily from 11:00 to 5:00. Events and picnics may be planned at the winery or vineyards and can include the "Toastermobile," a portable kitchen offering gourmet meals at any of the winery's picnic areas or Cave. Four ranching guest houses have been renovated and are available for rent with wine club members receiving 50% discounts for their stay. 707-431-8031. Pictured right are the new concrete wine fermentation tanks from Sonoma Cast Stone used for white wines. The tanks breathe similar to wood but do not contribute oakiness.