Kosta-Browne: Stylin' in 2008
Dan Kosta and Michael Browne are alumni of a landmark Sonoma County restaurant, John Ash & Co.. Dan Kosta grew up around wine in Sonoma. His father owned a wine store in Santa Rosa and wine was a frequent topic of discussion at the household dinner table. After joining the staff at John Ash & Co., Dan worked his way up to Head Sommelier. Michael Brown was born in the San Francisco Bay area, but grew up in Washington State. Upon returning to Santa Rosa in 1987, he enrolled in pre requisite courses at Santa Rosa Junior College to become an architect. During schooling, he worked in wine retail and at a number of restaurants but it was at John Ash & Co. where he developed a passion for wine and food and decided to become a winemaker.
Dan and Michael began their winemaking venture by putting all their tip money into a "co-op" cookie jar in the kitchen of John Ash & Co.. After raising $2,600, they bought a half-ton of Pinot Noir grapes, a single barrel, and a used, hand-crank de-stemmer/crusher and produced their first vintage in 1997.
That year, Michael left John Ash & Co. to become an assistant winemaker at Deerfield Ranch Winery in the Sonoma Valley, but much of his winemaking acumen was self-taught. He likes to say he learned his winemaking at "Hard Knocks University." Dan and Michael attracted an initial investment group and in 1999 made 2,600 cases of Lake County Sauvignon Blanc. This venture proved financially unrewarding and the principals parted ways.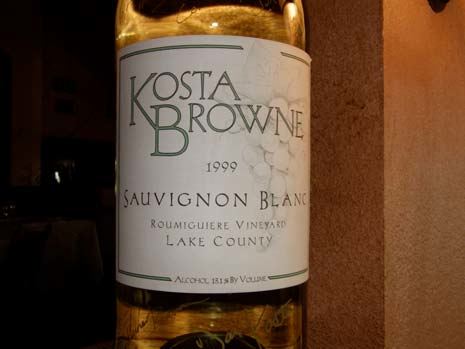 In 2001, they teamed with Chris Costello and his family in developing a fiscally conservative and thoughtful business plan. Success followed soon after. Pictured below (L to R, Dan Kosta, Chris Costello, Michael Browne).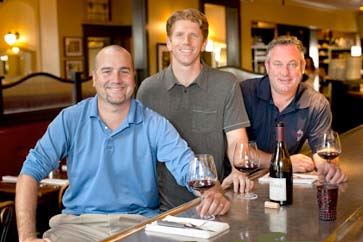 The 2003 vintage of Kosta Browne was highly regarded by wine writer James Laube of the Wine Spectator, who awarded all the 2003 Pinot Noirs scores ranging from 90 to 96. The mailing list quickly filled up, Kosta Browne appeared on every pinotphile's radar, and the winery quickly became a member of the fraternity of prestigious Russian River Valley wine producers, many of whom had been crafting world-class Pinot Noir since the 1980s.
Kosta Browne made wine in a number of facilities initially, finally settling in a large space in the former Vacu- Dry apple processing plant in Sebastopol. Twenty years ago, the Washington apple growers got together and bought the Vacu-Dry processing plant in Sebastopol, shutting it down and effectively shutting down the apple industry in Sonoma County. The plant, now owned by SonomaWest Holdings, is home to numerous wineries and artisan food producers. The Kosta-Browne leased facility is perfectly suited to the current 10,500 case production.
Kosta Browne's success stems from three sources. First, Dan and Michael are congenial and customer oriented, are well-liked in the wine community, and are willing to support many charitable fund-raising activities. Each year, magnums and larger formats are bottled, but are only donated to charitable causes and never sold to customers. This greatly increases their value and the bottlings demand very high prices (a 6L bottle was auctioned at a charity event in 2009 for $20,000). Kosta Browne also supports many wine events where they generously pour nearly their entire lineup of wines (photo below was taken at World of Pinot Noir). Second, Dan and Michael were able to use their long-standing friendships and contacts to source grapes from top growers in the Russian River Valley, Sonoma Coast and Santa Lucia Highlands appellations. Quality grapes are critical to producing fine wine. The precedent for this in the Russian River Valley was set by Williams Selyem whose success was built on acquiring fruit from top vineyards in the region. Third, Michael has given Kosta Browne Pinot Noir a distinctive stamp: a fruit-forward, hedonistic style that seduces to a broad audience of wine lovers. The wines are deep in color with moderately high alcohols, vibrant aromatics, restrained balanced tannins, silky textures, subtle oak highlights, and ripe, opulent fruit.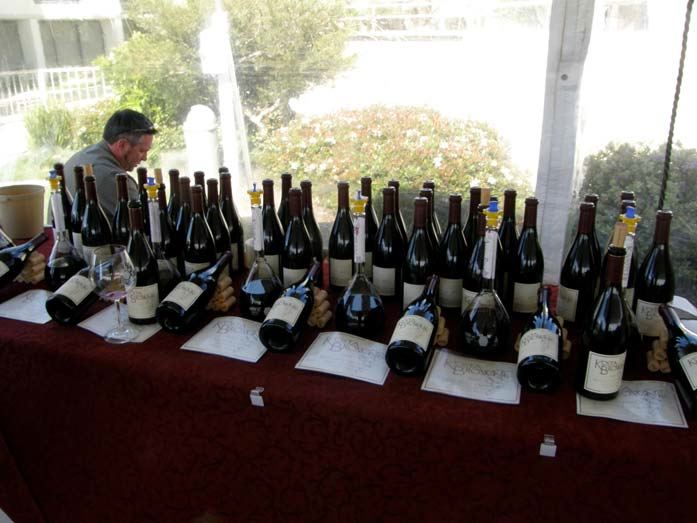 In 2009, Dan Kosta, Michael Browne and Chris Costello wanted to pay off some of the original investors and acquire a new partner. They sold a controlling interest in the winery to Vincraft for reportedly $40 million dollars. Nothing much has changed, however, with Michael Browne continuing as winemaker and Dan Kosta and Chris Costello managing the operation.
I visited Kosta Browne in early 2010 and tasted the lineup of 2008 Pinot Noirs shortly after bottling (www.princeofpinot.com/article/880/). Wedged between the spectacular 2007 and 2009 vintages, the wines are nevertheless impressive and were sold out quickly when offered. I recently re-tasted the lineup of 2008 Kosta Browne Pinot Noirs. All the wines are well-crafted in the bold Kosta Browne style. Although the wines are no longer available from the winery, it is prudent to remember there will be another vintage. The song will be different but the composer will be the same.
The winemaking regimen for the 2008 vintage at Kosta Browne was as follows. Grapes were de-stemmed, with some whole cluster barrels vinified separately to be added back if deemed appropriate for the vintage and the wine. An average 5-day cold soak was followed by inoculated fermentation lasting 9 to 14 days on average with 1 to 2 hand punch downs per day in 1- and 5-ton open-top stainless steel and wood vessels. The wines were barrel-aged for 16 months in French oak sourced from eight different coopers. The percentage of new French oak varied between 42% and 52% with most bottlings close to 50%.
A local wine club, Le Grand Crew, invited me recently to a dinner and horizontal tasting of 2008 Kosta Browne Pinot Noir at Mr. Stox Restaurant in Anaheim, California. Fourteen people were in attendance, most of them seasoned wine drinkers. The wines were opened, decanted and re-bottled earlier in the day. All were served at cellar temperature. The Keefer Ranch Vineyard bottling was by far the favorite of the group, with six of the fourteen in attendance voting it their favorite. The Kanzler Vineyard and Koplen Vineyard tied for second and the Garys' and Rosella's tied for third, with the Pisoni fourth.
Kosta Browne wines, which will include a Chardonnay beginning with the 2009 vintage, are sold through a mailing list which is full at present. Visit the website (www.kostabrowne.com) to sign up for the wait list. The wines are often available on the secondary retail market and auction sites. The winery is not open to the public, but the winery participates in many major Pinot Noir festivals as well as a number of popular wine events and charitable auctions around the country (check the winery's News page on the website for the schedule).