george pinot: one man show
"One-man show" is usually used as a descriptor for a comedian standing on stage and entertaining an audience. George Levkoff, owner, grape sorter, winemaker, bottler, labeler, marketer, deliverer, and front man for george pinot (George likes lower case - visit www.georgewine.com), is truly a one-man show, and a bit of a comedic and lovable figure as well. George always stands out from the crowd because he never, never, ever wears long pants regardless of the weather or the event he is attending. I don't think he even owns a pair of long pants, despite spending a good part of his working day in a frigid winery. If you are visiting Healdsburg in frigid January, bundled up to fight off the cold, and you see a guy walking the square in short pants, it will almost certainly be George.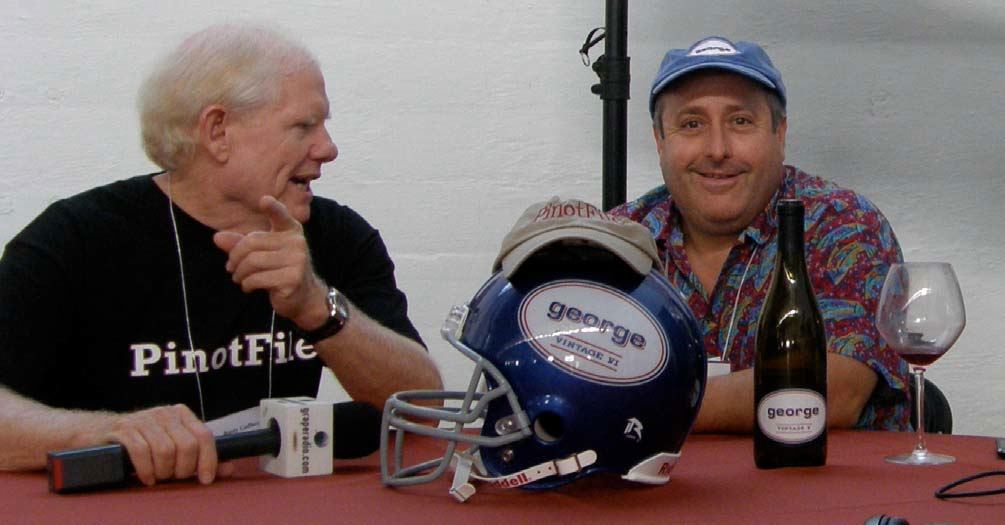 George is a refugee from the bond trading market who had a wine epiphany when a friend brought a couple bottles of Williams Selyem Rochioli Vineyard Pinot Noir to share with him at dinner. Shortly thereafter, he trashed all his long pants and ties, and headed to Sonoma County intent on making wine. He showed up one day at Williams Selyem and was received by Burt Williams' daughter Margi. He tried to buy some Pinot, but was told that since he was not on the "list," he could not acquire any. Margi offered him some swag - hats, shirts with the Williams Selyem logo. George was not easily discouraged and inveigled his way into an internship at Williams Selyem which lasted from 1999 to 2002. He also worked at the smaller Brogan Cellars nearby.
With grapes from David Hirsch of Sonoma Coast's famed Hirsch Vineyard, he released 150 cases of his inaugural Pinot Noir in 2003. The wines were fashioned exactly in the Burt Williams mold using yeasts from Williams Selyem and only Francois Frères as cooper. His wines immediately caught the attention of top sommeliers at restaurants in Las Vegas and New York who were enamored by their elegance and food friendliness. George Pinot quickly became a cult wine. Insiders say that some well-known movie stars will only drink george pinot when they dine out.
I have been a fan of george pinot from the beginning, entranced by the finesse and sensuality that his wines exhibit. I have reported on practically every release among the previous six vintages in the PinotFile. His winemaking regimen is not particularly unique. He de-stems 100% of the grapes after careful sorting, cold soaks them a few days, uses Williams Selyem Jackass Vineyard Zinfandel yeast for inoculation, bottles only free-run juice (except in the Sonoma Coma bottlings), and ages the wines in 100% new Francois Frères French oak barrels. The wines are bottled without fining or filtration and hand-numbered.
In recent years, George has vinfied small lots of multiple vineyard designated Pinot Noir from the Russian River Valley and a blend labeled Sonoma Coma. If you have spent any time in Healdsburg and were looking for some nightlife, you will understand the humor behind the name, Sonoma Coma. George owns no vineyards and crafts his wines at Moshin Winery on Westside Road. Total annual production is less than 1,000 cases. Join the mailing list to acquire the wines. A listing of notable restaurants that carry george pinot is on the website (Prime, The Four Seasons, Michael Mina, Cut, Delmonicos, Charlie Trotter's and Dry Creek Kitchen to name a few). The current vintage (Vintage VII, 2009) is sold out, but get on the mailing list for next year. Besides the wines reviewed below, a Sonoma Coma blend is offered, composed of fruit from the five Russian River Valley vineyards that supply fruit to george wine company (280 cases, $600 a case).