Et Fille: Pretty in Pink
Pink has become the popular signature of the new "girlie girl" culture, but rarely appears on the labels of serious wines, being confined to rosés, Champagne, and gimmicky wines like Hello Kitty. The pink labels on Et Fille wines, however, are very stylish, and make sense given the father-daughter collaboration that forms the foundation of this winery. I happen to find the labels to be very classy.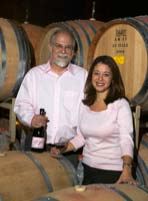 The Mozeico family is quietly turning out some of Oregon's finest Pinot Noirs. Father Howard, whose background is in software, has been making Pinot Noir since 1984. Daughter Jessica first assisted him with his winemaking efforts in 2000 and the name Et Fille was hatched. "Et Fille" (" A Fee") means "and daughter" in French. Howard jokes, "Mozeico et Fille" just wouldn't work. It made sense to design a pink-themed label, since the winery incorporated a daughter into the team.
The goal at Et Fille is to craft small lots of distinctive single-vineyard Pinot Noir in a style suited to the character of each individual vineyard's terroir. No attempt is made to produce every vineyard-designated Pinot Noir in the same fashion. Father and daughter feel strongly that each vineyard has a unique voice, and they wish to preserve this precious expression of terroir in their artisan Pinot Noirs. A superb Willamette Valley blend Pinot Noir is produced as well and is one of Oregon's finest each year.
The wines reviewed below were made to seduce with harmony and silky textures. All the wines are well-crafted with intense flavors at relatively low alcohols and offer well-balanced acidity. Choosing one as a favorite is really a matter of personal taste. Except for the Willamette Valley blend, all the wines will benefit from further cellaring. The prices are very reasonable considering the quality. These are not girlie-girl wines!
Et Fille wines are produced at August Cellars, a state-of-the-art gravity flow winery in Sherwood, Oregon, that is shared by several small wineries. A tasting room here offers some of the Et Fille Wines but an appointment is needed for an extensive tasting (503-449-5030). The wines are sold through a mailing list and are available for purchase on the website (www.etfille.com). Magnums are available.