Campesino Cellars
One of the joys of what I do is discovering small boutique producers of Pinot Noir. I receive inquiries weekly from new producers and some of them pan out, others have not reached the gold ring yet. In January 2010 I received an e-mail from Macario Montoyo asking to submit his Campesino Cellars Pinot Noir for review. I had no clue who he was but his name piqued my interest. I have had a long-standing attraction to stories of the Mexican immigrant fieldworkers and their success in the California wine business. I wrote about their triumphs previously in the PinotFile (www.princeofpinot.com/article/707/).
Macario grew up in the small town of Elmira, near Napa Valley. At the University of Notre Dame, his interest in wine was piqued and after working six years in the corporate world as a financial adviser, he gave up his suit and tie for purple hands and pruning shears, returning to his longings to craft wine. Griselda Montoya grew up in the Carneros region of Napa, always surrounded by vineyards and wine. Her brothers and their spouses founded Ceja Vineyards. She is currently a vice president client manager for Bank of America and as a lover of wine, founded Campensino Cellars with Macario.
The Campesino label is quite intriguing, featuring the hands of Griselda's father, Pablo Ceja. They represent the gnarled hands of a man who labored in the vineyards for forty years after immigrating from Mexico in 1967. Macario commissioned his younger brother, Maceo, an accomplished writer and artist, to draw Pablo's hands for the label.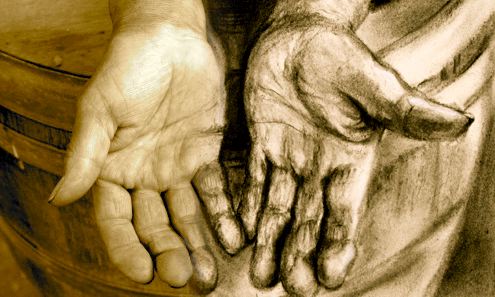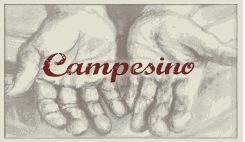 Campesino ("Camp-pe-si-no") translates in English as fieldworker. The Campesino Cellars wines are a homage to all campesinos. "A mis carnales y mis carnala gracias por su trabajo": To my brothers and sisters thank you for your work.
Campesino Cellars offers a Sonoma Coast Syrah from Sangiacomo Vineyard and a Napa Carneros Pinot Noir from Papi y Chula Vineyard. The Papi y Chula Vineyard is owned and farmed by the Ceja family, The vineyard is the site where Griselda spent her childhood and where she and Macario were married in 2007. The 5-acre vineyard, which is located but a mile from San Pablo Bay, is farmed by Griselda's brother, Armando Ceja.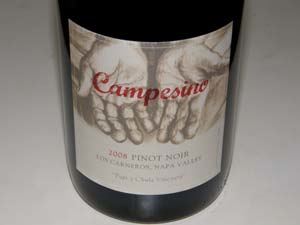 2008 Campesino Cellars Papi y Chula Vineyard Los Carneros Napa Valley Pinot Noir
14.1% alc., 50 cases, $38. Aged 18 months in seasoned French oak barrels. · Moderate violet color in the glass. Highly perfumed with deep aromas of earth-kissed plums, black raspberries, underbrush, oak and cardamom spice. The dark berry and stone fruit flavors are perfectly ripe, delicious and persistent, with appealing accents of grilled mushrooms and faint oak. I thought I could taste the soil in this wine. Beautifully balanced with supple, well-tamed tannins. Hard to imagine how something so grand can come from something as simple as a grape. Quintessential Carneros.
Campesino Cellars wines are available through the winery's online store at www.campesinocellars.com. Join the mailing list for future releases.
Note about Ceja Vineyards. "Vinum Cantus Amore," loosely translates to "Wine, Song and Love," the motto of Ceja Winery. In 1967, Pablo Ceja, his wife Juanita, and their six children said goodbye to friends and family in Mexico and immigrated to the United States as part of the guest worker Brasero Program established after World War II. The entire family worked in the vineyards after their arrival. After many years in that program, Pablo moved to St. Helena and toiled in local wineries. Later, he moved his family to the Carneros region. In 1983, the now extended family pooled their resources and invested in 15 acres of Carneros land. In 1986, 13 acres were planted to Pinot Noir. Ceja Vineyards eventually acquired other land and now farm four large vineyards comprising 113 producing acres. In 1998, Ceja Vineyards, Inc., was founded to produce premium Carneros wines. Today, Ceja produces both a Carneros and Sonoma Coast Pinot Noir, and a sparkling Blanc de Noir and sparkling Brut. A glass of Ceja Pinot Noir is like a drink of history. You can see the land, smell the passion and dedication, and taste the journey. A true American immigrant success story. Visit the website at www.cejavineyards for more information.