Tantara: Thoroughbred Pinots
Jeff Fink and Bill Cates both hale from Virginia, but met in California and founded Tantara Winery as partner winemakers in 1997. The label prominently features a horse once owned by Bill Cates named Tantara. Ask Jeff to tell you the humorous story behind the horse. After being retired to pasture, the mare defied those who predicted an imminent demise and lived a long life. The horse symbolizes grace and power as well as long life, all qualities that Tantara wines embrace.
Tantara produces a broad range of vineyard-designated Pinot Noir, Syrah, Pinot Blanc and Chardonnay from multiple very high-end Central Coast sources and also farms 14 acres at Bien Nacido Vineyards in the Santa Maria Valley (2 acres of Bien Nacido G Block Pinot Noir, 10 acres of other Pinot Noir, and 2 acres of Syrah). Vineyard sources include Bien Nacido, Dierberg, Solomon Hills, Sanford & Benedict, Rio Vista, Lindsay's, Talley Rincon, La Colline, Silacci, Pisoni, Garys' and Brousseau. In 2008, Tantara produced a dozen Pinot Noirs and five Chardonnays.
The 2008 vintage began with an April frost in some Tantara vineyards, but the growing season was moderate and even. Unlike the 2007 vintage wines that had high levels of tannin and took a lengthy time to show themselves, the 2008 vintage wines have more precocious aromatics and flavors. I recently sampled three of the 2008 Tantara Pinot Noirs. I have tasted a number of Tantara Pinots through the years at dinners and festivals, but never had the opportunity to sit down and seriously taste. I found the wines to be a revelation. All were deeply colored with bold flavors with plenty of Santa Maria Valley soul. The tannins and oak were well managed, the silky textures were very appealing, and the wines were impeccably balanced. These are extremely well-crafted wines that represent the best that Santa Maria Valley has to offer.
The winemaking regimen for Pinot Noir at Tantara is as follows. The grapes are de-stemmed with some whole cluster included depending on the vineyard and vintage, and fermented with both native and proprietary yeast in open top vats. Punch down is by traditional methods. Aging is carried out in modest new French oak. The wine is racked after undergoing MLF in barrel and left undisturbed until it is blended and bottled, unfined and unfiltered.
Tantara wines are sold primarily through a mailing list and online at www.tantarawinery.com. Tasting at the winery, located at Bien Nacido Vineyards, is available by appointment (805-938-5051). Jeff is a very laid back guy (despite his serious demeanor below) who will charm you with his personality and his wines. Saddle up.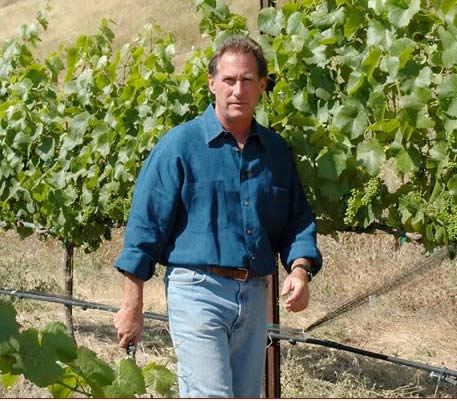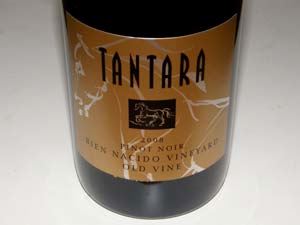 2008 Tantara Bien Nacido Vineyard Old Vine Santa Maria Valley Pinot Noir
14.8% alc., pH 3.50, 167 cases, $48. Own-rooted Pommard 4 clone planted in 1973 (G Block). Average yields 1.9 tons per acre. 80% de-stemmed. Aged 16 months in 30% new French oak. · A spirited nose offers flamboyant aromas of black cherries and spice box including star anise. The wine pumps out the aromas consistently over time in the glass. Tasty core of plum, black cherry and dark berry flavors with an appealing spice and earthy undertone. This wine literally tastes like the earth in which it is grown. Veers slightly to the ripe side but does not cross the line. Moderately rich with a smooth mouth feel, supple tannins, and a clean finish. Bien Nacido Vineyard at its best.
2008 Tantara La Colline Vineyard Arroyo Grande Valley Pinot Noir
14.5% alc., pH 3.40, 383 cases, $48. La Colline is part of Laetitia Vineyard, located four miles inland from the Pacific Ocean at the base of Picacho Peak, an extinct volcano. Own-rooted Martini clone planted in 1981. Average yields 2.1 tons per acre. 80% de-stemmed, 20% whole cluster fermented with native yeast. Aged 16 months in 40% new French oak barrels. · The nose is primary with subdued fruit and aromas of wet leaf, earth and subtle oak. Dark red fruits are discreetly composed with an earthy, grilled mushroom underpinning. Beautifully balanced with supple tannins and juicy acidity. Plenty of charming fruit waiting to get out in this backward wine. Patience will be rewarded. Very good.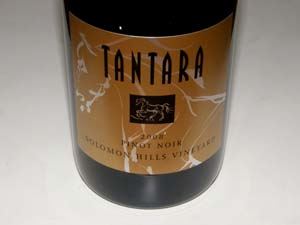 2008 Tantara Solomon Hills Vineyard Santa Maria Valley Pinot Noir
14.5% alc., pH 3.40, 387 cases, $48. From a 97-acre vineyard located 14 miles from the Pacific Ocean with a strong maritime influence. Clones are Dijon 777, 667, 115, 2A, and Pommard 5 planted in 1999. 80% destemmed with 20% whole cluster. Aged 16 months in 30% new French oak barrels. · Opens slowly in the glass, seducing you gradually. Enticing aromas of dark cherries with a hint of dark chocolate and spice. Amazingly persistent on the palate and through the lengthy finish. The flavors of plum and black cherry are intense and vivid, yet the wine retains a charming, silky finesse. Even better the following day from a previously opened and re-corked bottle. Angelina Jolie in dark red velvet.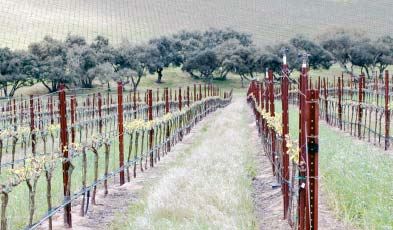 Solomon Hills Vineyard