My Purple Tongue Days with PET
Petite Sirah is celebrating 50 years since Concannon Vineyard's James Concannon bottled the first varietally labeled Petite Sirah in California in 1961. This brought back memories of my early dalliances with Petite Sirah.
My formative years with wine involved many bottles of Mateus, Lancers, Blue Nun and Spanada. After my medical training and stint in the U.S. Air Force, I had enough spendable income to dabble in real wine. I was drawn to Petite Sirah because of its bold, sweet blackberry jam flavors and black pepper spice. It seemed to me the perfect wine to pair with grilled steak and in those days, my cooking repertoire was largely limited to barbecuing steaks. There was one Petite Sirah in particular that caught my attention: Concannon Vineyard. Maybe it was the fact that Concannon was the first California winery to label a wine Petite Sirah, or maybe it was because the winery had some familiar kinship (founder James Concannon was born on St. Patrick's Day in Ireland). Most likely it was because I liked the taste of the masculine wine and as a young bachelor, identified with its machismo style.
The Petite Sirah grape was developed in 1880 by Francois Durif in Montpellier, France by crossing Syrah and Peloursin. Syrah is the noble variety that originated in France's Northern Rhome and is the basis of the great wines of Hermitage. Peloursin is from a more humble background originating in Southern France. Since cross breeding of grapes is frowned upon in France, Petite Sirah was not accepted there and found a new home in the United States, where along with Zinfandel became America's own variety. Petite Sirah and Durif are interchangeable synonyms for the same grape.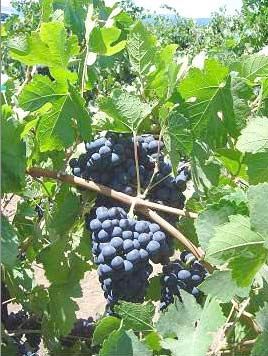 Petite Sirah is sometimes mistakenly spelled Petite Syrah, which historically was the spelling used by Rhone growers to refer to the small berries of some of their Syrah grapevines. Immigrant winegrowers used the phrase Petite Syrah to refer to the lower yields that the Syrah vines were producing in California, and old timers called Petite Sirah "Petty Sarah." Today, Petite Sirah has taken on the shortened name, "PET."
Current DNA research at the University of Calfornia at Davis indicates that there are at least three diffrerent varieties that go by the name of Petite Sirah but only one is apparently Durif.
First planted in California in 1884, Petite Sirah was the blending backbone of many home made Prohibition-era wines. According to the Petite Sirah advocacy group, P.S. I Love You, there were approximately 4,440 acres of Petite Sirah planted in the United States when James Concannon bottled America's first varietally labelled Petite Sirah. The grape, like James Concannon, has shown plenty of pluck. It survived phylloxera in the 1890s, both World Wars, the Depression and Prohibition. Fifty years later, acreage has nearly doubled, to 7,592 acres, and there are now 723 producers that feature a Petite Sirah in their lineup of wines. Recent Nielsen data shows that Petite Sirah was a popular varietal with consumers in 2010, the second fastest growing red varietal in the industry, narrowly behind Pinot Noir.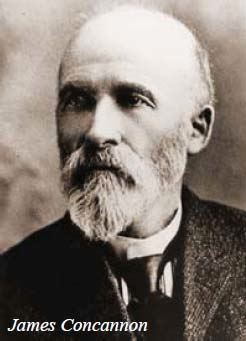 Concannon Vineyard, located in the East Bay in Livermore, California, was the first winery I visited. It was around 1974 when I bought my first case of wine at Concannon, one of life's rites of passage. Concannon Vineyard is now a member of California's 100-year-old club and its history is fascinating. Founder James Concannon left Ireland in 1964 at the age of 17. He was an adventurous type who would need all his intelligence, character, grit, and luck to succeed. He landed in Boston, and eventually found a job as a bell boy at a hotel in Augusta, Maine. It was there he met and married an Irish lass, Ellen Rowe. In 1874, Concannon, accompanied by his wife and new baby, traveled in a covered wagon across the country to Oregon.
After initially managing a sheep ranch, Concannon moved to San Francisco and made considerable money selling rubber stamps throughout the West Coast. He became a respected businessperson at age 32. His success allowed him to pursue his interest in viticulture. He enrolled in college to learn about grape growing and traveled to France to find good rootstock. In 1883, he planted his first 40 acres in the Livermore Valley, east of San Francisco. The cuttings were from Chateau Y'Quem. A few years later, Concannon became the first Irish immigrant to make wine in America. When Prohibition came into effect, Concannon was one of the few wineries that legally stayed in business because Petite Sirah was a main ingredient in sacramental wines.
The Concannon Vineyard has passed through a few hands (first Wente, most recently The Wine Group), but direct descendant and fourth generation vintner John Concannon is active at the winery. Petite Sirah has remained the flagship wine for Concannon Winery. A public two-day celebration of Concannon's historic Livermore Valley winery is planned for August 13-14, 2011, and will include vertical tastings from Concannon's library. John Concannon will host retrospective tastings of Petite Sirah in over 50 markets across the nation in 2011.
John Concannon is a founding member of P.S. I Love You and hosts the wine industry's annual national symposium for growers and wine producers to share vineyard and production practices. This year's event will be held July 26, and will feature live-streaming online to allow consumers to ask questions directly to some of the most notable vintners and growers in the Petite Sirah community.
The flavor profile of Petite Sirah is similar to Syrah but the wine is not as elegant. Typically, Petite Sirah is darkly colored, inky and tannic, with a peppery note, and can very extremely long-lived.
I have a soft spot for Petite Sirah and occasionally pop the cork on a bottle from Concannon or Foppiano or any one of the other many producers of Petite Sirah in California. Of course, the barbecue is always lit at the same time.