Pinot Briefs —Newsletter 8.32
Domaine Serene Rosé Domaine Serene has released a serious, dry Provence style rosé that is barrel-aged. Labeled "r" but introduced as "R," in an alluring bottle design, this rosé is sourced from the Williamette Valley (50%), Walla Walla (10%) and Rogue Valley (40%). It is bottle-aged (55%, 10% new) in French oak in the same manner as a Rosé de Provence. M. Eleni Papadakis is the winemaker. $35/btl. Order at 866-864-6555 or by e-mail at info@domaineserene.com.
When Irish Wines are Smiling 2011 Sunday, March 13, 2:00-5:00, Rutherford Grange Hall, 8550 St. Helena Hwy, Rutherford, CA. Second annual celebration of Irish involvement in wine and food. Wineries participating include Flora Springs, Harrington Wines, Murphy Vineyards, Dillon Vineyards, Twomey Cellars, and Waits-Mast Family Cellars. Hurley's Restaurant will provide the food. Live traditional Iris music and dancing. Tickets are $35 in advance: www.whenirishwinesaresmiling2011.eventbrite.com/.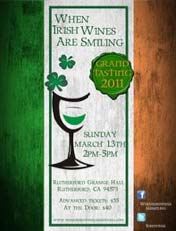 St. Mark's 2nd Annual Cellar Classic: Auction of Rare & Fine Wines St. Mark's-in-the- Valley Episcopal Church is hosting this event on Saturday, July 30, 2011, in the Church's garden courtyard in Los Olivos. The Cellar Classic is coordinated by a group of dedicated wine industry volunteers led by Brooks Firestone (owner of Curtis Winery), Richard Harris (owner of Calzada Ridge), and Steve Pepe (owner of Clos Pepe Vineyards). Both a live and silent auction will benefit the many community programs of the Church. Wine journalist Gabe Saglie named St. Mark's Cellar Classic one of the top ten not-to-miss wine events in 2011 and noted that the 2010 event "gave the fancy Napa Auction a real run for its money." Donated wines include a 1947 Chateau Cheval Blanc, a 1949 Leroy Musigny, and a double magnum of 1989 Diamond Creek Volcanic Hill. Tickets are $100 per person in advance only. Contact Steve Pepe at steve@clospepe.com or call 805-735-7867.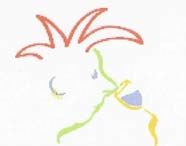 IPNC Video Debuts Jay Selman of Grape Radio, videographers Andrea Johnson and Robert Holmes, and myself, created a short video on the International Pinot Noir Celebration. We are very proud of it. Check it out at www.ipnc.org/multimedia.php. This summer (July 29-31, 2011), the 25th International Pinot Noir Celebration will be held in McMinnville, Oregon. Many of the winemakers chefs, and media who attended the inaugural event 25 years ago will be reunited including some of Oregon's Pinot Noir pioneers. This will be a memorable event and I would encourage you to attend, especially if you have never been to this oldest North American Pinot Noir Festival. For tickets: www.ipnc.org.
Peter Michael Debuts New Pinot Noirs In the fall of 2011, Peter Michael will release their first Estate Pinot Noirs from the Seaview Vineyard on the Sonoma Coast: 2009 Le Caprice Estate Pinot Noir, 2009 Ma Danseuse Estate Pinot Noir, and 2009 Clos Du Ciel Estate Pinot Noir. The 400-acre site, bought in 1998, is located at 1,000 to 1,500 feet above sea level in the Fort Ross-Seaview region of the true Sonoma Coast. Planting of 30 acres of selected Burgundian field selection Pinot Noir started in 2006. The winemaker is Nicolas Mortet. Peter Michael has produced Le Moulin Rouge for several years, a Pinot Noir from the famed Pisoni Vineyard in the Santa Lucia Highlands. Peter Michael wines are sold exclusively through a currently full mailing list (6 to 18 months waiting period to be offered wine) at www.petermichael.com.
Cochon 555 So you couldn't get tickets to this year's Pigs & Pinot event in Healdsburg? Check out the third US tour of Cochon 555 featuring five chefs, five pigs, and five wines. Events to come in Napa, Washington D.C., Chicago, Denver, Los Angeles, New Orleans and San Francisco. A unique culinary competition and wine tasting event to promote sustainable farming of heritage breed pigs. Each city stop offers local farmers the opportunity to connect with renowned chefs and the pork-loving public. Cochon 555 is the only heritage breed pig culinary competition in the country. View trailer at www.cochon555.com/2011/ trailPop.html. Tickets and more information at www.cochon555.com.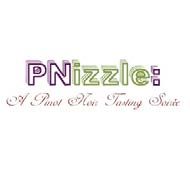 PNizzle: A Pinot Noir Tasting Soirée Green Jug Fine Wine & Spirits is hosting its inaugural Pinot Noir extravaganza featuring 36 wines from 22 boutique wineries specializing in Pinot Noir from California and Oregon. The event will be held March 5 at Morton's Steakhouse in Woodland Hills, CA. Wineries include Bergström, Capiaux, Dierberg, Erath, Flowers, Goldeneye, Ken Brown La Follette, LIOCO, Martinelli, Moshin, Patz & Hall, Penner Ash, Sojourn and Woodenhead. Tickets are $60 including gourmet food bites. Visit www.greenjug.com/shopexd.asp?id=20294.
Check out Byron Vineyard & Winery Sure, this large producer has been around a long time, maybe it has been overlooked by those looking for the next great cult producer of Pinot Noir. Quality at this Santa Maria Valley producer has never been greater. Winemaker Jonathan Nagy has been receiving well-deserved press of late for his wines. I recently reviewed the 2009 Byron Santa Barbara County Pinot Noir ($17) and the 2009 Byron Nielsen Vineyard Pinot Noir ($34). These are exceptional wines priced right. A new tasting room is open daily from 11:00 to 5:00 at 2367 Alamo Pintado Avenue in Los Olivos. 888-938-7310.
Dutton-Goldfield Pruning Tutorial Dutton-Goldfield sends out a frequent internet newsletter that is very informative. Recently the newsletter spoke of the Dutton Ranch crew making progress with pruning. The pictures below were provided that show how the various styles of vineyards and trellising are pruned. Below left is a Cordon pruned vine, before and after pruning, and below right a Cane prune vine, before and after. For the Unilateral Cordon pruned vine, two buds are left on each of about 12 spurs, and each spur is about 4-5 inches apart on the cordon (arm). The Cane pruned vine is pruned back to two new canes that will provide the fruiting wood for this year. Visit www.duttongoldfield.com to sign up for the newsletter. The Pinots are great here!