Paul Lato: Master of Harmony & Elegance
In January, I wrote about Paul Lato and reviewed the 2008 lineup of Pinot Noirs. On my way to World of Pinot Noir this year, I stopped by and visited Paul in his modest, but expanded winery space at Central Coast Wine Services in Santa Maria. We spent an afternoon sampling his 2009 lineup of Pinot Noir and Chardonnay. He opened up about his struggles through the years as a fiercely independent winemaker (Paul Lato Wines is truly a one-man operation and Paul has no investors), peppered with the many analogies he conjures that capture your attention ("I am fastidious about barrels, and treat them like a high-maintenance girlfriend"). Paul is an engaging personality and it easy to be seduced by cellar palate when tasting with him, but I believe I have enough integrity to honestly tell you that the 2009 Paul Lato Pinot Noirs are among the most sophisticated wines now being produced in California, displaying a stunning pinotosity in a Chambolle-inspired fashion. That is not to say that these wines are Burgundian, for they are clearly Californian, but they exhibit the same seductive elegance that wines from Chambolle Musigny offer.
The 2009 wines were released to an eager mailing list this week and by the time you read this they may be sold out. The wines had only been in bottle two weeks, but were fresh and lovely. The moderately high alcohols are the result of the level of humidity in the winemaking facility which concentrates the wines, and not from picking grapes at exaggerated ripeness. Cold soaks are generally up to 7 to 8 days. No whole cluster is used except in the Syrahs. The wines are gently fined with egg whites ("A little makeup is a good thing on a pretty woman") and bottled unfiltered. Paul only produces about 900 cases of Pinot Noir and Chardonnay (his 100 cases of Syrah are also outstanding but that's another story). Sign up for the mailing list at www.paullatowines.com. Paul is also consulting now for Hilliard-Bruce wines and the Hilliard-Bruce Vineyard is a new vineyard-designate for Paul in 2009. These wines are crafted by John Hilliard, who puts his own distinct stamp on his estate Pinot Noir and are not stylistically identical to Paul's. Visit www.hilliardbruce.com.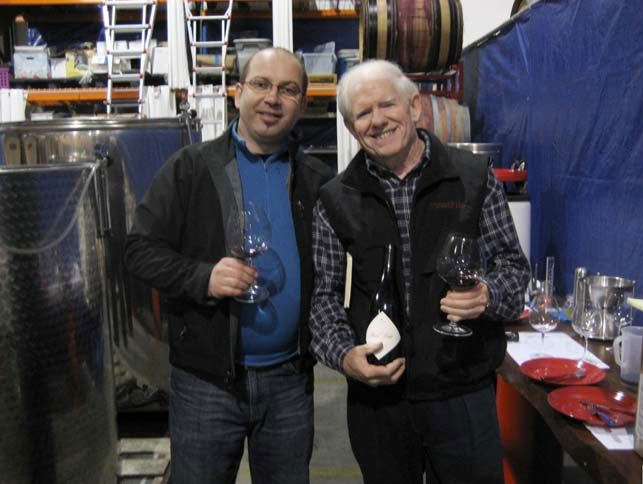 Paul has never been one to seek publicity but he has opened the door for me and I am happy to toot his horn. In his recent offering of the 2009 vintage he compared winemakers to accomplished musicians. He said, "Winemakers have so much to learn from music: about balance and harmonies, about rhythms and controlling the intensity of the expression. We must learn to make our wines a concert of flavors and textures, an experience that is fully pleasing and yet never too overwhelming. Music itself, especially classical music, is a tremendous tool (model) for us. It constantly reminds us about balance, harmony and elegance. Winemakers recognize how much music can teach us about the sensibility involved in making wine." You see a window into the philosophy of Paul Lato in this quote. I, for one, am pleased that he has chosen to apply this analogy to his wines.