Papapietro Perry: Stellar Lineup in 2008
Ben Papapietro attributes his passion for Pinot Noir to a friendship he shared with vintner Burt Williams of Williams Selyem fame while both were working at the San Francisco Newspaper Agency in the 1970s. Ben began helping Burt make his wine at home and continued to work each harvest at Williams Selyem after the winery was launched in the early 1980s. Ben began making his own garage wine in 1980, and a few years later was joined by Bruce Perry, another fellow worker at the San Francisco Newspaper Agency. Their garage wines were beloved by family and friends leading them to start Papapietro Perry in 1998 with a release of 75 cases of Pinot Noir. Today, the pair, along with their spouses, Yolanda Papapietro and Renae Perry, produce 6,000 cases of appellation-designated, vineyard-designated and clonal-designated Pinot Noir from prime vineyards in the Russian River Valley and Sonoma Coast. They also craft small lots of Zinfandel and a limited production Chardonnay (100 cases) from Peters Vineyard. Bruce (left) and Ben during their garagiste days are pictured on the left. Bruce and Renae (left), Ben and Yolanda (right) in their winery on the right.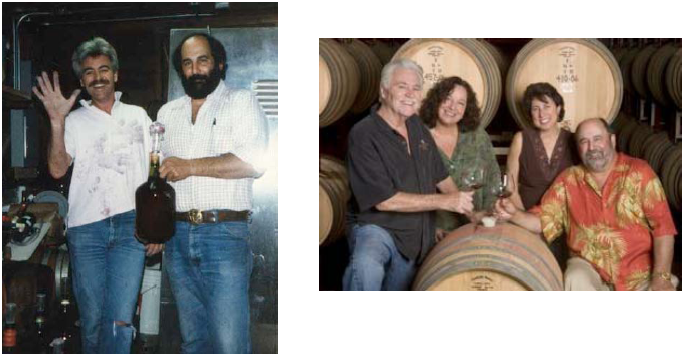 I recently stopped in at the welcoming Papapietro Perry Tasting Room on Dry Creek Road in Healdsburg and sampled the lineup of 2008 Pinot Noirs. I was able to meet growers Nick Leras and Randy Peters and talked at length with them, primarily about restoring old cars! I also re-tasted the Leras Family, Peters Vineyard and Pommard Clones Pinot Noirs at home. The wines impress, not only for their individuality, but for their food friendly bent. The wines straddle the middle ground between voluptuous big-boned styles and classic, delicate examples of Pinot Noir. Winemaking is traditional beginning with a 2-4 day cold soak, inoculation with Pinot Noir appropriate proprietary yeasts, hand punch downs, and aging in Francois Frères oak barrels for 11 months with the percentage of new oak varying depending on the vineyard source. Bruce feels the 2008 vintage is more restrained, slightly less deep in color, and less concentrated than the 2007 vintage, but has its own appeal. The recommended best drinking window for the 2008 Pinot Noirs is now through 2015, but some wines will age well beyond this.
The two couples are extremely receptive to visitors, harboring no signs of pretentiousness, so typical of family owned wineries in Sonoma County. They do not take their wines too seriously (one of their tee shirts sports the slogan, "So good you'll want to swallow") but the wines are seriously good. The Papapietro Perry lineup of wines is available through the winery's website (www.papapietro-perry.com) and limited retail channels. The best way to climb on board is through the winery's Wine Club which offers significant discounts and benefits. Magnums are available.