Shea Wine Cellars & Shea Vineyard
Find Dick Shea in his polo shirt and jeans walking his vineyard and you would never guess this unassuming figure worked for years as a trader on the floor at Wall Street. As he says, "Quite a change from the pandemonium of that environment to the tranquility of the vineyard." Years ago, Dick had decided to move his family out West, and while searching for an appropriate setting in the Northwest, he had his wine epiphany - a bottle of Adelsheim Oregon Pinot Noir. Oregon became his chosen spot, and with two east coast partners, he purchased land in the hills of Yamhill County in 1989.
At the time, the Yamhill-Carlton District was largely untested for Pinot Noir. The Willakenzie soils which typified the region were considered inferior for grape growing to the popular Jory soils found in the nearby Dundee Hills. Concurrent with the planting of Shea Vineyard in 1989, the nearby Beaux Freres Vineyard (a partnership between Robert Parker and his brother-in-law Mike Etzel) was being established. Now the Shea Vineyard is surrounded by several other premier Pinot Noir vineyards including those owned by Willakenzie, Patricia Green and Penner-Ash. The Yamhill-Carlton District AVA, north of McMinnville now contains more than 1,200 acres of vineyards. The growing conditions here are ideal for grapes with the Coast Range of mountains to the west creating a rain shadow over the District and the ancient marine sediments that compose the soil draining quickly to create a natural deficit-irrigation effect.
When asked the secret of his success, Dick told me that, "What I did right was putting a lot of effort into finding good people to advise me and later work for me. I have picked up my knowledge from them." One of these people was viticulturist Javier Marin (pictured with Dick below) who has managed the vineyard from the beginning. In the early 1990s, Dick bought out his partners and remains the sole owner today.
Shea Vineyard now consists of 200 hillside acres, of which 140 acres are planted to Pinot Noir and 5 acres to Chardonnay. The vineyard faces south at an elevation of 320 to 625 feet and is divided into two hills, named East and West separated by a valley containing native plants and trees. The original vines of Pommard and Wädenswil clones were planted on their own roots. Inevitably, phylloxera afflicted the vineyard and planned replanting progressed over the ensuing years, reaching completion in 2005. The newer plantings include the Dijon clones 114, 115, 777 and 828. The vineyard has never been irrigated except for new plantings during the first year.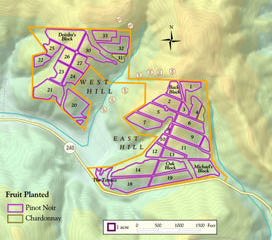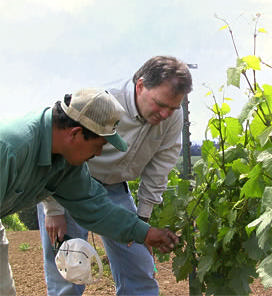 Grapes from this impeccably maintained site are highly sought after by many of Oregon's top wineries including: Andres's Vat, Antica Terra, Beaux Freres, Bergstrom, Broadley, Elk Cove, Francis Tannahill, J.K. Carrier, Ken Wright Cellars, Panther Creek Cellars, Penner-Ash, Raptor Ridge, Revana, Stevenson- Barrie, Scott Paul Wines, St. Innocent and Tori Mor. In the past, grapes were sent to Manfred Krankl at Sine Qua Non in California (last vintage 2003), but now grapes sent to California go to Loring Wine Co., Pali Wine Co., and Auteur. Dick told me a funny story about the vagaries of transporting grapes to California. One year the grapes had been picked and when the semi-truck showed up to haul the grapes to the Central Coast of California, the doors were opened and there was a strong smell of fish. Turns out, the refrigerated truck had just carried a large shipment of fish. Needless to say, the truck was sent away and a new truck brought in to transport the grapes. The vintage turned out fine for Krankl.
Since 1996, Dick has had his own label, Shea Wine Cellars. 20% of the vineyard production is held back for Dick's own label. Since 2004, Chris Mazepink (previously at Willamette Valley Vineyards and Lemelson) has been the full-time winemaker. Experienced tasters have talked about a certain "Shea-ness" that seems to be expressed in the wines from this vineyard. A consistent floral aroma and a dark red fruit character with spice seems unusually clear and unique to this vineyard.
The Shea Wine Cellars Pinot Noirs are designated as Estate (a blend of several blocks), block or clone designates which vary from year to year, and a special reserve wine labeled "Homer." Dick Shea is a baseball fan, but bears no relation to Shea Stadium in New York. Dick's wife and business partner, Deirdre (pictured below with Dick in a cap and winemaker Chris Mazepink), often compares Dick to Homer Simpson, so the name "Homer" has dual meaning. The Homer cuvee is from the best barrels and is the most voluptuous of the lineup, needing several years to reach its prime drinking window. The Shea Wine Cellar Pinot Noirs have become a cult-classic collectible, eagerly sought after by Shea aficionados on the winery's mailing list.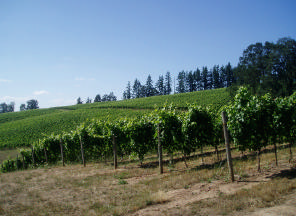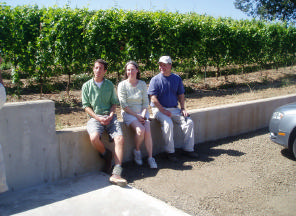 I visited Shea Vineyard prior to last year's IPNC and tasted through the 2006 lineup of wines that were in stainless blending tanks ready for bottling. For a full report see the PinotFile, Volume 6, Issue 36. My general impression was as follows. All of the Shea wines are fruit-driven and lush in style, with impressive oak integration and substantial, but tame, tannins. There is plentiful acidity to buffer the fruit. They show the whole spectrum of red and black Pinot fruits with spice, cola, and anise evident as well as a meaty and earthy component. For me, the Pommard bottling (replaces Block 23 of previous vintages which had to be replanted) was the most flashy at this stage, loaded with rich, Pinot fabulosity.
Recently I got together with members of Grape Radio to record a tasting of the 2005 vintage lineup of Shea Wine Cellars and Shea Vineyard wines as well as a couple of older vintages. The podcast may be heard at www.graperadio.com.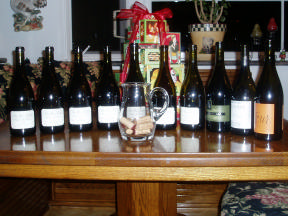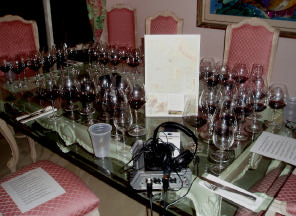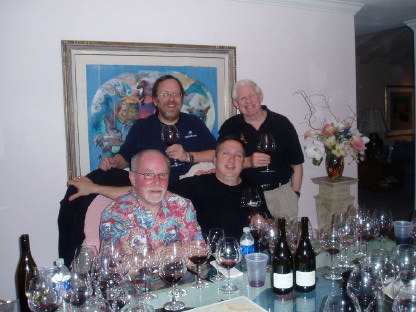 Shea Wine Cellars wines are sold primarily through a mailing list at www.sheawinecellars.com. Several Oregon retailers also carry at least the Estate bottling. The phone number is 503-241-6527. A new winery has been constructed on the vineyard estate and the 2006 vintage was the first made here. There is no tasting room. These are benchmark Pinot Noirs for the Yamhill-Carlton AVA and worthy of any pinotphile's cellar. The words "Shea Vineyard" on any bottling pretty much guarantees a Pinot Noir with plenty of charisma.
Winemaker Chris Mazepink talked to me about the recent 2007 vintage. He said he is reminded of the 2005 vintage in many ways such as the rain event that split harvest, as well as the style of wines that he is seeing early one in tank and press. The wines are a little lighter in alcohol than has been Oregon's average over the last five years, but by no means watered down. Alcohols are in the 13.5%-14.0% range and there are some really fresh fruit characteristics coming off in tank. For Shea Wine Cellars it will be a blenders year as production has been raised to nearly 5,500 cases of Pinot Noir. The previous two biggest years were 2005 and 2006 at 4,000 cases, so it will be a real challenging or treat, depending on how you look at it, to start mixing and matching the 51 different lots that are created in the 2007 vintage.