Anderson Valley Pinot Noir: Redemption in 2009
The 2008 vintage was a disaster in the Anderson Valley. Spring frost was followed by extreme heat spikes in summer and wildfires cast a smoky pall over the vineyards. The resulting yields were diminished and most of the wines were significantly smoke tainted, causing many Anderson Valley producers and wineries outside the region who source Anderson Valley grapes to declassify or fail to bottle the vintage. Fortunately, this one bad vintage was a brief misstep for this superb winegrowing region and the Pinot Noirs from the 2009 vintage are spectacular. I have only sampled a few, but every one has been vibrant with juicy fruit, lively acidity, crisp textures and precocious drinkability. I, for one, am thrilled by the quick redemption.
Check out the lofty reviews of the four 2009 Anne Amie Annahala Vineyard Anderson Valley Pinot Noir, the 2009 Couloir Anderson Valley Pinot Noirs and the 2009 Twomey Cellars Anderson Valley Pinot Noir elsewhere in this issue, and the glowing reviews of Kutch Anderson Valley Pinot Noirs in the next issue.
The annual Anderson Valley Pinot Noir Festival will be held May 19 (Technical Session) and 20 (Grand Tasting), 2011. For information and tickets visit avwines.com.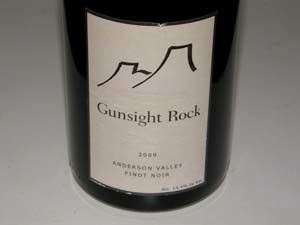 2009 Gunsight Rock Anderson Valley Pinot Noir
14.4% alc., $14.99. Not many details but apparently this wine is 100% Londer Vineyard fruit produced by Gunsight Rock Winery in Sebastopol. Sold at Bottle Barn in Santa Rosa in March for a ridiculously low price. Easily worth three times this amount. · Moderate reddish-purple color in the glass. Inviting aromas of black cherries, wooded forest and oak. Very tasty core of black cherry fruit on a medium frame with undertones of cola, baking spices, grilled fruit and oak. Well-crafted, soft in the mouth, and ready for enjoyment now. Like cherry pie day at cooking school: cherries, baking spices and very interesting results. A ridiculous value (<$200 a case including tax), and the best $15 Pinot I have ever drank. Very Good (+).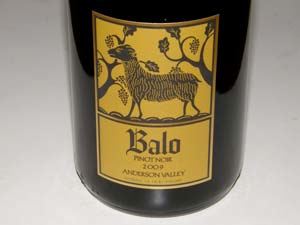 2009 Balo Anderson Valley Pinot Noir
14.1% alc., pH 3.65, VA 0.78, 275 cases, $39.95. Tim and Michele Mullins have been growing and selling grapes from their 8.25-acre Balo Vineyard in Philo since 2003. In 2009, they held back some of their best fruit and started their own label. Jason Drew, who has been buyer of Balo fruit, is the winemaker. Clones are 777, 828, 115, Martini and Pommard. Inaugural vintage. Aged 11 months in 30% new French oak barrels and bottled unfined and unfiltered. · Moderate ruby color in the glass. A well-mannered wine with brightly floral perfume overlying scents of pedigreed cherries and raspberries with a complimentary touch of spice and oak. Ripe black cherry essence with an undertone of cola and earth, displaying impressive persistence on the generous finish. Nicely integrated tannins and acidity create a seamless character. Very good.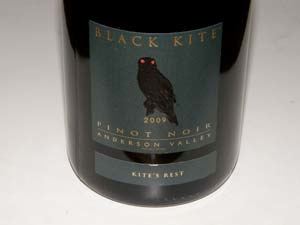 2009 Black Kite Kite's Rest Anderson Valley Pinot Noir
14.8% alc., pH 3.60, VA 0.59, 1,000 cases, $42. The Green family owns the 12-acre Kite's Rest Vineyard in Anderson Valley's Deep End, farmed under the direction of noted viticulturist, Paul Ardzrooni. The winemaker is veteran Jeff Gaffner. A blend of the 3 4-acre blocks in the vineyard. · Moderate reddish-purple color in the glass. Very attractive scents of fresh cherries and red plums with more subtle accents of Spanish spices, dried rose petals and brewed coffee. A real lip-smacker with juicy spiced plum flavor and notes of tea leaves, clove and oak. The mid-palate is rich, round and mature with plenty of vim on the crisp, long finish. A very harmonious wine that will age beautifully and one to savor over a meal with good friends.