Burn Cottage Vineyard
I have known about this new project in Central Otago, New Zealand, since noted winemaker Ted Lemon (Littorai) mentioned his involvement to me a while back. This new winery has now released its inaugural vintage.
Burn Cottage is a 68-acre estate near the town of Cromwell in Central Otago close to Felton Road. 27.5 acres have been planted to vines beginning in 2002. The property is an integrated farm, not just a wine estate, with chickens, sheep, cows and beehives, as well as a number of other agricultural crops on the property. All farming is by biodynamic methods. Burn Cottage was the first vineyard in Central Otago to be developed from bare land using only biodynamic farming.
Burn Cottage is owned by the Sauvage family, Americans hailing from Kansas. Marquis and Dianne Sauvage successfully operated a wine distribution firm in four states in the United States but were taken by New Zealand and its wines during a visit in 2001.
The property's vines began setting fruit in 2006, but no wine was made until 2008, an experimental lot sold under a second label.
Ted Lemon was asked to visit Burn Cottage and a partnership soon followed. He has been with Burn Cottage since its inception and oversees all aspects of the winery and vineyards. The onsite general manager is Jared Connolly. Noted winemaker Claire Mulholland of Martinborough Vineyards was hired as General Manager and Associate Winemaker.
Currently the Burn Cottage Pinot Noir is crafted at a modest winery in Cromwell and includes the first grape sorting table ever installed at a Central Otago winery. Long term, the owners plan to build a winery on their own property.
The inaugural release is from the 2009 vintage. The Sauvages note in their initial offering newsletter, "We promise always to produce honest, pure wines with as little human interference as possible, wines which will speak of the beautiful property on which they were born.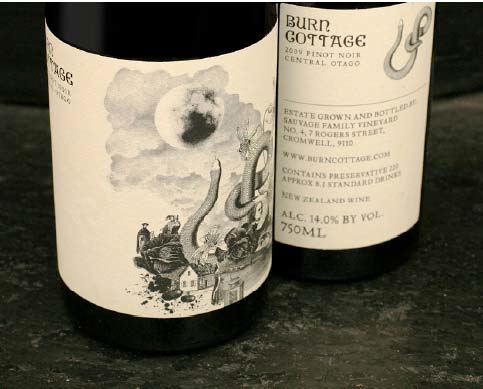 The winery website is www.burncottage.com. There are multiple importers in the United States (the list is on the website). Read the interesting story behind the label on the website. I have not tasted the wine so I am eager to hear from anyone about their experience.