Vertical The Novel: Vertical But Still Sideways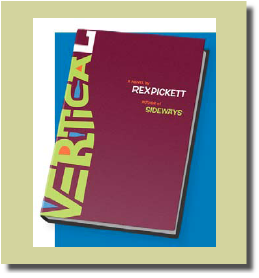 Miles has found fame and financial success, fueled by his novel, Shameless, which has been made into a wildly popular movie. He has become a chick magnet and a full-fledged idol, empowered with a full-time publicist, and flush with a full cellar of Pinot Noir to fuel his passion. Despite his apparent nirvana, he remains a depressed, tormented, insecure and tragic figure who has fallen into the depths of alcoholism. He is searching for a female soulmate to rescue him from his mental instability.
Jack is divorced, still oversexed, out of work, and drinks even more than Miles, if that is possible. He remains Miles' closest friend, and when Miles hatches an idea to drive his stroke-ridden and wheelchair-bound mother to Sheboygan, Wisconsin to live with her sister, Jack signs on as shotgun and drinking buddy. Miles has been invited to be the Master of Ceremonies at the International Pinot Noir Celebration (IPNC), and a short stop in Oregon is planned. As you might imagine, many unforeseen comedies play out and considerable debauchery ensues on the trip. Jack's unfortunate bout of priapism (he takes Viagra to counteract the effects of alcohol, a combination that would make any physician cringe) is the funniest interlude in the book.
In a handicap-fitted van, along with a Filipino pot-smoking aid to care for Miles' mother, the foursome head north, stopping briefly at the scene of their tragicomedy portrayed in Shameless (aka Sideways) at the Hitching Post restaurant and Foxen tasting room. Further along on the trip, Miles reenacts his infamous feat of drinking out of a spit bucket during a talk at the World of Pinot Noir (WOPN). It's then off to McMinnville, Oregon, for the IPNC with miles pronouncing, "Willamette's the next Burgundy."
Miles professes a preference for Willamette Valley Pinot Noirs over Central Coast Pinot Noirs he fancied in Sideways, criticizing the Central Coast versions as ramped up with Syrah and overproduced by greedy commercialization. Many Oregon blue-blooded Pinot Noirs are consumed along the trip including wines from Anne Amie, Bergstrom, Elk Cove, Raptor Ridge, Soter, and St. Innocent.
Ironically, the wine that takes center stage in Oregon is not an Oregon Pinot Noir, but a Burgundy: a jeroboam of 1996 Gevrey- Chambertain Clos de Beze drunk on the night of the IPNC Salmon Bake. After taking a slug, Miles notes, "In the mouth, it caressed my palate like a candied ectoplasm that clung preternaturally until the last bit disappeared."
Merlot bashing seems like a tired joke, but is revived in this sequel. At the welcoming ceremonies for IPNC, Miles is talking about his "favorite mistress" - Pinot Noir, and in closing, says, "In Santa Ynez they're such a bunch of money making whores, they'd probably go back to planting F*#&ING MERLOT." At the Salmon Bake, Miles is dunked in a vat of Merlot as a charity stunt, a clever bit by the author.
When Miles leaves Oregon for Wisconsin, the book turns maudlin, with Jack leaving the group for a job offer in Los Angeles, and Joy, the Filipino caretaker, deserting Miles. Frustrated, but undaunted, Miles troops on with his disabled mother. Considerable introspection ensues, the pairs' previously desultory relationship warms up, and the story ends on an inevitable sad note.
Miles throws out polysyllables with unabashed frequency throughout the book, and one will need a thick dictionary to decipher the meanings of words like deliquescence, quotidian, inchoate, solipsistic, prestidigitation, and alacritous. Despite this, his prodigious vocabulary adds to his character.
Entertaining as it is, this book will bring less notoriety to Oregon's Willamette Valley than Sideways did for Santa Barbara County. Miles and Jack only spend a couple days in Oregon and visit no wineries. The IPNC is portrayed as a bacchanal, described by Miles as having, "All the Dionysian makings of a royal descent into Hades." I am sure the organizers of this cherished event will wince about this exaggerated depiction of the tone of the Celebration. Concluding the Opening Ceremonies speech at IPNC, Miles coaxes the assembled, "Let's all go get F*#&ED UP ON PINOT!" The book may bring more notoriety to Pfizer Pharmaceuticals (the maker of Viagra and Xanax), than to Pinot Noir.
Sequels are always fraught with risks, and although Vertical has many entertaining moments, it relies heavily on sexual histrionics to deliver its message. The excessive drinking depicted in Sideways turned off some people, and the same readers will find a continuance in this escapade. Putting all this nitpicking aside, if you loved Sideways, you will thoroughly enjoy Vertical.