Winemaker Burt Williams: An Extraordinary Intuition for Crafting Pinot Noir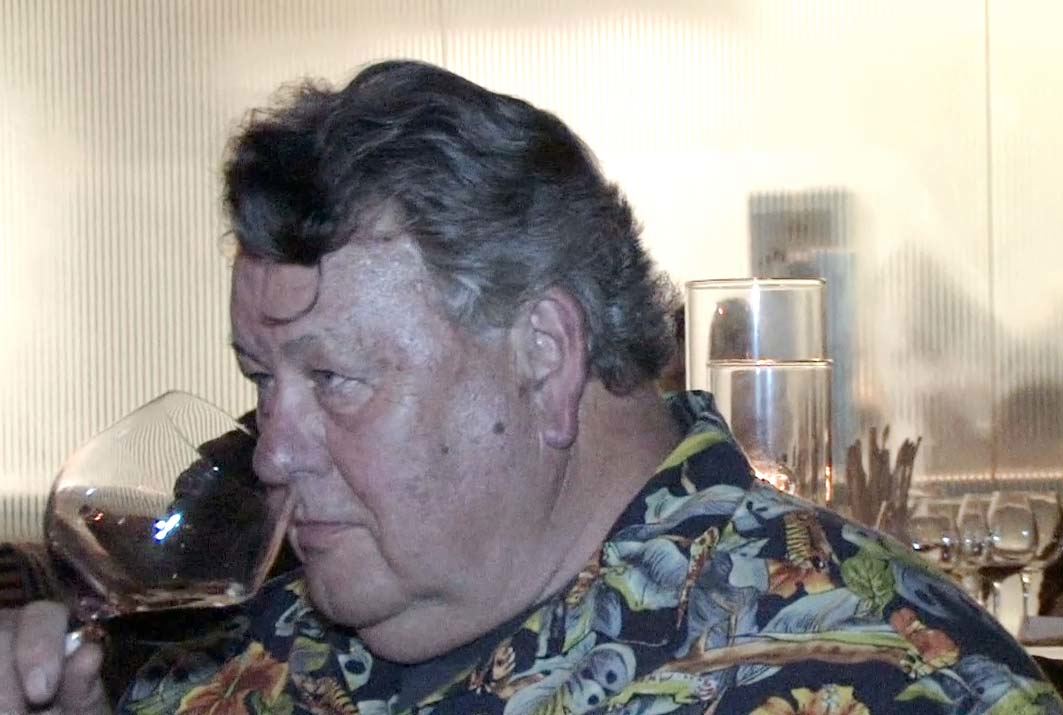 "Winemaking was just fun, a joy. It gave me a great life."
Burt Williams
There was nothing in the upbringing of Burt Williams that would suggest he would become one of California's most revered winemakers. Born in San Francisco in 1940, Williams grew up in the city, but spent his summers in the Russian River Valley with cousins, aunts and other members of the extended family at his family's summer house. At the age of 13, his father passed away, and his mother, who wanted to escape the city, moved the family permanently to their Russian River Valley home.
After graduating from high school in Sebastopol, Williams did not have enough money for a college education. An uncle was a printer and the profession paid well at the time, so one week after leaving high school, Williams began a six-year printer apprenticeship in San Francisco at the San Francisco Newspaper Agency, publisher of the San Francisco Examiner and Chronicle.
In 1962, Williams bought a house in the Hacienda Bridge section of rural Forestville and returned from San Francisco to live there the following year. Williams still owns the house to this day. It's location, "Hacienda Del Rio," would grace the label of the first wines Williams crafted with friend and partner Ed Selyem.
During the summers spent in the Russian River Valley, Williams hung out with locals Brad and Ronnie Nichol, whose younger sister, Gayle, married Ed Selyem. Because of that connection, Ed, who is five years younger, became friends with Burt. The two were neighbors, living just across the Russian River from each other. Ed was a home beer and fruit wine maker, but had a taste for vinifera libations as well.
Williams was enamored with wine by his late teens. He bought his first case of wine, a Zinfandel from Pedroncelli, at the age of 20, and made his first wine in 1964 at the age of 24 at his house in Forestville. During the early 1960s, growers had difficulty selling their grapes. Williams had some friends whose neighbor had a well-established Zinfandel vineyard, and since the owner could not find a buyer for his grapes, he gave some to Williams.
Williams put his winemaking on hold for a few years, picking up the craft again in the 1970s. In the meantime, he drank plenty of wine, especially Zinfandel. He dabbled in Burgundy and was attracted to it, but it became too expensive. In fact, the escalating cost of Burgundy was one of the main reasons he and his partner, Ed Selyem, decided to start their own winery. They just wanted to make good Pinot Noir they could drink at home. They never set out to make a splash or become rich. Williams admits, "I had no big plan. I wanted to buy grapes and turn them into good wine. We weren't trying to conquer the world or make millions of dollars. We were trying to make the best wine we could and enjoy it ourselves. If enough was left over, we could sell it. We never imagined that we would become a cult winery capable of selling everything we made."
Williams had tasted an occasional good Pinot Noir from California, but there were few "repeaters," he noted. Consistently fine California Pinot Noir was nowhere to be found. Blessed with a superb palate and possessing a self-taught keen understanding of how Pinot Noir should be crafted, Williams decided he wanted to make unusually good, world-class Pinot Noir, do it consistently, and develop a "niche" for something that no one had ever done before in California.
Williams began to read every book on wine and winemaking he could get his hands on. There were plenty of winemakers in the Russian River Valley he could talk to as well, and he visited many of them. The experienced Italian winemakers in the area were especially helpful, offering practical advice and encouragement. Williams attend many Burgundy tastings in San Francisco and bought as many Burgundies as he could afford. A few courses from University of California at Davis added to his knowledge. He never set foot in Burgundy because of his admitted reluctance to fly.
Williams and Selyem began their weekend home winemaking operation with the 1979 vintage, crafting the wine next to Williams' Hacienda Del Rio house, and storing the barrels in the basement. They began with a shoestring, each contributing $5,000. They were not bonded initially, and the 1979 and 1980 wines were not commercially legal. The wines were bottled under the Hacienda Del Rio label, a reference to Burt's house on the Russian River.
The sketch on the original Hacienda Del Rio Winery label was taken from one by the second illustrator (Hablot Knight Brown) commissioned for Charles Dickens' first novel, "The Pickwick Papers." It is titled, "Mr. Weller and his friends drinking to Mr. Pell." A later version of the Hacienda Del Rio label looked similar to the current Williams Selyem label, using the same letterpress letters, color and paper. Williams later designed the classic Williams Selyem label which appeared in 1984. This design was carried out by a graphic artist, displaying a simple red and black color scheme and adorned with a single dingbat.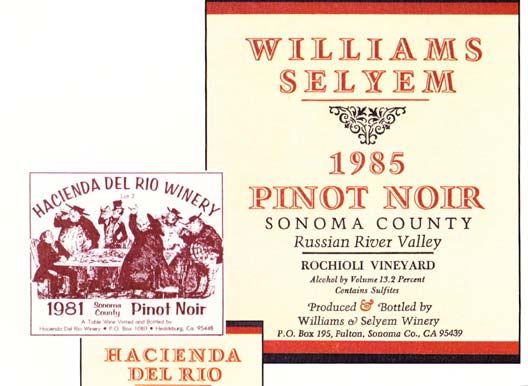 The photos of historic bottles below are courtesy of Ben Papapietro. The upper photo shows original bottles including a 1980 Hacienda Del Rio Pinot Noir. The lower photo shows the entire range of labels from the first vintage, a 1979 Zinfandel on the far left, to the current label on the 1995 Pinot Noir magnum on the far right.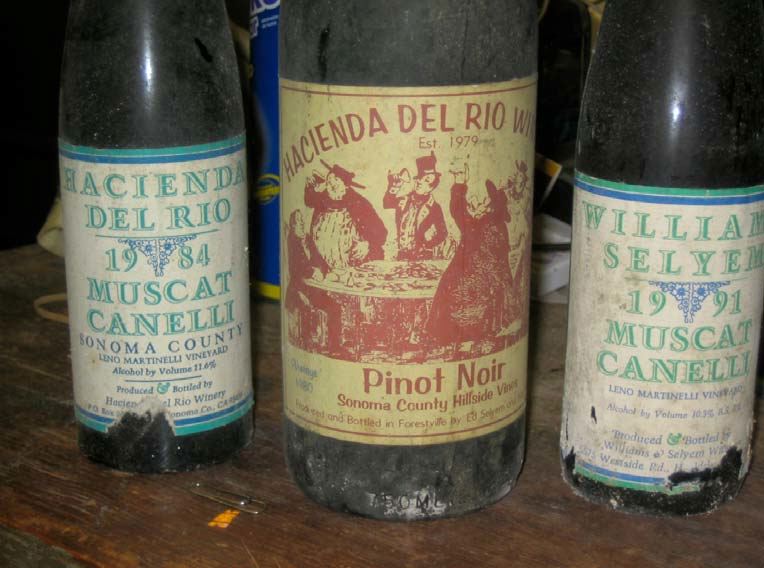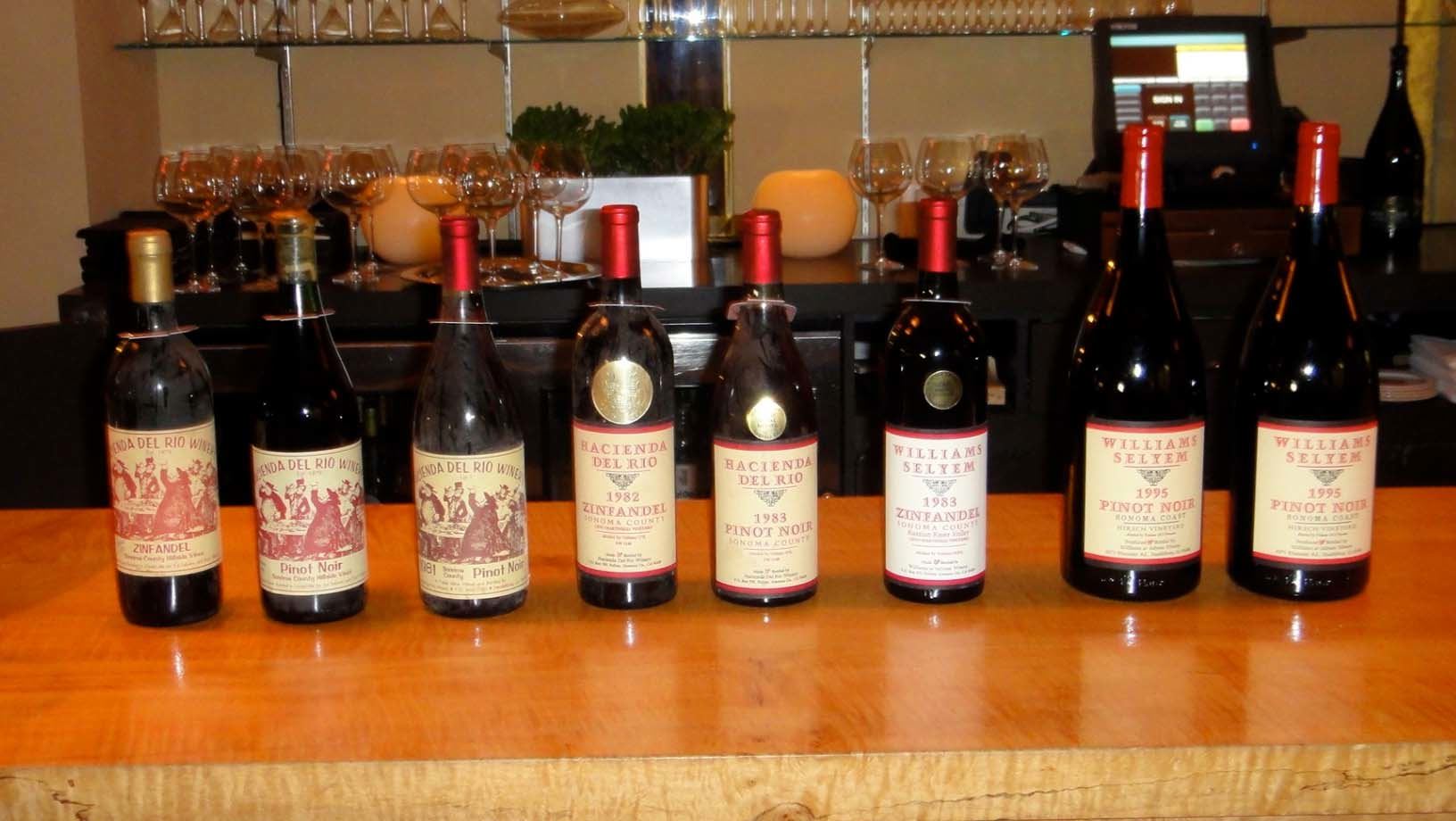 Ben Papapietro also worked at the San Francisco Newspaper Agency and struck up a friendship with Williams. He first helped Williams fashion his homemade wine in 1980 and continued to work harvests at William Selyem winery after it was launched. Today, he is the winemaker for his own winery in Healdsburg, Papapietro Perry.
A few bottles of the early production were sold and got out to wineries, and when a government agent spied some bottles on a winery visit, he phoned them, advising them to become bonded, which they did in 1981. Williams was 41 years old and Selyem was 36. They began with a total commercial production of 343 cases in 1981 (see offering below), then 475 cases the following year, 600 cases the next year, and gradually ramped up the output. From 1981 to 1983, the Hacienda Del Rio wines were crafted at Russian River Vineyards in Forestville.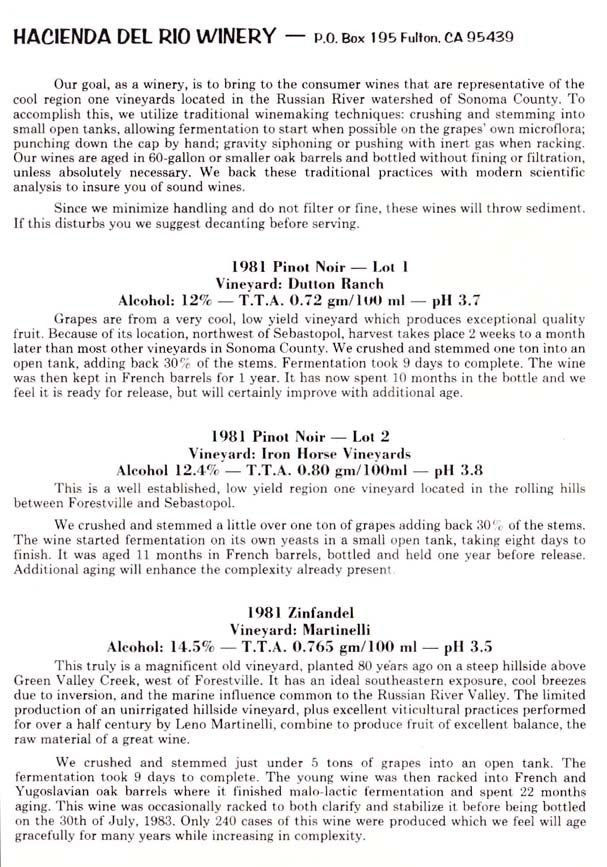 Williams, whose first Pinot Noir was bottled under the Hacienda Del Rio label in 1980, was not the first to vinify Pinot Noir in the Russian River Valley, but he was to achieve the most early notoriety. The first plantings of Pinot Noir, or something very close to Pinot Noir, was reportedly farmed by the Fountaingrove Winery north of Santa Rosa in the 1930s. The modern era of Pinot Noir viticulture in the Russian River Valley began when the Bacigalupi family planted Pinot Noir on Westside Road in 1964. Rochioli Vineyard followed in 1968 and Joseph Swan's Trenton Estate Vineyard in 1969. By 1973, Davis Bynum had released the first vineyard-designate wine from the Russian River Valley, a Rochioli Vineyard Pinot Noir, crafted by Gary Farrell. Tom Dehlinger released his first Russian River Valley Pinot Noir in 1977.
A complaint from Hacienda Wine Cellars prompted the partners to drop the original Hacienda Del Rio winery name and substitute Williams Selyem beginning with the 1984 vintage. A copy of The Wine Spectator report on the change in name of the winery is below.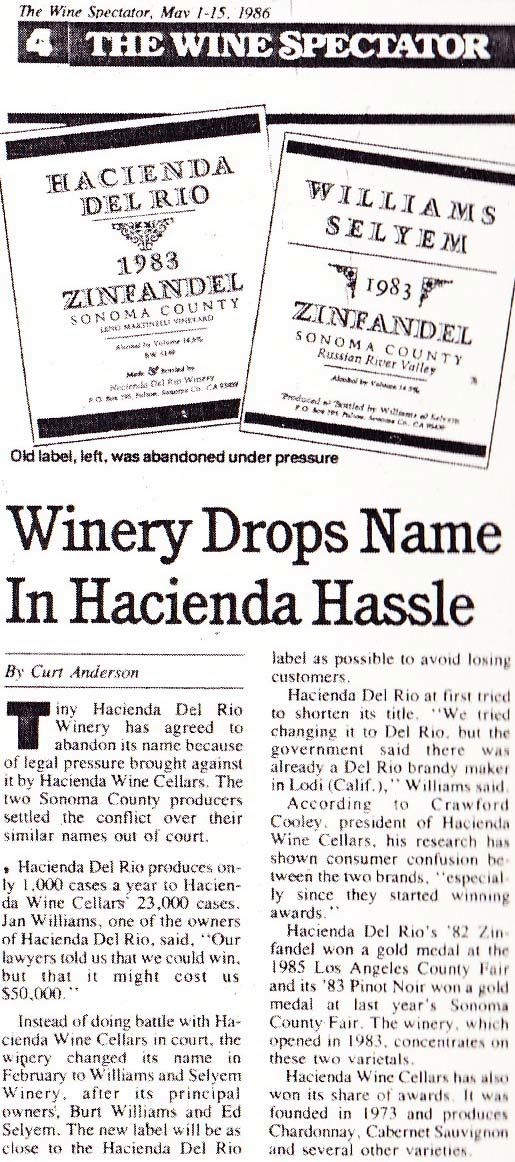 Also in 1984, production was moved to a leased 900 square-foot, two-car garage adapted for winemaking on River Road in the small Russian River Valley town of Fulton. Williams Selyem became the first of many California "garagiste" Pinot Noir producers. What distinguished Williams Selyem was that their winery really was in a garage, while others to follow often worked out of larger warehouse type facilities. The photo below shows the original garage as it looked in 2009. Fermentations were carried out on a pad next to the garage.
By 1984, Williams Selyem had begun to focus primarily on Pinot Noir, supplementing that production with a few hundred cases of Zinfandel and a tiny amount of Muscat Canelli, the latter two from Leno Martinelli's Jackass Hill property. Chardonnay came in 1990. In 1987, Joe Rochioli introduced Burt and Ed to Howard Allen, a bighearted sort, who offered to construct a winery building on his Allen Ranch property on Westside Road that Williams Selyem could lease. The move to the 3,200 square-foot warehouse styled facility was consummated in time for the 1989 harvest (see photo of the winery below). At the time of the move, annual production was 2,100 cases (300 cases of Zinfandel and 1,800 cases of Pinot Noir including Sonoma County, Sonoma Coast, Allen Vineyard and Rochioli Vineyard bottlings). By 1993, a 3,000 square foot building was added on the Allen Ranch for bottle aging and storage.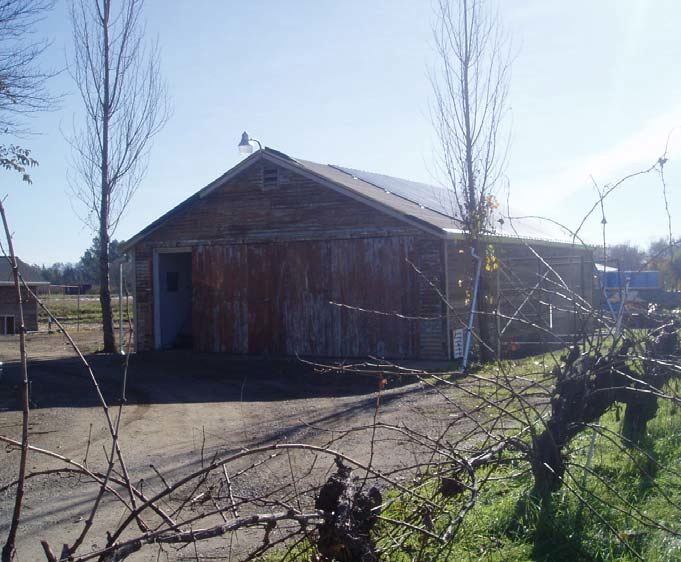 Garage on River Road in Fulton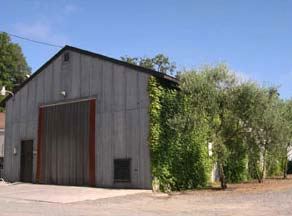 Williams Selyem winery at Allen Ranch