Burt Williams Tribute Dinner
A memorable dinner was held at the Dry Creek Kitchen Restaurant in Healdsburg, California to honor Burt Williams as an iconic figure who was among the first to master the art of crafting extraordinary and long-lived California Pinot Noir. The gathering of invited guests included winemakers who were inspired by Burt Williams, growers who worked side-by-side with him over the years, many close friends and family members.
Each of the winemakers and winegrowers in attendance spoke to honor Williams, and talked about how they were influenced by him. Some of their comments:
"He was my mentor and showed the way for California Pinot Noir before California knew what Pinot Noir could do or knew what was possible." .....Ben Papaprieto, Papaprietro-Perry

"He told me to have a good time doing it (making wine), otherwise I was in the wrong profession. He showed the rest of us what was possible." ..... Jeff Fink, Tantara Winery

"His vineyard work was under appreciated. He set the stage for workers and growers to work together. He showed the value of specific sites." When I visited his winery in the winter of 1994, he greeted me, "You've been to hi-tech, welcome to no-tech!" .....David Hirsch, Hirsch Vineyard & Winery

"The 1991 Williams Selyem Allen Vineyard Pinot Noir was a bad ass wine. It blew my head off, a life-altering experience. I wanted to make wine that good." .....Michael Browne, Kosta-Browne

"When we opened Aureole Restaurant in New York City 23 years ago, we were probably the first restaurant in the City to offer Williams Selyem Pinot Noir on a wine list. We were really impressed with the wines after tasting them. The problem was, none of our customers could pronounce the name. We figured that if we couldn't sell it, we would just drink it all." .....Charlie Palmer, Dry Creek Kitchen

"The Williams Selyem partnership business model inspired me when we started Brewer-Clifton with $12,000. We followed the model in every detail. When I shared a Chardonnay sporting 16.5% alcohol with him, he said, 'Don't be afraid of alcohol, I'm not."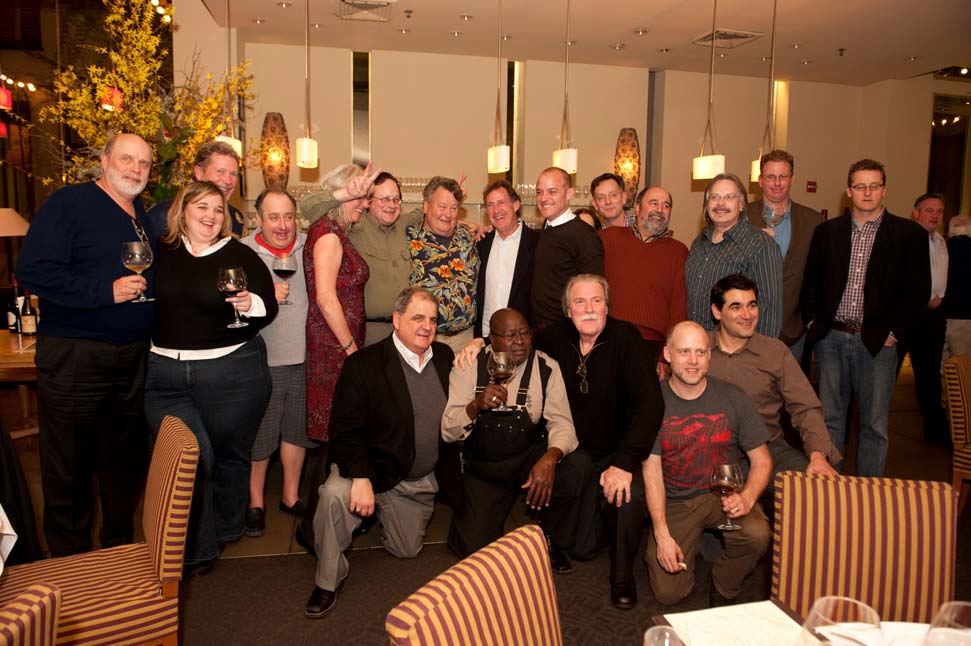 The dinner featured six courses: one course served with 2008 Woodenhead 'Naturale' Sparkling Russian River Valley French Colombard, four courses accompanied by historic vintages of William Selyem wines from the personal library of Burt Williams and an artisanal cheese course, accompanied by wines shared by the winemakers in attendance.
Each of the winemakers brought a special bottle as a gift to Burt Williams. For example, Jeff Fink's first barrel of Pinot Noir in 1992 was vinified with the yeast that Burt developed from the Martinelli Jackass Hill Vineyard. Later, Jeff would craft one barrel of Burt Central Coast Pinot Noir composed of equal portions of all twelve of Tantara's single vineyard Pinot Noirs. A bottle was affectionately presented to Williams at the dinner.
At the reception before the dinner, wines were served that were crafted by Margi Williams-Wierenga including 2002 Fred's Hands Blakeman Vineyard Mendocino County Chardonnay, 2005 Brogan Cellars Russian River Valley Sauvignon Blanc and 2002 Brogan Cellars Lone Redwood Ranch Southwest Block Russian River Valley Chardonnay.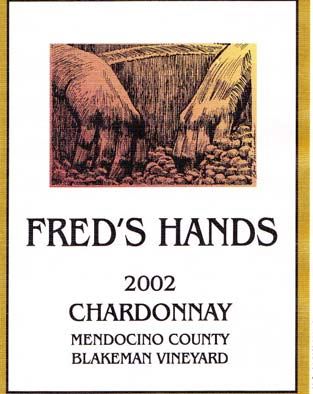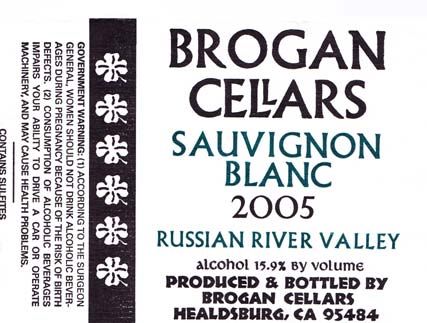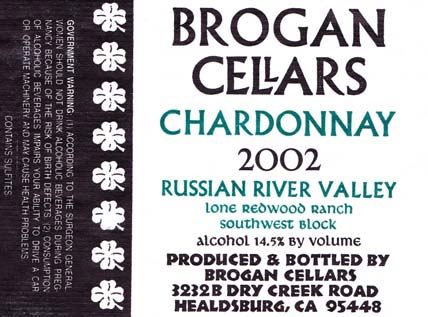 The menu and the wines for the Tribute to Burt Williams are shown below: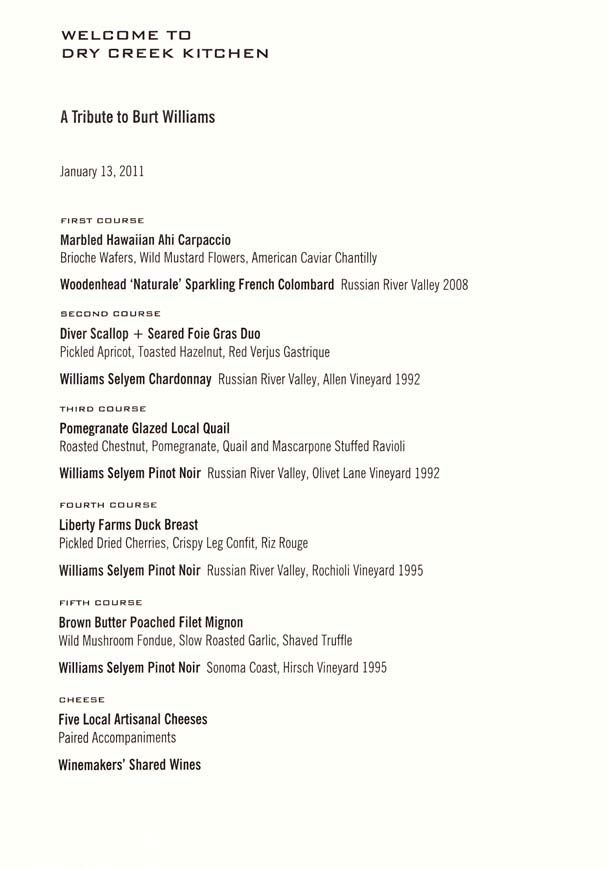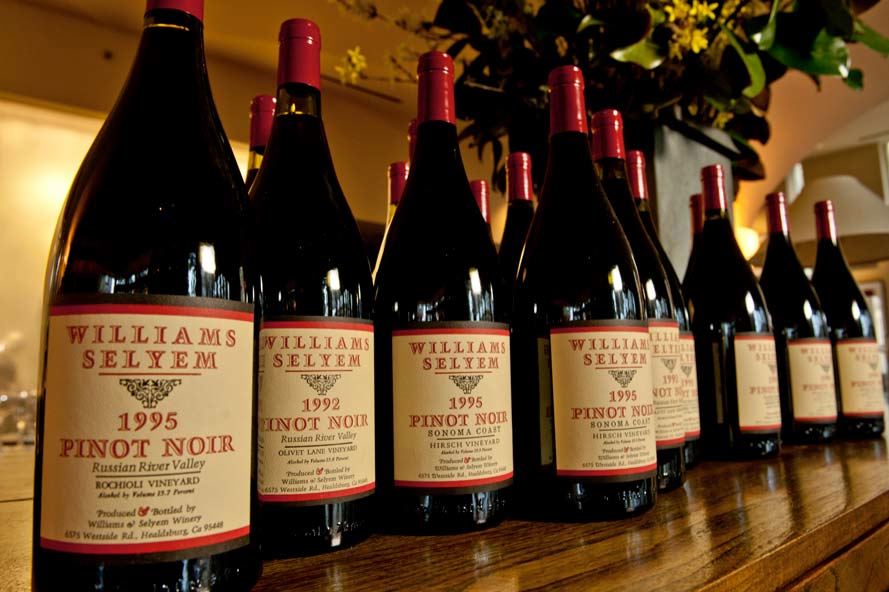 With each wine served at the dinner, Burt Williams came to the podium and read his production notes on the wine the year it was released. Those notes are included below along my brief impressions of the wines. All those in attendance were astonished at the freshness of the wines after 15-18 years. The magnum format and the provenance (they have been stored in Burt's cellar since release) contributed to their impressive showing.
1992 Williams Selyem Allen Vineyard Russian River Valley Chardonnay Magnum

Since 1990, Williams Selyem produced 150 to 200 cases annually of Chardonnay from Allen Vineyard. The wines were barrel fermented and aged sur lie for 11 months.
Burt: 4.25 tons were picked on 9/14/91. Aged in 50% new and 50% used French oak barrels. Fermentation began with indigenous yeast, inoculation with Williams Selyem yeast at the half way point. 7 month ferment, with lees stirring once a week. Unfined and unfiltered. 15.4% alc., pH 3.20, $30 (750 ml).
Rusty: Has held up remarkably well. Mineral, citrus and nutty aromas and flavors which are vibrant, with well-honed acidity.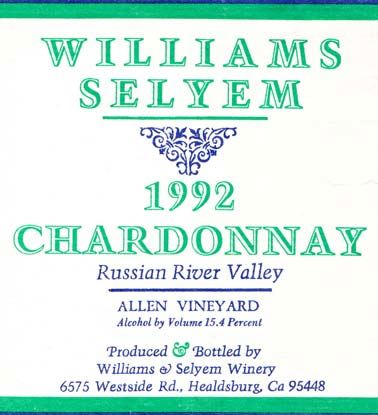 .
1992 Williams Selyem Olivet Lane Vineyard Russian River Valley Pinot Noir Magnum
Burt: 24 tons picked on 9/8/92. 25% whole cluster. Inoculated with Williams Selyem yeast after 3 days. Aged 11 months in 60% new and 40% 1-year-old Francois Fréres French oak barrels. 13.9% alc., pH 3.46, $56.
Rusty: A beautiful aged patina, retaining good depth of color and well-preserved. Aromas of spice, grilled mushrooms and forest floor. Moderately intense plum and dark berry flavors. Silky mouthfeel with a long finish.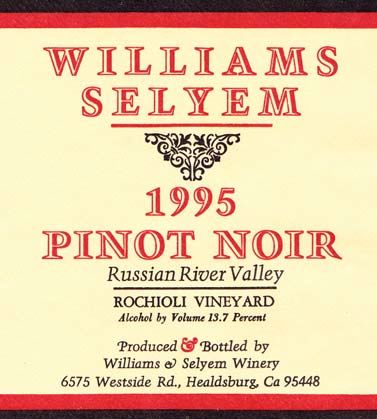 1995 Williams Selyem Rochioli Vineyard Russian River Valley Pinot Noir Magnum
Burt: 3.39 tons picked on 9/21/95. 35% whole cluster. Williams Selyem yeast added on day 4. 11-day ferment. Aged 16 months in 100% new Francois Fréres Troncais French oak barrels. Black cherry, cola, licorice. Long, black fruited finish. One of the finest wines I have made. 13.7% alc., pH 3.37, $65 (750 ml).
Rusty: Wow! Still has an impressive load of black cherry fruit on board with hints of leather, mushroom, vanilla and cola. Amazingly intense in flavor with a creamy, opulent texture and a finish that hangs on with a vengeance.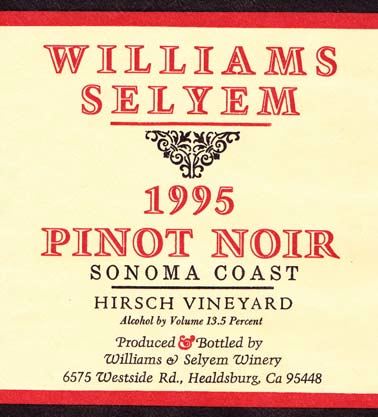 1995 Williams Selyem Hirsch Vineyard Sonoma Coast Pinot Noir Magnum
Burt: 19 tons picked from 5 blocks on 9/28/95 and 10/6/95. 23% whole cluster. Ferment lasted 11 days. Aged 16 months in 75% new and 25% 1-year-old Francois Fréres Troncais French oak barrels. 13.5% alc., pH 3.66, $40 (750 ml).
Rusty: The most aromatic Pinot Noir in the lineup. Great ruby color and mixed dark berry fruit intensity with melded tannins but still possessing a firm structural spine. Intensely fruity with plenty of spice on the finish. The wine has aged beautifully, a fitting compliment to the Filet Mignon served with it.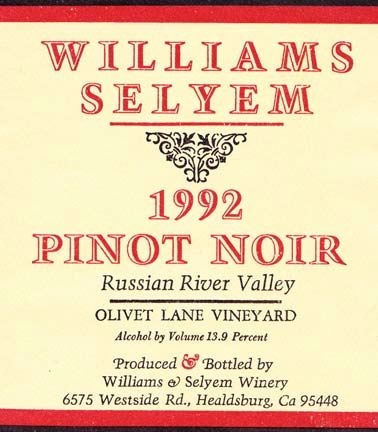 A note regarding older vintages of Williams Selyem Pinot Noir. Storage is everything and one must be cautious when buying Williams Selyem wines on the secondary market if the provenance is not well known. I have had variable drinking experiences with single bottles of Williams Selyem over the past couple of years. A 1993 Sonoma Coast Pinot Noir was stunning a few months ago. A 1992 Rochioli Vineyard Pinot Noir two years ago was magnificent upon opening, but faded quickly over time. For older vintages of Burt Williams-crafted Pinot Noir, your safest bet is magnum format. Prices have escalated for the few magnums in the marketplace, but the bottles, if stored properly, are well worth the tab.