Kutch Wines: Following Your Pinot Dream
When I first met Jamie Kutch at Kosta Browne Winery in May 2005, he was a greenhorn winemaker learning the craft at the side of Michael Browne who was fashioning his wines in a section of the caves at Freeman Winery in Sebastopol. Jamie's story is a familiar yarn, played out many times in the last decade by currently successful winemakers such as George Levkoff (a former bond trader who is the owner and winemaker at George Wines), Thomas Rivers Brown (an English literature major at University of Virginia and now owner and winemaker at Rivers-Marie), and Thomas Houseman (a former professional modern dancer who is now the winemaker at Annie Amie in Oregon). These individuals are but a sampling of those who left behind a different life to pursue Pinot Noir winemaking.
In early 2005, I received a curious e-mail from a PinotFile reader in New York who related to me that he had spent the better part of a week staying awake until 3:00 AM reading past issues. He went on to tell me he had learned an enormous amount about Pinot Noir and wouldn't stop until he had read every issue. My ears perked up when he told me he was leaving his career on Wall Street to make Pinot Noir in the Russian River Valley.
Jamie had lived his entire life in New York City. A Fordham graduate, he was working as a NASDAQ trader with Merrill Lynch, commuting daily to Manhattan on the Long Island Railroad. At a young age, he developed an interest in wine and for a few years even made wine in his small apartment with grapes shipped out from the West Coast. The more he read and tasted, the more his passion grew. His Pinot Noir epiphany came when a friend shared a glass of 1999 Domaine de la Romanee-Conti La Tache. He recalled it fondly, "It simply blew my mind."
In 2003, while at home after a day at work on Wall Street, he was surfing the eRobertParker Bulletin Board and fortuitously stumbled upon Andrew Vingiello. Andrew also worked for a Wall Street firm, but on the West Coast. He told Jamie he was mentoring under winemaker Brian Loring at night and making his first vintage of Pinot Noir under his new label, A.P. Vin. The two communicated by e-mail and eventually Andrew sent Jamie a barrel sample of his wine which impressed at a New York wine tasting along side other California Pinot Noirs. Jamie was now really hooked and realized that Andrew was living HIS dream. Both Brian and Andrew urged Jamie to experience harvest and "get his hands dirty." He was reluctant to leave behind his cadre of family and friends in New York and his girlfriend of eight years. It just did not seem possible until he met Michael Browne.
A few months after receiving the barrel sample of A.P. Vin Pinot Noir, Jamie landed a new job with a large investment bank. The work was boring and the other employees had a cutthroat attitude. The offer to move to California was becoming more appealing. One day, he was able to acquire some Kosta Browne Kanzler Vineyard Pinot Noir online from a fellow member of Robert Parker's Board. Upon opening one of the bottles, he was smitten. He exclaimed, "This was the best California Pinot Noir I have ever tasted."
Jamie sent an e-mail to Michael Browne detailing his dream to make Pinot Noir and requesting an allocation of Kosta Browne's limited release wine, "4 Barrel." The wine was sold out, but Michael agreed to send him a bottle from his own stash along with a note which read in part, "My advice is to go for your dreams if it is at all possible, otherwise, you might regret it for the rest of your life. A man once told me, 'The biggest regrets in life are not things that you did, but the things that you did not do.' I think he was a wise man. As for living the dream, it is pretty cool to work with something that you are passionate about. Lots of hard work is involved, but it is worth it. My advice if you think this is your calling is to drop everything you are doing and sacrifice a few years to get where you want to be. That is what I did, and it is going in a very good direction. Another good example is Andrew at A.P. Vin. He went for it and now it is taking him for a ride."
Michael also offered to help make Jamie's dream a reality. He told him he would mentor him in crafting 125 cases of Pinot Noir under Jamie's own label. Flushed with excitement, Jamie immediately quit his job in New York City, talked his girlfriend, Kristen Green, who had a good job at a public relations firm in New York, into joining him, and moved to San Francisco. Under Michael Browne's tutelage, Jamie, 30 years old at the time, produced a 2005 Russian River Valley Pinot Noir from Amber Ridge and Demeo vineyards under his new Kutch Wines label. When his wine chat friends on Robert Parker's Board found out about his new venture, he immediately had a mailing list of over 400 customers.
As I previously wrote in a feature titled, "Love Among the Must" (Volume 5, Issue 9), Jamie proposed to Kristen at Kosta Browne Winery during harvest. He hatched a plot to deliver her engagement ring to her on the sorting table. The plan was that Jamie would propose to Kristen after a helper sent the diamond ring down the hopper on the last bin of the day. Jamie was nervously sorting grapes from Koplen Vineyard next to Kristen, and recalled their discussion earlier in the day about the unusual items found while sorting grapes such as a band aid, tomato worms, picker's knives, and eyeglasses.
As the last fruit was dumped and the box containing the diamond ring dropped onto the table, Kristen reached for the box and after opening it, said, "Anyone want a box with a.......diamond ring in it?" It did not register right away with her and that was when Jamie grabbed the box from her hand, got down on one knee, and proposed. Her choking reply was, "Get the f#%$ out of here. She then said, "Yes!" and everyone began celebrating with Champagne. That evening, the newly committed couple cleaned up, traveled to Healdsburg and spent the night at the Healdsburg Hotel after dining at Dry Creek Kitchen, with, of course, a bottle of Kosta Browne Pinot Noir.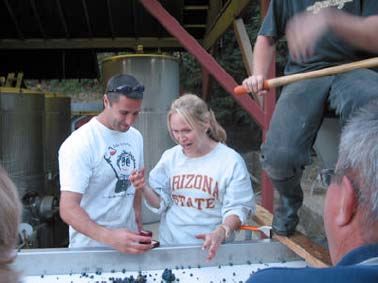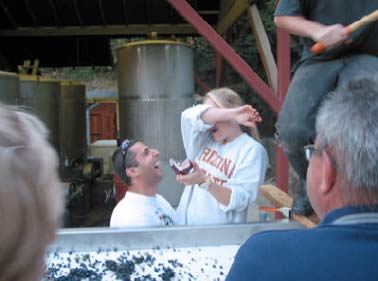 Jamie crafted two Pinot Noirs and a Pinot Noir Rosé from the 2006 vintage: a Sonoma Coast Rosé, a Russian River Valley appellation blend and a vineyard-designate from McDougall Ranch Vineyard in the Sonoma Coast. He moved his production base to Deerfield Ranch Winery in Sonoma Valley where Michael Browne first gained his winemaking experience under managing partner Robert Rex. Relying on his own resources and a loan from his father, Jamie became an independent producer with no investors or employees.
It wasn't long before James Laube of the Wine Spectator found Kutch wines on his radar, and considerable national publicity for the wines ensued. The first vintages were decent but not riveting to me and this was understandable as Jamie had no formal winemaking experience. He was a quick learner, however, and eagerly sought out the advice of many well-known Pinot Noir winemakers. In addition, he knew early on the importance of obtaining premium vineyard sources for his wines and sought out cool climate sites ideal for Pinot Noir. His dedication has paid off with the release of the stellar 2009 lineup of Kutch Pinot Noirs.
Although Michael Browne was his first mentor, Jamie has quickly veered from the Kosta Browne style of Pinot Noir and developed his own approach that reflects the type of Pinot Noir he now prefers to drink. He has chosen Burgundy as his model, not trying to make Burgundy per se, but attempting "to resemble their fruit profile, ripeness level, intensity level, and acid and tannin levels." Jamie has traveled to Burgundy three times and his experience has taught him "we aren't that different." He is consuming all the Burgundy he can get his hands on to enable himself to make vinification choices that more closely resemble Burgundy. His ultimate goal is food-friendly Pinot Noir that is also age worthy.
Jamie prefers to pick earlier, striving for phenolic maturity at lower Brix and resulting alcohol, and seeking more acidity. He uses some whole cluster in select bottlings to provide structure and age ability. Fermentations are done using indigenous yeast with minimal acid adjustments and no addition of color enhancing agents. All punch downs are done by hand. All ferments are in small lots and only free-run juice is used for Kutch wines. The wines are aged in 4-year air-dried, tight-grain Francois Frères oak barrels sur lie for about 18 months, and racked only when ready to bottle. The wines are unfined and unfiltered.
The resulting Pinot Noirs are moderately rich with ripe flavors and commendable balance and charm. The 2009 Anderson Valley and Sonoma Coast appellation blends are forward and ready for consumption now, while the single vineyard Pinot Noirs, although approachable now with decanting, need a few years in the cellar for full enjoyment, and have the potential for significant aging. I can heartily recommend the entire lineup. Jamie has called his 2009 wines "my best vintage ever," and the McDougall Ranch Pinot Noir "the greatest wine I have ever produced." Jamie goes on to say, "The McDougall Ranch Pinot Noir should easily see it's 25th birthday!" Jamie noted that Domaine Dujac's winemaker, Jeremy Seysses, tasted the 2009 McDougall Ranch Pinot Noir and remarked on Twitter, "09 Kutch: One of the more exciting US pinots I've had in a long time. Nice tannins, going places. Real sense of direction." The Falstaff and McDougall bottlings are slated for a fall 2011 release. The Falstaff and Savoy bottlings are the first from Kutch.
In his own words, here are Jamie's key points regarding his approach to winemaking and winegrowing. "My belief is that my wines are fresher and drier because I use judicious amounts of stem inclusion in my wines. After exploring and tasting hundreds of old California and Oregon Pinot Noirs from the 1960s, 1970s and 1980s, I concluded that the freshest wines were those produced with some whole cluster, either by straight addition or from a violent de-stemmer that was outdated and left large amounts of stems and jacks in the must. I think the tannins from the stems act as a shell that forms around the fruit flavors, protecting and guarding them and allowing for longer age ability. When the tannins finally resolve, the remaining fruit appears fresher than if the fruit had been completely de-stemmed exposing it to degradation from the beginning. I also realized that vignerons in Burgundy used high levels of whole cluster during ripe vintages such as 1999, 2002, 2003 and 2005, and low amounts of whole cluster in lesser ones such as 2001, 2004 and 2007. In California, the fruit is nearly always ripe to over ripe so it makes sense to use stems judiciously in almost every vintage. After experimenting with the use of whole cluster, I found that the additional tannin levels would cover up and dry some of the fruity, sweet characters which are inevitable from the high levels of sunlight in California. In my first two vintages (2005 and 2006), I de-stemmed 100% of the grapes, and the wines came across as having that unappealing sweetness and dullness which, for my taste, all too often is a fault of New World Pinot Noir."
Jamie continued. "Picking early is important to achieve low levels of alcohol in the finished wine as high levels of alcohol give a perception of sweetness even it the wine is 100% dry. By carefully managing water and crop levels in the vineyard and minimizing irrigation toward the end of the growing cycle, the phenolics become ripe naturally at lower sugar levels. It is imperative the stem be void of water when picking to prevent any green sap from the cut of the stem to leach into the must during fermentation. This will lead to herbaceous characters. Having observed believers of long hang time in California water one day ahead of a heat spike to hydrate the vine and thereby lower sugar and acid levels and allow the plant to prolong phenolic ripening, I decided to change my approach. I found there is no need to prolong the growing cycle in California vineyards. I have discovered that my wines taste fresher by avoiding excessive and inappropriate watering, and the flavors 'pop' earlier when there is still plenty of natural acidity in the grape and sugar levels are low. By hanging the fruit and extending growth, purity, freshness and brightness can be lost, replaced by characters in the wine which are not to my liking."
95% of Kutch wines are sold directly through a mailing list at www.kutchwines.com. 917-270-8180. Total production is 1,250 cases, with 800 cases of press wine bulked out to maintain quality of the wines offered. Jamie does not offer the wines for tasting at large Pinot Noir events, believing that serious appreciation of the wines is not possible under these circumstances. Smaller tastings are offered, such as one recently held at the Ferry Plaza Wine Merchant in early May.
Note: Jamie related this harrowing story in his latest newsletter. "Careening down a mountain with six tons of Pinot Noir strapped in the bed of a truck would certainly test the mettle of most winemakers, but rarely does it threaten life, limb, and most importantly, livelihood. At 10:00 A.M. on September 7, 2009, I would climb into that exact truck which was loaded to the gills with 12 bins of Pinot Noir fruit freshly harvested from McDougall Ranch. I was carefully shepherding this precious cargo back to the winery along windy Sonoma Coast mountain roads when, as I approached Meyers Grade, I noticed a sign that read, "20% Grade Ahead Trucks Use Low Gear." For a split second, I considered my priorities. If the brakes were to fail, should I ditch approximately $30,000 worth of Pinot Noir fruit and jump out of the truck or should I risk possible physical harm to save what looked like the greatest fruit I had ever harvested? Moments later, this question would become all too real when I pumped the brakes not only once but twice, then three times and nothing. Fortunately, I was able to maintain control of the truck and guided it safely down the mountain in low gear. I finally rolled to a stop at the bottom of the Grade with my prized Pinot Noir fruit safe and sound."