Le Cadeau Vineyard: A Rocky Situation
Tom and Deb Mortimer are transplants from Minnesota who acquired a never-before-cultivated 28-acre hillside property on the southern tip of Parrett Mountain in the Dundee Hills near Newberg, Oregon in 1996. A 17-acre, moderately high elevation (610'-725') vineyard was developed and planted with a singular focus on growing distinctive estate Le Cadeau Pinot Noir. Le Cadeau translates as "the gift" in French. The vineyard is known as the rockiest vineyard in Oregon. It took a team of track-hoes, D-8 Cats, and tractors more than two years just to clear the raw land. Tom, who is a Burgundy freak, feels the effort and cost was well worth it. The advantage of planting Pinot Noir vines in this rocky volcanic soil is that this soil type promotes drainage, regulates temperatures of the vines, and reduces vine vigor. The result is small fruit clusters with tiny berries that potentially can lead to rich, fragrant wines.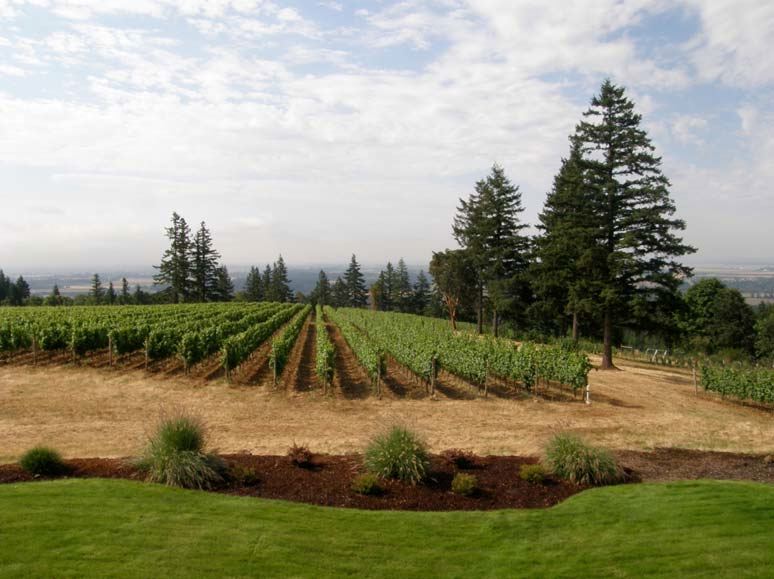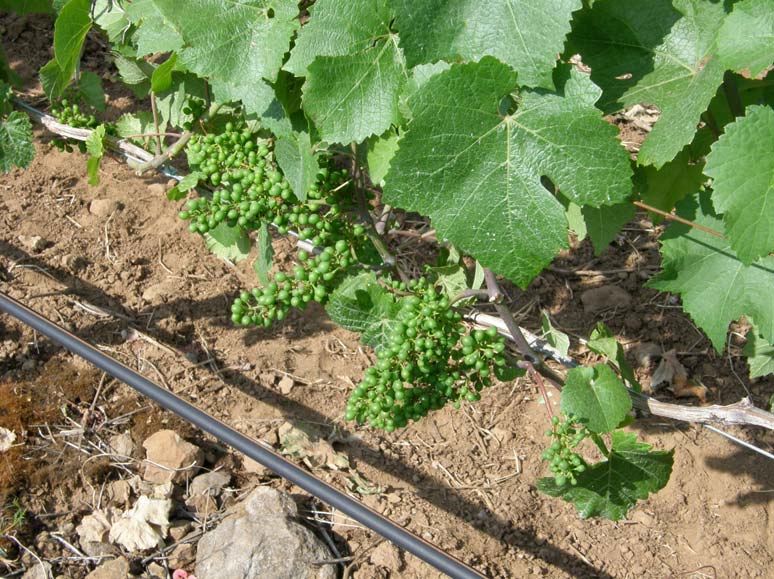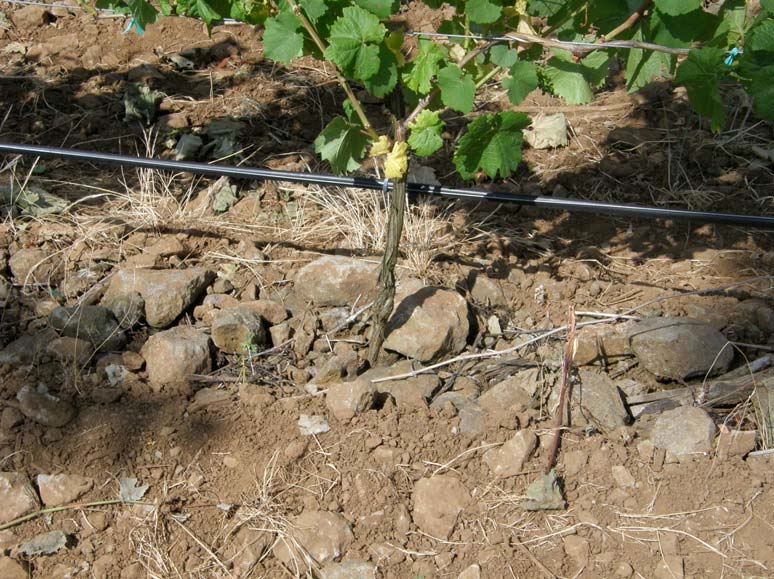 I visited the Mortimers at Le Cadeau Vineyard after the 2010 International Pinot Noir Celebration. They related their story to me. The first 6 acres of Pinot Noir were planted in the spring of 1999: 1.75 acres each of Pommard and Dijon 667 and 777, and .75 acres of Mariafeld, Pommard and 777, 113 and 115 in another east-facing area of the property. This .75-acre site became a rootstock test site, planted with different clones on various rootstocks. By 2000, viticulturist Buddy Beck, who had worked at Domaine Drouhin Oregon for many years, and his associate, Angel Martinez, took over the vineyard management and remain in charge today. The project turned out to be very expensive and was dubbed "The Black Hole Vineyard" by Deb Mortimer.
The first wine from the property came in 2002 and was released in 2005, eight years and four months after purchase of the property. Encouraged by the character of this wine, an additional 4 acres of Pinot Noir, clones 114 and 115, were added bringing total vineyard acreage to 10 acres. 1,200 cases of Pinot Noir followed in 2006, but critical acclaim spurred on further planting. An additional 5 acres was planted that year, consisting of several additions to existing plantings using various clones including 114, 777, 667 and Pommard. 1.5 acres were added in the fall of 2008, including heritage clones such as certified Swan clone, likely the first certified Swan clone (UCD 97) to be planted in Oregon. Some inter-planting has been done as well. As I walked the vineyard, I was overwhelmed by the dizzying number of rootstocks, clones, spacing, and exposures. One thing was consistent: rocks were visible on the surface everywhere. The entire 17-acre vineyard (1 acre of which is on neighboring property but is farmed by Mortimer) will be in full production by 2012 and it is expected that Le Cadeau will be producing just over 2,000 cases of Pinot Noir annually.
Noted viticulturist, Daniel Roberts, has consulted in recent years and there has been a concerted emphasis on shoot positioning.
Tom made an unusual decision at the onset to use several consulting winemakers for each of the Le Cadeau Pinot Noir cuvées and the wines are vinified at each of the winemaker's respective facilities. A complete listing of winemakers by cuvée is on the web site. I personally do not agree with this approach as it is difficult to get your arms around the five different cuvées representing different parts of the vineyard, different clones, and various winemaking styles, whose character varies considerably. The result is a puzzling array of wines without a Le Cadeau signature that can be recognized by most consumers and even connoisseurs.
For the 2008 vintage, the wines include Côte Est (winemaker Steve Ryan, a former winemaker at Martinelli in California and now located in Hopland), Diversité (winemaker Scott Shull of Raptor Ridge), Équinoxe (winemaker Jim Sanders who trained under Mike Etzel at Beaux Freres), Rocheux (winemaker Jacqueline Yoakim of Keller Estate in California), and Serendipity (winemaker Tony Rynders, formerly of Domaine Serene for 10 years). For 2009, a Red Label Le Cadeau Vineyard Pinot Noir is crafted by Jim Sanders and is offered as an earlier drinking wine at a lower price point.
Le Cadeau wines may be ordered through the winery's online store at www.lecadeauvineyard.com. There is some retail distribution nationwide as well. The website is highly informative. Visits to the vineyard are by appointment only. The Mortimers are very gracious hosts.
I tasted through several Le Cadeau bottlings during my visit with Tom and Deb Mortimer. Tom feels the wines take at least four years after bottling for maximum enjoyment.
The following three wines were tasted in my usual fashion at home. I hope to re-taste them in another year or two to see how they evolve.
2008 Le Cadeau Côte Est Oregon Pinot Noir
13.9% alc., 351 cases, $48. From the cooler east side of the property where fruit is shaded from morning sun by neighbor's trees. Winemaker Steve Ryan. · Moderately dark reddish-purple color in the glass. The nose lacks fruit, offering scents of pine, oak, spice and cut flowers. The black raspberry and black cherry flavors have an earthy underpinning and a slight vegetal note. Smooth on the palate with a short finish. Tasted the next day from a previously opened and re-corked bottle, the wine still was rather closed with slightly more fruit showing on the nose and on the palate. Hard to judge this wine currently which showed much better 9 months ago when tasted at the vineyard. Like many Oregon Pinot Noirs from 2008, patience is advised. Good.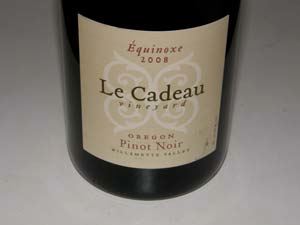 2008 Le Cadeau Vineyard Équinoxe Oregon Pinot Noir
14.1% alc., 196 cases, $48. Winemaker Jim Sanders. Sourced from the crest of the hill where the vines receive equal sun on both sides during the day. · Very shy nose with hints of cassis and oak. Crisp and tasty with a moderately rich core of dark berry and plum fruit supported by spice. Sporting notable tannins, this wine needs more time for integration, but shows potential. Good (+).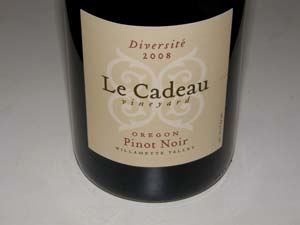 2008 Le Cadeau Vineyard Diversité Oregon Pinot Noir
14.1% alc., 270 cases, $48. From varied clones planted throughout the vineyard. · The aromas and flavors of this wine are buried in oak with coffee being the most prominent feature. Big-boned darker fruits are featured with flamboyant tannins. Tasted the next day from a previously opened and re-corked bottle, the wine tasted like a coffee drink. Time in the cellar should moderate the oak and allow the fruit to emerge, but this will always be an oaky wine. Decent at best currently.