Total Wine & More Plans Total Dominance
Total Wine & More is advertised as America's Wine Superstore, offering 8,000 wines, 3,000 spirits, and 2,500 beers at its large warehouse sized stores. 71 stores are operational in ten southwestern and southeastern states including high penetration in California. Today's Los Angeles Times features a full page cover ad announcing the opening of two additional Southern California "superstores." The firm was started in 1991 by David and Robert Trone who initially opened two wine stores in Delaware. Total Wine & More is now the largest independent wine retailer in the United States. They carry a vast selection of both domestic and imported wines, with about half of sales from each category.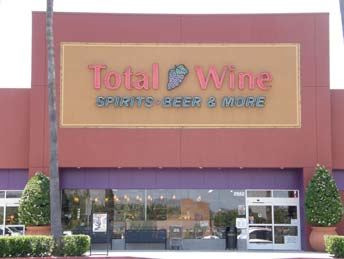 A 20,000 square-foot store opened a couple of years ago near me in Tustin, California. At first I was adverse to the concept, overwhelmed by the sheer size of the store and assumed the wines would be primarily supermarket variety. I was surprised to find they carried an extensive variety of top quality Pinot Noir from California and Oregon including labels such as Alma Rosa, Anam Cara, Argyle, Adelsheim, Archery Summit, Au Bon Climat, Brewer-Clifton, Calera, Cristom, Domaine Serene, Donum Estate, Etude, Hanzell, Hitching Post, Loring Wine Co., LIOCO, Miura, Saintsbury, Sanford, Siduri and Testarossa. They do not always carry the latest releases and do not have the complete offerings from a winery for a given vintage, but the selection is impressive. They also carry a wide variety of inexpensive Pinot Noirs in the $5 to $13 range including labels like Angeline, Bearboat, Castle Rock, Courtney Benham, Echelon, Irony and Muirwood. A number of inexpensive foreign imports from Italy, Corsica, the Languedoc, New Zealand and Australia of dubious quality are also offered. The point is, you have to know what's good. The Chardonnay selection is equally impressive and I have found examples from many noted premium California producers (Dehlinger, Hanzell, Ramey).
This is not a discount operation as prices are comparable to local wine speciality retailers. Total Wine & More does, however, offers incentives by publishing coupons in newspapers. The current offering is for $10 off every $50 spent, a savings of 20% (some items are excluded). I compared prices on fifteen premium Pinot Noirs with the prices at a local, well-known and highly regarded wine store. The wines included 2008 Belle Glos Clark & Telephone, 2008 Bergstrom Cumberland Reserve, 2008 Domaine Drouhin Oregon, 2008 Foxen Bien Nacido Block 8, 2009 Ken Wright (various), 2008 Loring Wine Co. Graham Family Vineyard, 2008 Siduri Santa Lucia Highlands, 2008 Penner Ash Willamette Valley, and 2008 Ponzi Reserve. The prices at Total Wine & More were the same for 80% of the wines, and a couple of dollars more expensive or less expensive for the other 20%. So, although Total Wine & More advertises "Lowest Prices," for most wines this is not true unless a coupon is used as a discount.
When I have been in the local Total Wine & More, I noticed that most people are using grocery shopping carts and loading them up with wines, often buying a few cases at a time. I never see this at a fine wine store where hand baskets are the usual mode of shopping. People buy in quantity here.
A 119-page buying guide listing all the wines for sale with some brief information on some of the wines and scores from the usual sources are included. An impressive Total Guide to Wine is also published and given away at the stores. The store advertises "great customer service," but since I do not ask for buying advice, I cannot verify this claim. There are a number of shelf talkers that are rather generic in nature and bland in style that promote certain wines, and some talkers that are written by employees with their photos displayed.
What is the point of this? I see this as a serious threat to specialty wine retailers who usually provide more personal assistance, offer wines that in most cases have been tasted and evaluated by the staff, host extensive educational tastings, and spend considerable time in composing informative newsletters and mailings regarding their stock of wines. In the long term, with Total Wine & More stores appearing in many neighborhoods and with their advertising power, they are threatening to dominate the retail wine market. Many small retailers will simply not be able to compete. In the past, specialty wine retailers were able to offer wines that were not available to general retailers, and in some cases they still do, but Total Wine & More, as I detailed above, now offers many of these limited production labels. The large retailers, with their buying and advertising clout, whether for groceries, clothes, and electronics or other commodities, threaten the existence of the independent business person and sadly will continue to do so.