Andersonoir Valley Pinot Noir Festival
As the winemakers in the Anderson Valley pushed the nightmarish 2008 vintage back into their distant memory, they found cause to celebrate the stellar 2009 wines. The 14th Annual Anderson Valley Pinot Noir Festival presented the first opportunity for many to sample the 2009 Anderson Valley Pinot Noirs. Some producers were reluctant to offer their 2009 wines, feeling they needed more time in the bottle to show well and substituted their excellent 2007 vintage Pinot Noirs. Nearly every 2007 vintage Pinot Noir available at the Grand Tasting has been previously reviewed in the PinotFile and will not be discussed further here.
Several 2009 Anderson Valley Pinot Noirs were reviewed in Volume 8, Issue 35 of the PinotFile including Balo Vineyard, Black Kite "Kite's Rest," and Couloir Wines. I referred to these wines as redemption for the disastrous events of the 2008 vintage that led many producers to sell off their entire production in bulk.
Veteran Anderson Valley winemaker, Bob Klindt (Claudia Springs Winery, Harmonique), called 2009 "a typical growing season in the Anderson Valley." Larry Londer of Londer Vineyards said, "The quality of the 2009 vintage in the Anderson Valley parallels the 2007 vintage, and may surpass it." Winter rains were lighter than usual, and a mid-May heat wave brought high temperatures for the second consecutive year. Bud break was late and spring was generally cool but not accompanied by frost. The summer was moderate and relatively cool allowing slow ripening and a prolonged harvest which began in mid-September and finished the last week of October. A late September heat wave brought grapes quickly to optimum ripeness and a large October storm provided a challenge that most vintners avoided.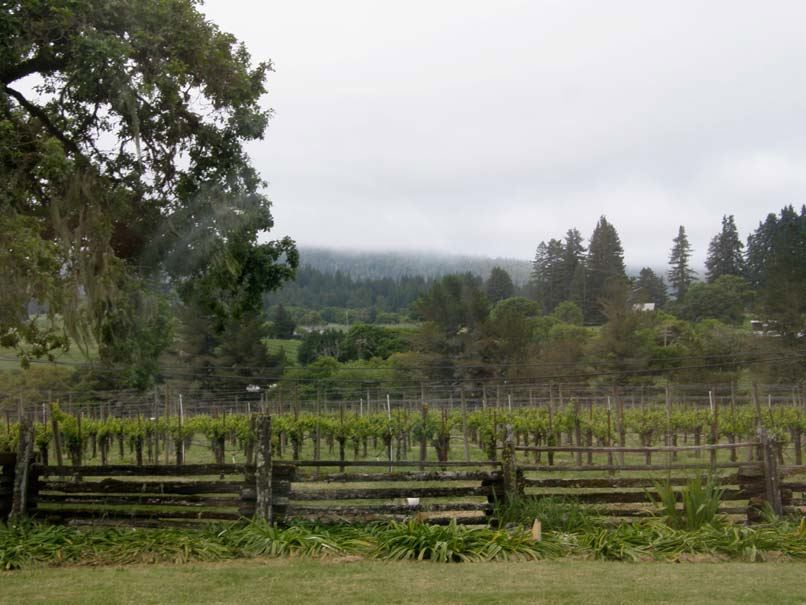 On Saturday morning, before the Grand Tasting at Goldeneye, I sampled in quiet a number of 2009 Anderson Valley Pinot Noirs at Schraffenberg Cellars. Although young, many wines were very appealing and approachable. Quality was consistently very high indicating that 2009 is a spectacular vintage for Anderson Valley Pinot Noir. This is a vintage you can stock up on with confidence.
A number of other wines were sampled briefly at the Grand Tasting. Here are a few quick impressions.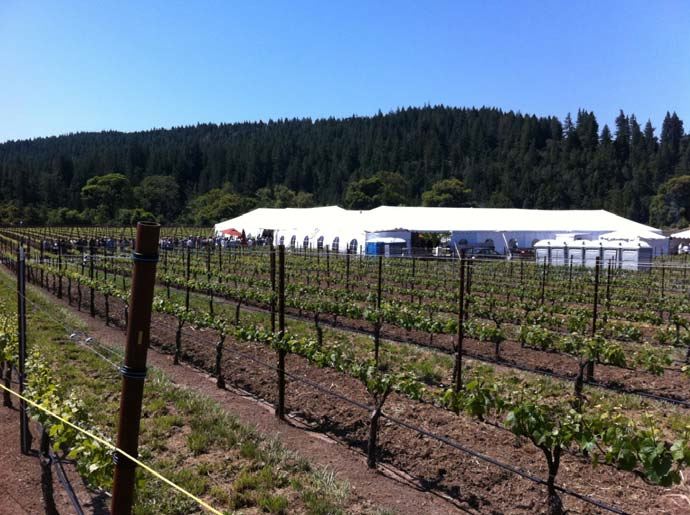 Balo Vineyards Tim and Michelle Mullins have been growing and selling grapes in Anderson Valley since their first crop in 2003. The 8-acre vineyard is across the street from Goldeneye and a new winery and tasting room is under construction on the site. In 2009, the Mullins began producing their own wine under the Balo Vineyards label under the direction of noted winemaker Jason Drew. This is a producer to watch. Love the website handle: www.killerpinot.com.
Baxter Phil L. Baxter, Sr., and Phil T. G. Baxter, Jr., teamed up in 2002, pooling fifty years of experience to produce single vineyard wines under the Baxter label. Father and son work together in a ridge top location above the Anderson Valley, now joined by Claire, Phil Jr's English wife. All the 2009 Baxter wines impressed me including barrel samples of 2009 Langley Vineyard and a tiny lot of 100% whole cluster Pinot Noir. Winemaker Phil Baxter avoids new oak completely, creating wines of great fruit purity.
Black Kite Cellars Rebecca Green submitted for review two limited production 2009 Pinot Noirs from Black Kite Vineyard. Both the Stony Terrace and River Turn Pinot Noirs remind me of a curvaceous woman clothed head to foot in black leather with discrete and strategic openings. The wines are distinguished by elevation, soils and trellis type. Both blocks are planted to Pommard clone. The 2009 Black Kite "Kite's Rest" Estate Anderson Valley Pinot Noir was reviewed very favorably recently (PinotFile, www.princeofpinot.com/winery/ 530/). A third Black Kite Pinot Noir, "Redwoods Edge Block," is not ready for prime time yet. Black Kite Cellars produces less than 1,500 cases of single vineyard and block-designated Pinot Noir annually.
2009 Black Kite "River Turn Block" Anderson Valley Pinot Noir
14.8% alc., pH 3.60, TA 0.59, 160 cases, $52. Aged 11 months in 66% new and 33% 1-year-old French oak barrels. Decanting for two hours or hold for 5-7 years is recommended. · Moderate reddish-purple color in the glass. Brooding nose with shy aromas of dark cherries and berries, lumber yard and oak. Big-boned, fruit-driven and earthy with an elegant personality despite the rich fruit core. The velvety mouth feel is very seductive. Only hinting at its potential now. Much better the following day from a previously opened and re-corked bottle. Give this wine a few years in the cellar. Very good.

2009 Black Kite "Stony Terrace Block" Anderson Valley Pinot Noir
14.9% alc., pH 3.60, TA 0.59, 230 cases, $52. · Moderate reddish-purple hue in the glass. The aromas really grab your attention and pick up interest in the glass over time revealing notes of black cherries, raspberry syrup, wood spice, and wooded forest. Tasty core of black cherries, blackberries, sassafras, and faint oak highlights. Soft and creamy on the palate with ripe black cherry flavor persisting forever on the noteworthy finish. A special wine, which despite its hefty alcohol, manages to stay in balance and offers immense pleasure. Should be a respectable short term age worthy candidate.
DrewJason Drew is crafting consistently fine Pinot Noirs from his winery on Mendocino Ridge above the Anderson Valley. His 2009 Valenti Vineyard Pinot Noir from the Mendocino Ridge AVA was a knockout. I have never had a bad wine from Jason.
Esterlina Vineyards & Winery Lynn Krauseman has been recently appointed as winemaker for Esterlina and its affiliate brands, Everett Ridge and Diabilta. Krauseman has been the winemaker at Williams Selyem for the past six years and before that worked at Clos du Bois, Freemark Abbey Winery, Robert Mondavi Winery, and Cloudy Bay Wines in New Zealand. Barrel samples of 2009 Esterlina Estate Pinot Noir and 2009 Esterlina Estate Reserva Pinot Noir were both outstanding with the Estate more forward and approachable and the Reserve needing considerable time for full development. A top flight producer in the Anderson Valley and a special winery to visit.
Harmonique Moira Conzelman (photo below) was on hand for the event as usual and was pouring the just released three 2006 Harmonique Pinot Noirs: "The Noble One," "Elegancé" and "Delicacé." Harmonique draws on excellent vineyard sources within the Anderson Valley including the old vine Conzelman Vineyard. Veteran winemaker Robert Klindt oversees production. Older vintages back to 2003 are still available on the website at www.harmoniquewine.com.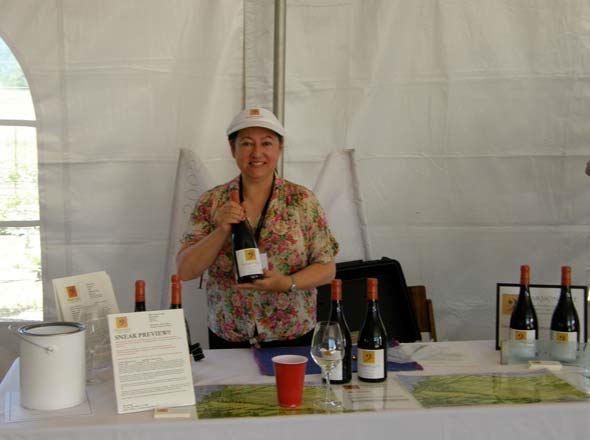 Londer Vineyards 2009 is a break out year for Londer who chose to declassify and sell all 2008 production in bulk. I have had the Londer Vineyard Pinot Noir from Couloir and it was exceptional. Londer's 2009 Estate Pinot Noir and 2009 Ferrington Vineyard Pinot Noir were both impressive wines with the Ferrington drinking spectacularly now.
At each of the recent Anderson Valley Pinot Noir Festivals, local artist Gerald Reis paints original art to commemorate the Festival. The original paintings are auctioned at each event and prints of the originals are available for purchase from the artist. Each print is reproduced from the original on fine archival paper. Visit the website at www.reisdesign.com to view and acquire the prints. This year's painting is shown below.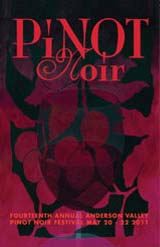 For more information on the Anderson Valley, including its history, growers and wineries, visit the website: www.avwines.com. Also, well over 30 major California Pinot Noir producers located outside the Anderson Valley appellation source grapes from the Anderson Valley including Anthill Farms, Adrian Fog, Arista Winery, Barnett, Benovia, Brogan Cellars, Cakebread Cellars, Castle Rock, Copain Wines, Couloir Wines, Fulcrum Wines, Gros Ventre Cellars, Harrington, Hartford Family Wines, Kutch Wines, La Crema, LIOCO, Littorai, Lulu, MacPhail Family Wines, Papapietro-Perry, Radio-Coteau, Roessler Cellars, Rhys Vineyards, Saintsbury, Skewis, Tudor, Twomey, Waits-Mast Family Cellars, Whitcraft, Williams-Selyem and Woodenhead.