Inman Family Wines: Sensitive Farming & Winemaking
Englishman Simon Inman was visiting Napa Valley when he stopped at Napa Creek Winery's tasting room and became enchanted with Kathleen McGowan, a college student working the first day of her summer job at the winery. He discreetly wrote a letter to the owner of Napa Creek Winery asking him to pass along a second letter to the "assistant" to whom he had spoken with briefly in the tasting room. Two years later, Simon and Kathleen were married.
After living in England for fifteen years, the Inmans acquired a passion for New World and Old Word Pinot Noir. In 1998, they left behind their careers in England and arrived in California. After searching for a year, they discovered a farm owned since the 1880s by the Greeott family at the junction of Olivet and Piner Roads in the Russian River Valley. The Inmans bought the property and named it Olivet Grange Vineyard, after the family's English country home, The Grange at Elvington, and its location on Olivet Road. Because of a challenge from Australia's famous label, Grange, beginning in 2005, the Inmans have had to display OGV instead of Olivet Grange Vineyard on their front label.
In 2000, 7.2 acres of Pinot Noir, clones 114, 115, 667 and 777, and Pinot Gris, clone 145, were planted using carefully selected rootstocks appropriate to the Russian River Valley location. Today, the vineyard consists of 10.45 acres and includes Pinot Noir clone 828. From the onset, Kathleen has been the vineyard manager, winemaker, salesperson, accountant and General Manager. Family members help out when they can, including Simon who also is a practicing lawyer. You have to really hand it to this hard working woman who has built a winery of repute from scratch while still managing a family and raising two daughters.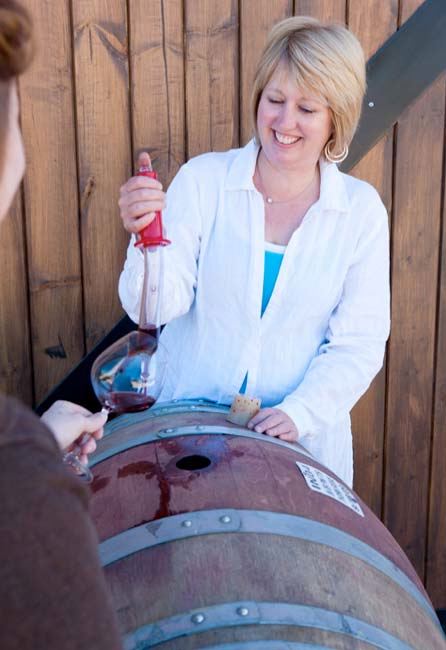 Farming is strictly organic and sustainable with the aim of promoting a healthy ecosystem. Compost, referred to as "Four-Course Compost," derives from table scraps from high-end San Francisco restaurants and hotels. Worm castings are used to create a bio-fertilizer that is delivered by the vineyard's drip irrigation system. Eco-friendly practices extend to the wine labels, recyclable packaging, reduction of waste, and use of renewable sources of energy in the winery.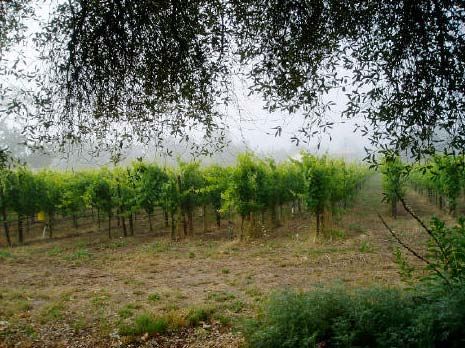 In September, 2010, the Inmans opened a new winery on their property. An ecologically friendly tasting room is the center point. All the wood for the cabinets and tasting bar were salvaged from the old barn that was taken down to allow the new winery to be built. All the power need for the winery is supplied by solar panels. The tasting room is open Thursday through Sunday from 11:00 to 4:00. A private tasting and vineyard tour with owner and winemaker Kathleen Inman is available by appointment (707-293-9576). For visitors with electric automobiles, Inman winery has Sonoma County's first privately owned public charging station drawing from the electricity produced by the winery's solar panels.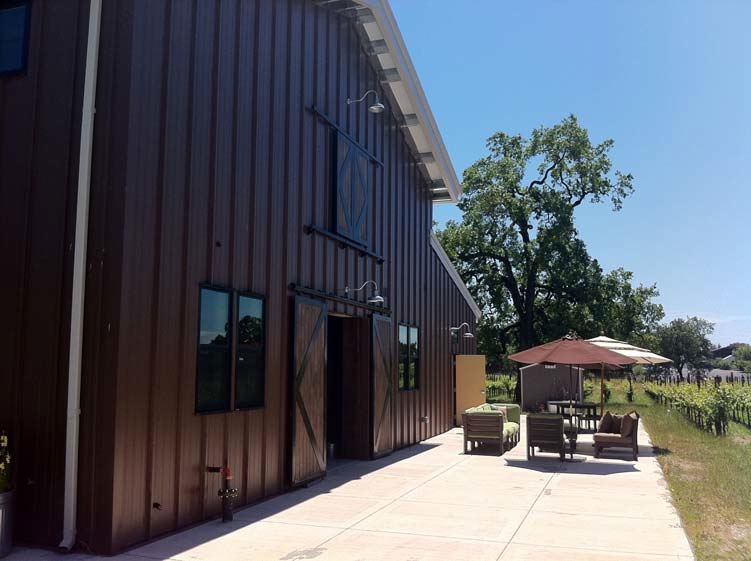 Three Pinot Noirs are produced: a Russian River Valley appellation blend, the OGV Olivet Grange Vineyard Estate Pinot Noir, and a vineyard-designated Pinot Noir from Thorn Ridge Ranch in the Russian River Valley. An outstanding Pinot Gris and Pinot Noir Rosé ("Endless Crush"), both among the best from California, and a Russian River Valley Chardonnay are also offered. The wines are sold through a Wine Club and online at www.inmanfamilywines.com.
Natural winemaking is emphasized with the goal of displaying the unique vineyard sites from which the wines are produced. Fruit is picked relatively early allowing for naturally low to moderate alcohol levels and high natural acidity. Grapes are 100% de-stemmed. Fermentations are driven with native yeasts, with the addition of organic yeast only when necessary. Usually no water, acid, enzymes or tannin preparations are added.
A three-bedroom farmhouse on the estate, the Olivet Grange Farmhouse, is available for rent and is a lovely place to stay while touring the Russian River Valley. I can personally attest to its comfortable accommodations having stayed there myself.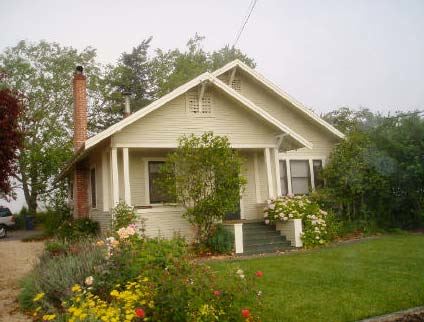 I recently tasted through a mini-vertical of many of the Pinot Noirs produced at Inman Family Wines since the 2003 inaugural vintage. I personally enjoy the style: elegant with lower alcohols and bright acidity consistent in each vintage but with flavor and intensity reflecting vintage variation. The wines could be described as more feminine, but they are not wimpy, with good color and a firm tannic backbone for age ability. Because of the moderate tannins, decanting is usually suggested. I found the wines tasted better when opened in the morning and re-tasted later in the day. The older vintages were still drinking beautifully and should last several more years due to their admirable balance. I found the 2004 and 2006 vintages similar and the 2005 and 2008 vintages somewhat alike. Kathleen is refining her wines as she acquires more familiarity with her vineyard and the 2008 Pinot Noir and 2010 Rosé are world-class and among the best I have had this year from the Russian River Valley. Kathleen has been committed to screw caps for all her wines essential since the winery launched.
The 2006 (limited quantities) and 2007 OGV Pinot Noirs are available directly from the winery. The popular 2010 Pinot Gris has been released ($30) and the 2010 Endless Crush Rosé is selling quickly. I tasted both the 2007 and 2008 Thorn Ridge Ranch Pinot Noir at the winery. The 2007 vintage (14.1% alc., $52) has a plethora of dark fruit with a satisfying earth and herbal accent. The 2008 vintage carries the same theme with less oak influence and is very exciting. The Thorn Ridge Ranch bottlings offer an appealing contrast to the OGV bottlings with their darker fruit profile, minerality and a touch more tannin.