Pinots to Covet

Belle Glos
This label is one of four brands produced by the Wagner family (including Caymus, Mer Soleil and Conundrum). Chuck Wagner's son, Joseph, handles the viticulture and winemaking for this label which honors Joseph Wagner's grandmother, Loma Belle Glos. The first release was in 2001. Three vineyard-designated Pinot Noirs are produced: Taylor Lane Vineyard (Sonoma Coast), Las Alturas Vineyard (Santa Lucia Highlands) and Clark and Telephone Vineyard (Santa Maria Valley). The bottles are among the most charming in the business, offering a long neck dipped in generous wax. A strip tab allows removal of the wax on top (this is not easy to do and should not be attempted by women with long nails). A value-priced bottling, Meiomi, is a blend from all the vineyards and is a popular restaurant wine. The wines are widely distributed in the retail market. The website is www.belleglos.com. I did not find the 2009 releases as appealing as the recent two vintages but there is a good chance they will improve with more time in the bottle. The style of the wines is masculine and dark fruit-centric.
2009 Belle Glos Taylor Lane Vineyard Sonoma Coast Pinot Noir
14.5% alc., $35. 10 acres, yield 1.1 tons per acre, Goldridge loam soil, Dijon clones. · Dark reddish-purple color in the glass. Aromas of black cherry cobbler, cassis, wet stones and crusty bread. Fairly intense and burly featuring black stone fruits and dark berries with aggressive tannins and a rich mouth feel. Needs time to soften and integrate the tannins. Decent.
2009 Belle Glos Las Alturas Vineyard Santa Lucia Highlands Pinot Noir
14.7% alc., $35. This vineyard is located in the southernmost part of the Santa Lucia Highlands which is warmer and exposed to tamer winds than the vineyards in the North. 30.2 acres, yield 1.89 tons per acre. Aged 9 months in French oak barrels. · Dark reddish-purple color in the glass. Fruity nose featuring black plum and berry jam aromas with hints of oak and spice. Oak takes over with time in the glass. Intense fruit core offering flavors of dark raspberry pie filling, plum reduction sauce and oak. Juicy and mouth coating with a soft underbelly and a dry finish. Will benefit from more time in the cellar. Good (+).
2009 Belle Glos Clark & Telephone Vineyard Santa Maria Valley Pinot Noir
14.4% alc., $35. 76 acres including own-rooted Martini clone dating to 1972. Yield 1.73 tons per acre. Aged 9 months in French oak barrels. · Dark reddish-purple in the glass. Opens slowly in the glass revealing aromas of black stone fruits, herbs, spice and oak. A burly, husky wine with a generous core of dark Pinot fruits accented by notes of anise and vanilla. The texture is silky, the tannins are reserved, and the wine finishes with generous oak-imbued fruit. Good.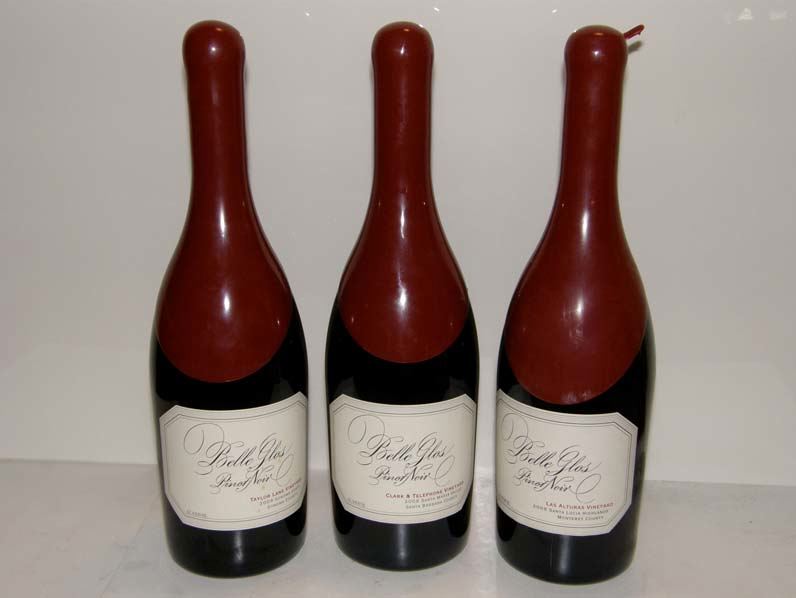 Bonneau Wines & Vineyard
August and Catherine Bonneau, who were originally from Bordeaux, bought 70 acres of land south of the town of Sonoma in 1921. The Bonneaus farmed the land, ran a dairy, and operated a small country store and delicatessen at the corner of Bonneau Rd and Arnold Dr. (Highway 121). In 1988, their daughter, Yvonne, planted 30 acres of Chardonnay on the property, enlisted the Sangiacomos to farm the vineyard, and began supplying well-known wineries in the region. In 2002, Yvonne's son, John Bambury, introduced Bonneau Wines with the release of a 2002 Estate Los Carneros Chardonnay. Since then the winery has expanded into other red wines sourced from vineyards in Sonoma, Napa and Amador counties. The Pinot Noir program began in 2008 with grapes sourced from a Sangiacomo vineyard nearby off Bonneau Road. John is the Director of Winemaking, working with consultant John Tracy at the old Kosta Browne space at Deerfield Ranch Winery in Kenwood. I sampled the following wines with John at Bonneau's corner, a tasting room and family operated delicatessen (The Carneros Deli, open 10:00 to 6:00 daily). The Bonneau wines are also available for tasting at Cellars of Sonoma in Santa Rosa. The wines are also sold on the website at www.bonneauwine.com. All wines are reasonably priced considering the high quality.
Brogan Cellars
Margi Wierenga initially worked out of a bare-bones, makeshift winery arranged under a carport roof in Sonoma County's Dry Creek Valley. You will find there's a sense of déjà vu at Brogan Cellars, and for a good reason. Besides sharing father Burt Williams' hearty laugh and passion for Pinot Noir, she has pursued a similar course in her winemaking career. Margi was a teenager when her father, Burt Williams, started making the first Williams Selyem wines in a basement beneath their garage in the late 1970s. For several years she worked as a volunteer at her father's winery housed in a garage in Fulton before taking a paid position in 1993 at the Westside Road Allen Ranch facility. In between, she worked in different capacities at Hop Kiln Winery. In 1998, she decided to follow in her father's footsteps and start her own winery.
Brogan Cellars, named after Margaret's ("Margi's") paternal grandmother, has all the earmarks of a mom and pop operation. "It was a bootstrap business run on a lean $75,000 start up budget," she says. Her husband, Mike, who owns a refrigeration company, is a handy man who rigged up her winemaking equipment. They use small old dairy vats for fermenters and purchased most of the other equipment second hand, including a tiny crusher. The barrel-aging room, office and tasting area are in a tight, 800 square-foot converted garage that Wierenga was happy to call home until 2002, when additional space was obtained in Hopland, 30 miles north of Healdsburg, where the winemaking now takes place. In 2004, Margi and Mike's son James joined Brogan, adding a third generation to the family business. Customers, too, become family at Brogan. During the harvest, many still volunteer to help with the crush.
Margi crafts age worthy Pinot Noirs from premium vineyards in the Russian River Valley, Sonoma Coast and Anderson Valley (her father's Morning Dew Ranch, referred to on the labels as "My Father's Vineyard"). At times she produces other varietals as well. Most of the wine (less than 2,000 cases annually) is sold to an eager mailing list the old fashioned way: by a mail-in or fax-in order form. Tasting is by appointment. 707-473-0211. The website is www.brogancellars.com.
Margi noted in her release newsletter that the 2009 vintage produced "stunning, very dense wines with deep fruit and complexity." Yields were low so production was limited with each bottling totaling 75 cases or less. She estimates that the wines will age for 10-15 years. I recently tasted the Spring 2011 releases from the 2009 vintage. These are richly fruited and darkly colored wines that make a statement. Despite their full-bodied character, they retain a welcoming balance and silky presence. Do not be in a rush to open these.
Carr Vineyards & Winery
This urban Santa Barbara winery has been releasing consistently solid Pinot Noirs from vineyards that Ryan Carr personally oversees through his vineyard management and development company. He is also the owner and winemaker for Carr. The winery's first vintage was produced in Carr's home garage in 1999. Today, Carr produces 3,000 cases of several varietals including Pinot Noir, Pinot Gris, Syrah, Grenache and Cabernet Franc with a focus on Pinot Noir from Sta. Rita Hills fruit. The Carr tasting room and Wine Bar is open daily and includes wines by the glass, by flight and on tap. Visit the website, www.carrwinery.com, for online sales of Carr wines. Ryan's spouse, Jessica, handles sales and marketing.
I recently sampled the latest 2009 Carr Pinot Noirs. This vintage offered more elegance, charm and refinement than 2008 with an impressive velvety mouth feel on all the wines. All the wines are fruit-driven, moderately intense and approachable now, especially the Three Vineyards bottling which should be consumed within a couple of years. I suspect the vineyard-designated wines will drink their best within 2-3 years and age another 4-5 years.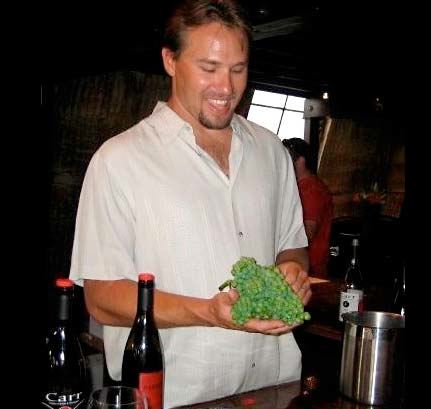 2009 Carr Three Vineyards Sta. Rita Hills Pinot Noir
14.5% alc., 298 cases, $45. A blend of grapes from Kessler-Haak, Yard and Turner vineyards. Clones 113, 777, 114, 2A and Pommard. Aged 12 months in French oak barrels. · Attractive aromas of fresh red and black fruits with a hint of vanilla cream and toasted oak improving in the glass over time. Medium-weight core of earthy plum and mixed berry fruit backed by mild firm tannins. A solid wine that lacks a little intensity and definition, but is well-made and perfectly fine for daily drinking. Good.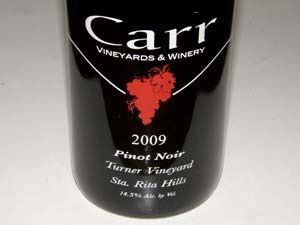 2009 Carr Turner Vineyard Sta. Rita Hills Pinot Noir
14.5% alc., 249 cases, $45. Planted in 2000 by Ryan Carr. 15 acres of Pinot Noir. Yields just over 2 tons per acre. Clones 113, 777 and Pommard. Aged 12 months in French oak barrels. · Complex nose offering aromas of black raspberry pie filling, black cherry, leather glove and earth. Light on its feet with a discreetly concentrated essence of mixed red and black berries, added flavors of brewed tea and plums, with moderate ripe fruit tannins, well-integrated oak, a velvety texture and impressive presence on the lingering finish. Very good.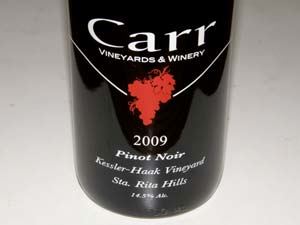 2009 Carr Kessler-Haak Vineyard Sta. Rita Hills Pinot Noir
14.5%, 172 cases, $50. This vineyard was planted in 2005 and has 26 acres of Pinot Noir. Yields were 1.5 tons per acre. Clones 114, 2A and Pommard. Aged 12 months in French oak barrels. · Demure aromas of black raspberries and dark strawberries with a kiss of spice, forest floor and oak. A symphony of delicious black raspberry, rhubarb and plum flavors that really attract your attention. Tannins are well-proportioned and the mouthfeel is all silk and satin. A tasty, seamless wine that really attracts your attention.
Copain Wines
Wells Guthrie began his wine career working at the Wine Spectator's San Francisco office as a tasting coordinator. He fell in love with Syrah and moved to the Northern Rhone, working for Chapoutier for two seasons and spending time as well with Jean Louis Chave. Wells then returned to work at Turley Wine Cellars. Today, Wells crafts Pinot Noir, Rhone varietals and Zinfandel at Copain Wine Cellars sourced primarily from Mendocino County vineyards. Copain Pinot Noirs in the early years were bold and extracted, but since 2007, Wells has chosen a more elegant, lower alcohol, nuanced style that I find more appealing. The offerings are Tous Ensemble Blends (early drinking blends from vineyards in Mendocino County: Rosé, Viognier, Pinot Noir and Syrah), Les Voisons Blends ( more distinctive, unique Pinot Noir and Syrah blends from vineyards in Anderson Valley and Yorkville Highlands) and single vineyard wines (allocated to mailing list). Tasting is by appointment. The wines are sold primarily through the website and mailing list with some retail distribution. Visit www.copainwines.com. The winery's tasting room in the Russian River Valley is open Thursday through Sunday and other days by appointment.
2009 Copain "Tous Ensemble" Anderson Valley Pinot Noir
12.9% alc., $28. · Moderate reddish-purple color in the glass. Brooding nose offering hints of ripe dark fruits, brioche and oak. Generous core of tasty black stone fruits and dark berries wrapped in fine tannins and offering a satiny mouthfeel. A solid fruit-driven wine. Good.

2009 Copain "Les Voisons" Anderson Valley Pinot Noir
13.3% alc., $40. · Moderate reddish-purple color in the glass. Complex aromatic profile featuring scents of dark red berries, black cherries, and warm chocolate croissant. The black raspberry and black cherry fruit has impressive vim and vigor, making a statement on the mid palate and sustaining through the remarkably long finish. An underpinning of dark chocolate and a hint of grapefruit add interest. Easy to be seduced by the perfectly ripe fruit and tender silkiness of this wine.
The Donum Estate
Donum translates from the Latin to "gift or donation" and refers to grapes as a gift of the land. The Estate is devoted solely to Carneros Estate Pinot Noir, Chardonnay and a Russian River Valley Estate Pinot Noir (from the 11-acre Nugent Vineyard Racke planted in the mid 1990s). Winegrower and President, Anne Moller- Racke, was the Vineyard Manager for Buena Vista Carneros for many years. With the sale of Buena Vista in 2001, Anne split off 200 acres of the Buena Vista Estate to form The Donum Estate as well as to grow grapes and produce wine under the rejuvenated Robert Stemmler Winery label. The Donum Vineyard consists of 70 acres and contains several clonal selections including Calera, Hanzell, Swan and a Roederer selection known as the Donum "clone." Donum also farms the nearby 20-acre Ferguson Vineyard, planted to Martini clone in 1974 by Thomas Ferguson. Special bottlings from the Donum Vineyard have included West Slope, East Slope and Thomas (Ferguson Vineyard). The winemaker is talented Kenneth Juhasz (YOU haas) who mentored under Ken Bernards (Ancien). He became the winemaker for both The Donum Estate and Robert Stemmler Winery in 2005. The Donum Estate wines are sold through a mailing list and an online store at www.thedonumestate.com. 2005-2007 vintages of Donum Estate Grown Carneros Pinot Noir are still available in limited quantities. The winery is not open to the public, but occasional Open Houses are offered.
The 2008 vintage was marked by two major frosts that caused major damage in Donum's vineyards. The Russian River Valley vineyard lost two-thirds of its crop to frost, and in Carneros about 20% was lost. The vines weathered some heat spikes and cool temperatures in mid and late September allowed good hang time.
Donum Estate is now producing remarkably beautiful examples of Carneros Pinot Noir. The 2008 lineup of Pinot Noirs show more elegance and refinement than previous vintages and all are impeccably crafted. The wines are bold in style due to extended maceration and relatively high new oak elevage and will benefit from decanting. If you want to taste what Carneros is all about now, these connoisseurs' wines are a perfect place to start.
Gros Ventre Cellars
A new producer of small lot Pinot Noir from cool climate vineyards in Sonoma and Mendocino counties. The inaugural releases were from the 2009 vintage totaling 300 cases. The winery is off to a smart beginning. Chris and Sarah Pittenger launched the idea of a winery on the banks of Gros Ventre River near Jackson Hole where they met in 2003. Gros Ventre (grd;' vänt')translates in French to "Big Belly," and the name for the new winery not only refers to this romantic meeting, but to Sarah's pregnant belly during the 2009 vintage and their son, John Henry, who was born the same year. Chris Pittenger worked at noted wine retailer, Wally's in Los Angeles, later becoming a sommelier, and finally developing his winemaking skills at Biale, Torbreck, Williams Selyem and Marcassin. The six vintages spent at these wineries gave him a solid background for working with Pinot Noir. Gros Ventre wines are available through a mailing list and the winery's online store at www.grosventrecellars.com.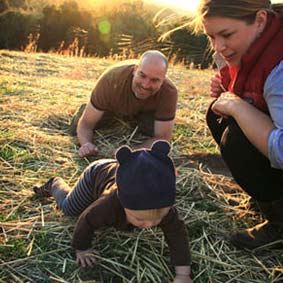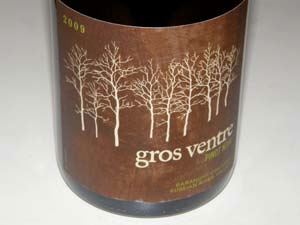 2009 Gros Ventre Baranoff Vineyard Russian River Valley Pinot Noir
14.4% alc., 50 cases, $44. From a 3-acre vineyard in the heart of Sebastopol. This wine is a blend of the 7 Pinot Noir clones on the site: Calera, Swan, 113, 115, 459, 667 and 777. The clones were co-fermented and aged together on their lees. Unfined and unfiltered. · Moderately dark reddish-purple color in the glass. Aromas of dark red berries and black cherries with a hint of baking spices, oak and lavender. Even with decanting the wine is a bit closed, but opens some in the glass over time. Crisp and vivid core of Bing cherry and strawberry fruit with a swirl of cola and oak. Medium weighted with nice balance and finesse, and offering a lengthy finish. Drank beautifully two days later from a previously opened and re-corked bottle. No hurry on this one. Very good.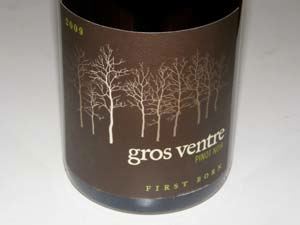 2009 Gros Ventre Cerise Vineyard Anderson Valley Pinot Noir
14.0% alc., 151 cases, $44. A combination of Pommard 5 (one-third) and 2A (two-thirds) clones from this steeply sloped vineyard overlooking the Anderson Valley. Unfined and unfiltered. · Moderately dark garnet color in the glass. Brooding black fruits with a hint of sweet oak on the nose which opens slowly in the glass. Delicious core of perfectly ripe and well-bred black and purple Pinot fruits. A little savory, spicy and earthy. Ideal weight, balance and flavor intensity with a generous finish marked by brisk acidity. A complete wine that shows breeding. Decant if you open a bottle now, but patience will bring further rewards.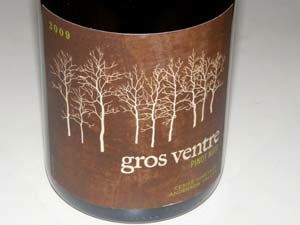 2009 Gros Ventre First Born Sonoma Coast Pinot Noir
14.4% alc., 101 cases, $50. A flagship cuveé representing the best lots of a vintage. This bottling is dominated by fruit sourced from an unnamed vineyard along the true Sonoma Coast. · Dark and densely colored in the glass. The nose leaps out from the glass with of scents of spiced black cherries, raspberries, plums and faint herbal oak. Rich and intense, saturating the palate with plush sweet fruits that find every nook and cranny in the mouth. Lively natural acidity maintains the wine's vitality and supple tannins make for smooth, seductive drinking. This wine is a little too busty for me but it will find many fans. Decanting is obligatory. Very good.
Kent Rasmussen Winery
Kent Rasmussen is not a highly visible Pinot Noir winemaker but he is highly respected among those in the know when it comes to Carneros Pinot Noir. A University of California Davis graduate, he developed his winemaking skills at Robert Mondavi Winery, Domaine Chandon, Stellenbosch in South Africa, and Saltram's Wine Estate in Australia. In 1979, he planted 6 acres of Pinot Noir in Carneros, at a time when there were few vineyards in the region. He gradually increased his plantings and gained early recognition with Pinot Noir from his estate vineyard beginning in 1986. Winemaking, which began modestly in a tractor shed barrel room on Cuttings Wharf Road in Napa Carneros, is currently performed in St. Helena. Kent Rasmussen Winery may be the only continuous producer of Napa Carneros Pinot Noir from a single vineyard and by a single vintner for over 25 years. Rasmussen also has a Pinot Noir clone named after him. Rasmussen produces several varietals along with Pinot Noir and a sister label, Ramsey, started in 1989 using his wife's maiden name, offers value priced wines aimed for the restaurant and retail market. A third label, Esoterica, is built around Petite Sirah. Grapes are either estate grown or under long-term contract with established growers. Tours and tasting are available by appointment at the winery on the Silverado Trail in St. Helena (707-963-5667). I am embarrassed that I have not sampled more of Rasmussen's "Purely Poetic" Pinot Noirs as the one reviewed below was outstanding.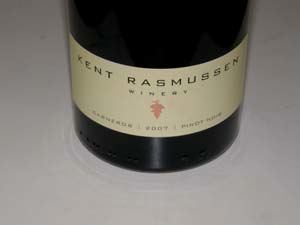 2007 Kent Rasmussen Winery Carneros Pinot Noir
13.7% alc., pH 3.60, TA 0.55, $40. Grapes for this vintage were picked at night for the first time and at a much lower sugar level than recent vintages. Kent feels that the 2007 "is one of the most complex and long lived Pinot Noirs that I have ever made." Aged in 40% new and 6-% once-used Hungarian oak barrels. · Moderate light in color with a reddish tone in the glass. Aromas of cherry cobbler and sassafras. Delicious and elegant with a bright core of black cherry fruit accented with a kiss of toasty oak and mocha. Ephemeral in style with supple tannins, impeccable balance, and oozing pinotosity. This is a wine that impresses with style and doesn't knock you over with fruit. Even better the next day from a previously opened and recorked bottle. A wine winemakers dream of making.
La Rochelle Winery
Livermore, California, would not be high on any one's Pinot Noir list, but La Rochelle Winery is Livermore's best kept Pinot secret, specializing in 4,000 cases of small lots of Pinot Noir from leased vineyards. Founder Steven Kent Mirassou acquired the label from the Mirassou family in 2005 and moved the base of operations to Livermore. The winemaker, Tom Stutz, who has more than 25 years of Pinot Noir winemaking experience, crafts several Pinot Noirs sourced from multiple appellations in California and Oregon. The portfolio of wines include whites, sparkling wines, rosés, appellation wines (Pinot Noirs from Santa Lucia Highlands and Santa Cruz Mountains), single-vineyard wines (Pinot Noir from San Vicente Vineyard in Monterey, Sleepy Hollow Vineyard in the Santa Lucia Highlands, and a Pinot Meunier from Four Sisters Vineyards on the Sonoma Coast) and Pinot Noir Program exclusives available to wine club members only. A tasting room is open each afternoon in the Livermore Valley and the wines are also sold through the winery's online store at www.lrwine.com.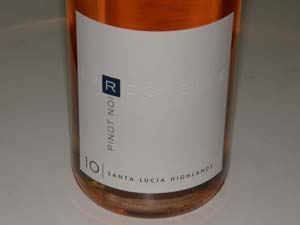 2010 La Rochelle Santa Lucia Highlands Pinot Noir Rosé
13.2% alc., 157 cases, $22, screw cap. Released April 16, 2011. Pommard and Mariafeld clones. · Pretty pinkish coral color in the glass. Very pleasing aromas of blood oranges, bananas, strawberries and pink lemonade. Crisp and tangy on the palate with a tasty array of red berry, guava, melon and orange flavors. I really liked this wine, put the partially emptied bottle in the refrigerator, and polished it off over the next two days. I don't often get excited by a rosé, but this one caught my eye. I am buying some of this perfect summer afternoon drink for myself.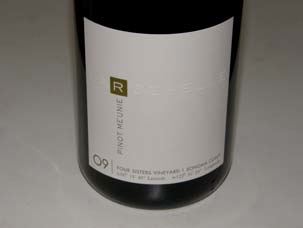 2009 La Rochelle Four Sisters Vineyard Sonoma Coast Pinot Meunier
14.0% alc., 70 cases, $38. Released May 1, 2011. Winemaker Tom Stutz. · Moderate reddish-purple color in the glass. Really attractive nose offering an array of aromas including black cherries, wild dark berries and a hint of vanilla, holding up nicely over time in the glass. Very tasty core of dark red cherries and berries with accents of spice, oak and vanillin. Medium-weighted with plenty of finesse, restrained tannins and good acidity, finishing light, clean and smooth. A bit off the beaten track and for that reason very enticing.
2008 La Rochelle La Cruz Vineyard Sonoma Coast Pinot Noir
15.3% alc., 171 cases, $48. · Released January 22, 2011. Clones 115, 667 and 828. Moderately deep reddish-purple hue in the glass. Brooding aromas of black cherries, black tea, oak and Asian 5-spice. Rich and intense core of darker stone fruits and berries with slight underlying oak flavor. Plenty of fruit but lacks nuance and character. Decent.
Longoria
Rick Longoria is a veteran winemaker in Santa Barbara County who first appeared in the region in 1976 after spending two years at Buena Vista Winery in Carneros where he developed a friendship with Andre Tchelistcheff. Currently, he crafts 3,500 cases of several varietals from his winery in Lompoc under the Longoria label which dates to 1982. He sources grapes from his 8-acre estate Fe Ciega Vineyard, Rancho Santa Rosa Vineyard, Bien Nacido Vineyard and the Sanford & Benedict Vineyard. A tasting room is open daily in Los Olivos. Wines are available for purchase online at www.longoria.com.
I recently sampled the first of the 2009 Longoria Pinot Noirs. The vintage offered ideal weather and balanced crop levels. The wines are nicely crafted in a sweetly fruited style with the Rancho Santa Rosa bottling showing the most restraint and charm.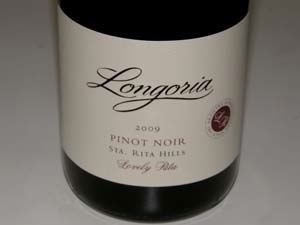 2009 Longoria Lovely Rita Sta. Rita Hills Pinot Noir
14.7% alc., pH 3.52, TA 0.55, 355 cases, $32. A blend of clones 115, 667 and Pommard from the Fe Ciega Vineyard. Since 667 is the most intense and tannic clone, it was fermented in a Ganimedes tank from Italy that uses carbon dioxide created by the fermentation to gently pump over the juice without any breaking of the skins or seeds resulting in softer tannins. The tank also allows peak temperature to be controlled enhancing the aromatics. Aged 11 months in 25% new French oak barrels and aged 6 months in bottle before release. · Moderately dark garnet color in the glass. Appealing perfume of dark berries and plums with a hint of pine, vanillin and spice. Moderately rich in intensity with pleasing array of sweet dark fruits and flavors of mushu plum sauce and slight red licorice and pine pitch. Smooth on the palate with reserved tannins. Highly drinkable now. Good (+).
2009 Longoria Bien Nacido Vineyard Santa Maria Valley Pinot Noir
14.8% alc., pH 3.58, TA 0.58, 150 cases, $45. 100% de-stemmed, 4-day cold soak, inoculated fermentation, 18 days on skins, aged 10 months in 30% new French oak barrels. Lightly fine and filtered. · Moderately dark reddish-purple color in the glass. Aromas of brier, sage, coffee and mocha. Long in the mouth with tasteful darker berries and cherries that are dominated by oak-driven flavors including coffee and mocha. Smoothly textured with moderate ripe fruit tannins. A little fruitier the following day but still sporting prominent coffee flavor from a previously opened and re-corked bottle. Oak should integrate with cellaring, but at this time I can only rate the wine as Decent.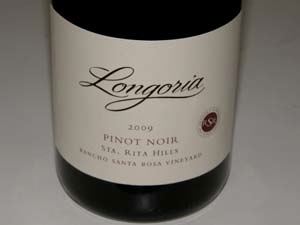 2009 Longoria Rancho Santa Rosa Vineyard Pinot Noir
13.4% alc., pH 3.55, TA 0.58, 110 cases, $45. Clone 667. 3-day cold soak, inoculated fermentation, 12% whole clusters in one bin, aged in 30% new French oak barrels. Fined and filtered. · Moderately dark garnet color in the glass. Fruity nose featuring dark red berries and cherries and a hint of oak. Delicious core of discreetly rich strawberry, black raspberry and black cherry fruits with a subtle hint of citrus peel in the background. The most seamless, feminine and satiny wine of the 2009s tasted. Even better the next day from a previously opened and re-corked bottle. Ready for current drinking. Very good.
Sonoma Coast Vineyards
John and Barbara Drady founded this label with the 2002 vintage concentrating on wines sourced from the extreme or true Sonoma Coast. The winemaker is veteran Anthony Austin who has experienced 35 vintages in California. A University of California Davis graduate, Austin studied under the great Andre Tchelistcheff. He help found and directed the first crush at Firestone Winery in 1976, the first modern-day commercial winery in the Santa Barbara region. After leaving Firestone in 1981 to establish his own label, Austin Cellars, he crafted two legendary Pinot Noirs in 1982 from Sierra Madre Vineyard and Bien Nacido Vineyard.
Sonoma Coast Vineyards was sold in 2007 to Vintage Wine Estates, with John Drady staying on as a managing partner and Austin continuing as winemaker. The label was changed, but extreme Sonoma Coast vineyard sources remained intact. The emphasis is on vineyard-designated wines with several single vineyard Pinot Noirs, a Blanc de Noir, two single vineyard Chardonnays, a Sonoma Coast Chardonnay, a single vineyard Sauvignon Blanc, and a single vineyard Syrah. The wines are available through the website store at www.sonomacoastvineyards.com. Tasting is offered at Vintage Wine Estates Tasting Room in downtown Healdsburg.
The Sonoma Coast Vineyards Pinot Noirs are vinified in an extracted style using long cold soaks and generous new oak treatment.
Wren Hop Vineyards
A new family winery owned by partners James McDonough and his father James McDonough, Sr., who are both wine geeks. James notes, "Some families play Monopoly, this family would rather debate rootstock and French barrel selection." The winemaker is former syndicated wine columnist Russell Bevan (Bevan Cellars, Showket Vineyards, Drystack Cellars, Harbison Wines), the viticulturist is Greg Bjornstad, and the estate vineyard management is under the direction of Glenn Alexander of Bacchus Vineyard Management. McDonough has assembled an impressive team and his website and wine labels are very professional and provocative. As the website points out, the wren, not the eagle was the King of birds in ancient times. Each of the wines tells of a mythic tale of the wren. The inaugural wines come from the 2009 vintage. The wines are sold through a mailing list and an online store at www.wrenhop.com. Besides the wines reviewed below, there is a 2009 Estate Omens & Prophecy Russian River Valley Pinot Noir ($60). A winery to watch. Listen to Russell Bevan on Grape Radio:http://www.graperadio.com/archives/2008/07/14/talking-wine-with-russell-bevans/ .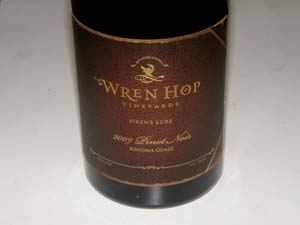 2009 Wren Hop Vineyards Siren's Lure Sonoma Coast Pinot Noir
14.7% alc., 212 cases, $54. · Moderate reddish-purple color and slight haze in the glass. Complex aromatic profile offering bright scents of dark red berries and cherries, dusty road, seasoned oak, spice and cut flowers. Moderately rich core of dark red cherries and raspberries with a hint of mocha, vanillin, spice and savory dried herbs. Interesting, layered and seamless. Holds up beautifully in the glass over an hour's time. Still great the next day from a previously opened and re-corked bottle. Very impressive debut.
2009 Wren Hop Vineyards Shipwreck Sailor Sonoma Coast Chardonnay
14.5% alc., 202 cases, $42. · Straw color with slight haze in the glass. Shy white stone fruits and buttered brioche on the nose. Fairly intense flavors of white peaches, melon, citrus and oak, all combined in a creamy, rich style that lingers on the flamboyant finish. Good (+).