No Need to Blush When Drinking Rosé
Pinot Noir Rosé is a favorite of mine, particularly as the weather warms in the dog days of summer. No need to blush or feel embarrassed to admit you like dry Rosé for it is one of the world's most versatile food companions. Dry Rosé has become de rigueur in restaurants in Paris (often as Pinot Noir versions from Sancerre or Grenache from southern France), Spain (where it is often made from Tempranillo and called rosado), Italy (often crafted from Sangiovese and called rosato), and picnic tables here in the United States. (from red grapes that a winery specializes in, but often Pinot Noir). There are many devotees, a number of which are members of Rosé Avengers and Producers (RAP), founded in 2005 to preach against wine racism and right the wrongs done to dry Rosé (www.rapwine.com). The organization holds Pink Out! gatherings to celebrate fine Rosé.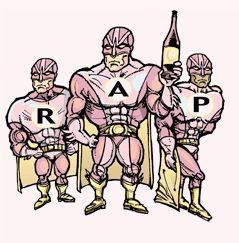 Pink-hued wines made from Pinot Noir go by many names including Rosé, blush, and vin gris, with the term 'blush wine' coming into popularity in the 1970s. Rosé is the French word for pink. Vin gris (van GREE) is French for gray wine. The French refer to dark-skinned grapes as black or noir and grapes that are somewhere in between black and white as gris. There are no pink grapes (grapes with pink skins) per se, but red-skinned grapes can produce wine that is dark red, pink or white. Rosé can be made from any red grape, but Pinot Noir Rosé from California and Oregon is very popular.
Rosé wines are not new, having introduced many neophytes to wine over the last fifty years. Slightly sweet Mateus and Lancers Rosés were a favored quaff of young people of my baby boomer generation. Jay McInerney (Bacchus & Me 2002) remarked: "Back in the summer of 1973 I probably derived just as much pleasure from that first bottle of Mateus as I have from any number of first-growth clarets since. Maybe more. I had just acquired my driver's license, I was in the company of my first love; the night and, beyond it, the entire summer stretched out ahead of me like a river full of fat, silvery pink-fleshed fish. And that was what the wine tasted like. It tasted like summer." More recently white Zinfandel, which is the third best-selling varietal wine in California, has filled the role. These slightly sweet rosés appeal to the American soda pop palate, but often lead to interest in serious, bone-dry versions which have become increasingly popular.
Rosé is intended to be drunk immediately while it is fresh, although serious examples may improve in the bottle for a year or two. There are three methods of production. The first, adding red wine to white wine, has fallen out of vogue and is mainly reserved for sparkling rosés. The second approach involves lightly crushing the grapes, chilling them, and cold macerating them for up to 48 hours. The juice is then drained off and fermented in stainless steel in a manner similar to the production of white wine. The third method, saignée, eliminates the cold soak. Whole or crushed grapes go into a fermentation vat, the color is periodically checked, and the free run juice is drained or bled off to finish fermentation in a separate tank. In the last two methods, fermentation is completed without further skin contact, leaving the most of the color, flavor compounds and tannins in the skin behind. The juice is typically bottled shortly after fermentation with no oak barrel aging.
Pinot Noir Rosé is best served slightly chllled at 55ºF (warmer than refrigerator temperature of around 35ºF). No contemplation is needed, for these wines are to be enjoyed for their refreshing charm. Many examples are bottled in screw cap. Unfinished bottles can be closed and kept in the cellar or refrigerator for a few days without significant loss of flavor.
Unfortunately, wineries do not produce Pinot Noir Rosé in significant quantities, despite its popularity. Pinot Noir grapes are expensive, vinification can be costly when a serious Rosé is crafted, and yet the wines demand only a half or a third of the price of a premium Pinot Noir. The wines reviewed below, ranged in price from to $15 to $30. The wines are typically released in the spring of the year following harvest and disappear rapidly from the marketplace.
The packaging of Rosé is often quite alluring. Unusual bottle shapes and colorful labels are frequent. Names can be creative ("Pink Belly," "Kinky Pink," "Endless Crush," "Pink Fiddle"). Colors can range from a faint apricot to a deep strawberry red, reflecting the length of contact between the wine and the skins (In photo below from upper left clockwise: Ellipsis, Ott, and Calera). The aromas are often shy and not particularly complex. Unlike Pinot Noir, where much of the enjoyment comes from smelling the wine, the pleasure of rosé comes from the bright flavors more than the perfume. Tannins are minimal, making the wines a perfect accompaniment to summer fare including hot dogs, sausages, hamburgers, grilled chicken and seafood, chicken salad, crab or shrimp Louis, and my favorite, a BLT sandwich.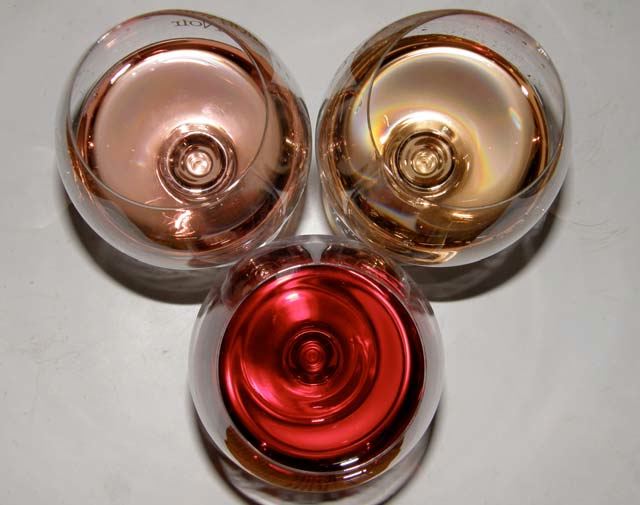 Two Rosés that stood out are reviewed elsewhere in this issue: 2010 Inman Family Endless Crush Russian River Valley Pinot Noir Rosé and 2010 La Rochelle Santa Lucia Highlands Pinot Noir Rosé. I added a French Rosé to this tasting for comparison.