Pinot Briefs —Newsletter 8.40
Vinify Wine Services Home to Many Pinot Producers Vinify Winery in Santa Rosa is a modern custom crush facility housing a number of boutique Pinot Noir vintners. An in-house collective tasting salon will be opening soon and the first ever Vinify Winery Collective Tasting & Sales Event was held on June 11 for the trade and public. Notable producers of Pinot Noir at Vinify include: Baker Lane, Bjornstad Cellars, Lattanzio Winery, Sojourn Cellars, Barbed Oak Vineyards, Argot Wines, Desmond Wines, Frostwarch Vineyard & Winery, Olson Ogden Wines, Gracianna Winery, Vaughn Duffy Wines, Wren Hop Vineyards & Winery, and Kanzler Vineyards.
Pinot Dieback in Sonoma in 2011 A strange syndrome affecting Sonoma Pinot Noir this spring in which top leaves curl and burn off similar to sulfur burn. Termed "Pinot dieback" or "Pinot leaf curl," it is has been considered a more extreme version of a milder leaf curl common with Pinot Noir in cool weather. Clones 115, 777 and Pommard are most affected. The dieback is a physiologic change and not insect-induced. Leaves have been observed growing back and it is thought that the problem will not affect the overall crop.
The Wine House Pinot Noir Futures The Wine House in Los Angeles holds a Santa Barbara Futures tasting each year. An exclusive pre-arrival sale is still going on until June 30 for those who did not attend. Good values on Pinot Noirs from Ampelos, Cargasacchi, Clos Pepe, Costa de Oro, Flying Goat, Foxen, La Fenetre, Lea, Melville, Ojai Vineyard, Paul Lato, Point Concepcion, and Samsara. Visit www.winehouse.com.
Hotel Healdsburg Partners with Williams Selyem A "Behind the Scenes with Williams Selyem" package offers a chance to visit the winery which is closed to the public. The package includes a Deluxe Guest Room, a welcome bottle of 2005 Williams Selyem Blanc de Noir, and tour and tasting at the new Williams Selyem Winery, and a chef's tasting menu dinner for two at Dry Creek Kitchen. Available June 1 - October 21, 2011. Contact the Concierge Desk at 707-922-5249 or e-mail concierge@hotelhealdsburg.com.
Recent Wine Business Monthly Closure Survey Natural cork is still the dominant closure for 750ml wine bottles among the wineries surveyed in California, Washington, Oregon, New York and Virginia. Screw caps have now reached parity with technical corks and synthetic closures. Synthetic closures are primarily used by large wineries. Closures like Vino-Seal, Vino-Lok and Zork are not widely employed but their usage is increasing. Amorin, the cork supplier, has reported recently that 70% of wines are closed with cork stoppers, 16% with metal screw caps and 14% with plastic. Aluminum screw caps can be recycled, and plastic stoppers can be as well if they are marked with a chasing arrows symbol. Natural cork cannot go in the recycling bin and is not compostable. Wine drinkers can recycle real cork stoppers through ReCork or Terracycle.
Crushpad Moves Headquarters from Napa Valley to Sonoma Foley Family Wines, the parent company of Sebastiani and a major investor in Crushpad, has struck a financial deal to allow Crushpad to move its primary winemaking facility to a portion of the historic Sebastiani Winery in downtown Sonoma. Crushpad plans to open a tasting bar at this new location later this year, allowing more than 100 Crushpad clients to offer their wines for sale. Crushpad also plans to have interactive wine education stations, and host pouring seminars and events in the new location. Clients will still be able to make wine in the Napa Valley at Bin to Bottle. Crushpad has produced more than 5,000 wines since its founding in 2004 in San Francisco (1 out of every 100 wines sold in the US). A full list of vineyards available for prospective winemakers is listed at www.crushpadwine.com/vineyardlist. I will be visiting the new headquarters in June to taste a number of Pinot Noirs vinified at Crushpad and will report on my experience in a future issue.
Portland Urban Wineries A new association has formed to increase the visibility of Portland urban wineries that include Grochau Cellars, Hip Chicks Do Wine, Vincent Wine Company, Helioterra Wines, ENSO Winery and Seven Bridges Winery. Urban wineries are becoming the modern day "garagistes," and are quite popular among urbanites. The organizations first tasting event, PDX Urban Wineries Premier was held June 12 at The Slate in Portland. Visit www.pdxurbanwineries.com.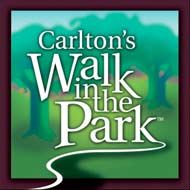 Carlton's Walk in the Park This event benefits local charities and offers gourmet foods from local restaurants, fine wines, talented musicians, and colorful art. Notable Yamhill-Carlton participating wineries include Anne Amie, Belle Pente, Carlton Winemaker's Studio, Elk Cove Cellars, The Four Graces, Luminous Hills-7 of Hearts, Penner-Ash, Scott Paul Wines, Solena Cellars, and Soter Vineyard. Held at Wennerberg Park in the quaint town of Carlton, Oregon, on Saturday, July 23 and Sunday, July 24. Admission is only $15. Visit www.caltonswalkinthepark.com for more information.
Farm Dinners There are currently two major traveling farm dinner organizations that set up tables outside in a farm or vineyard, occasionally in a barn or greenhouse, source food from local purveyors and artisans, and serve a wine-paired feast. Ingredients are determined by what is fresh the day of the dinner. Farm to Fork Events is located in Oregon and was founded by Chef Matthew Domingo. Big Table Farm in Gaston will be the featured winery at an August 20, 2011 dinner. For a list of this season's dinners, visit the website at www.farmtoforkevents.com. The same idea has become extremely popular in California where Outstanding in the Field conducts wine-paired dinners at farms throughout the state as well as the nation. The OITF crew revitalized a 1953 red and white tour bus that carries the team of Caleb Coe, Jeremy Fenske and Elaine Skinner and others from site to site. Meals are prepared by celebrated chefs of the region. Farmers, producers, culinary artisans and diners share the long table. OITF was launched in 1999 by chef and artist Jim Denevan. Some people have been known to follow the bus around, attending several dinners in succession. For this year's list of dinners (many of which are sold out), visit www.outstandinginthefield.com.
Startling Facts to Ponder The Wine Enthusiast reported the following general statistics in the May, 2011 issue. Millennials offer a huge wine market as half the world's population are under 30 years of age. 96% of Millennials belong to a social network, and Facebook would have the world's third largest population after China and India. 67% of Millennials get wine information online, compared to 47% of Boomers. 30% of Millennials and 61% of GenX are tweeting about wine. At the 33rd Annual Russian River Valley Barrel Tasting held over two weekends in March 2011, Millennials made up a large portion of the estimated 27,000 people who attended.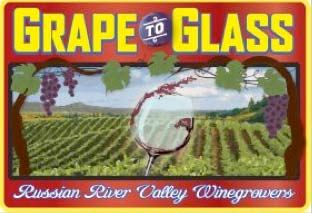 Many Summer Wine Events in West July 12: Sonoma in the City, San Francisco (www.sonomawine.com); July14: Forks & Corks, City Scape in Phoenix, AZ (www.forksandcorks.com); July 16: Passport to Wineries of Santa Cruz Mtns (www.scmwa.com); July 21: Taste of Terroir - Livermore Valley Wine & Food Experience, Pleasanton (www.lvwine.org); July 22-23: Chardonnay Symposium, Santa Maria (www.thechardonnaysymposium.com); Aug 1-7: San Francisco Chefs 2011, San Francisco's premier food, wine and spirits week, Union Square (www.sfchefs2011.com); Aug 12-14: Wine & Fire, 10th Anniversary of Sta. Rita Hills AVA (www.staritahills.com); Aug 19-21, Grape to Glass, Russian River Valley (www.rrvw.org); Sept 3: Taste of Sonoma, MacMurray Ranch, Healdsburg (www.sonomawinecountryweekend.com).
Adelsheim "Best of Vintage" Pinot Noir A prestige cuvée, "Vintage 29," represents the epitome of the Adelsheim Vineyard and will not be made in every year. The first release is from 3½ barrels of Pinot Noir from the 2006 vintage. 972 bottles are available from the winery at $140/bottle. A 3-bottle vertical of 2008 Vintage 31 and 2009 Vintage 32 is available for $500. Visit www.adelsheim.com.
6th International Wine & Heart Health Summit This biannual event is being held in Oregon for the first time in the heart of the Willamette Valley at the Allison Inn & Spa in Newberg. I look forward to this conference as it brings together winemakers, winery owners, physicians, and researchers from around the world to discuss and exchange ideas about wine and health and the biology of wine. This year's event includes private winery tours, special tastings, and a black tie wine dinner and auction featuring auctioneer Matt Kramer. Honorary Co-Chairman is Donald R. Olson, MD, FACS, founder and owner of Torii Mor Winery in Dundee, Oregon. Visit www.winesummit.com to see the full program.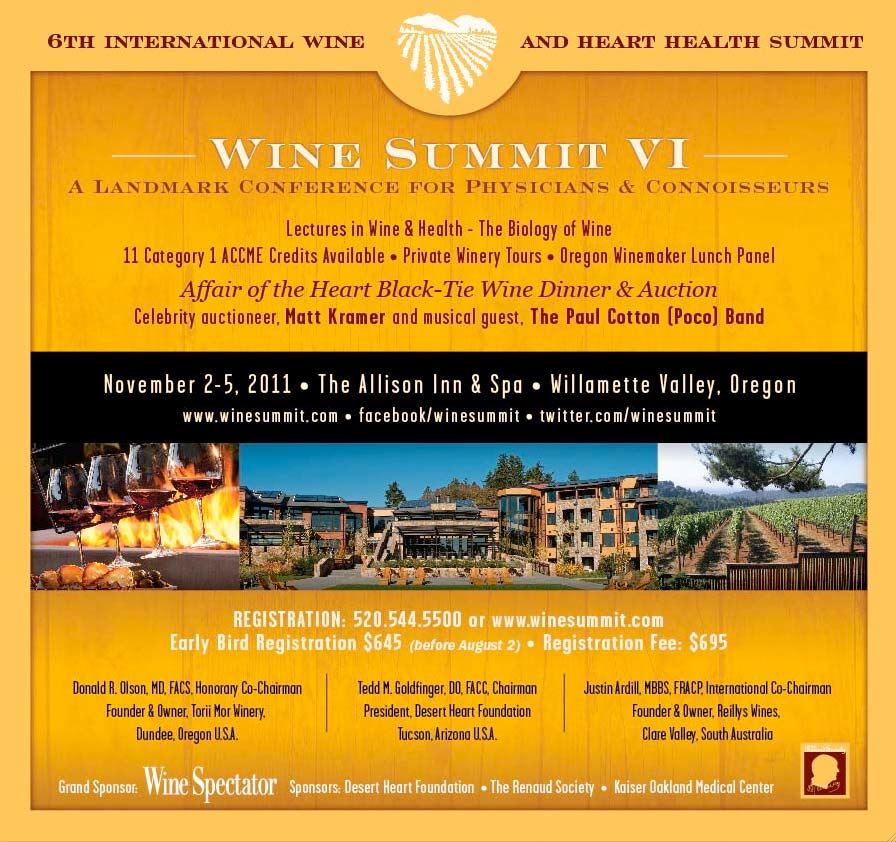 Moderate Alcohol Decreases Risk of Dementia A recent study from Germany has shown that moderate intake of alcohol protects against dementia in people over the age of 75. The daily consumption of alcohol decreases the risk of dementia by nearly 30 per cent compared to nondrinkers and the risk is another 30 percent lower for people who imbibe one to two standard drinks a day. The study also found that the risk of Alzheimer's Disease, a specific form of dementia, is similarly reduced with light to moderate alcohol consumption. Other scientific researchers have considered this study to be vary valid, even after controlling for factors such as better education, absence of depression, more social contact and not living alone. The study also confirmed what other similar research has demonstrated, namely, that the beneficial effects of light to moderate alcohol consumption for those with dementia are significantly increased in wine drinkers compared to those who drank beer or spirits.
New Wine Label Laws in Canada - US Next? Beginning in 2012, a new Canadian labeling law requires that both domestic and imported wines that contain proteins that might cause allergy display a warning label that states, "Contains eggs, fish, or dairy," as well as sulfite information. The labeling only applies to wines that have potential allergens remaining in the finished wine, that is, wines that are fined but not filtered. A similar law was proposed in 2006 in the United States but has not been enacted and remains voluntary. Opponents of this labeling requirement point out that allergic reactions to fining agents such as isinglass, albumin and casein are extremely rare and those with serious food allergies should probably avoid wine completely anyway.
West Sonoma County Wineries Eleven wineries within 11 miles now offering many events. Wineries include 1-Balletto Vineyards & Winery, 2-Dutton Estate Winery, 3-Dutton-Goldfield Winery, 4- Freestone Vineyards, 5-Graton Ridge Cellars, 6-Hanna Winery & Vineyards, 7-Iron Horse Vineyards, 8- Miramar Estate Vineyards & Winery 9-Red Car Winery, 10-Russian River Vineyards, and 11-Taft Street Winery.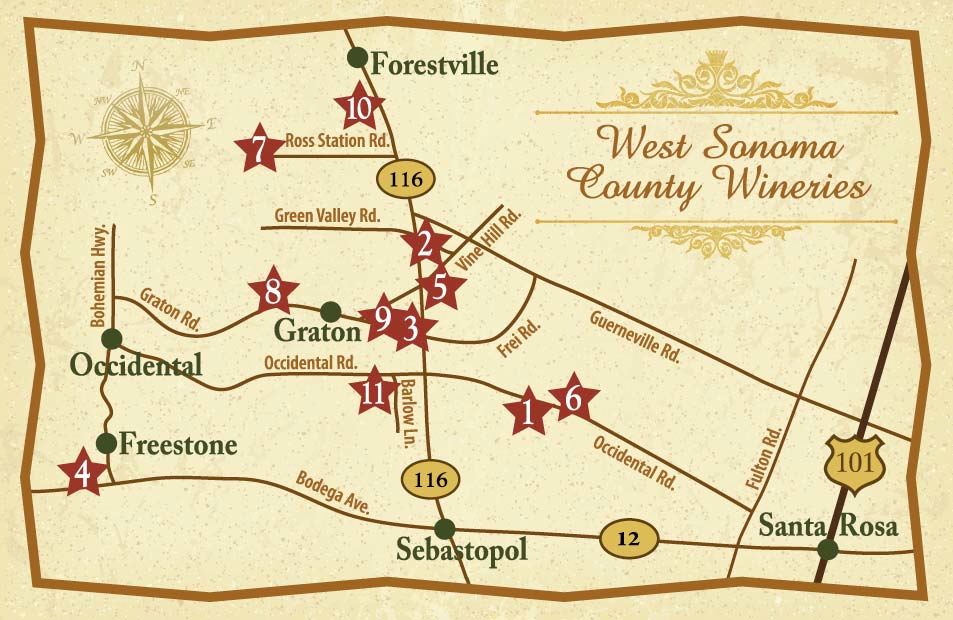 R² Wine Company Opens Tasting Room Roger Roessler, who founded Roessler Cellars, and brother, Richard who has been part of the winemaking team at Roessler Cellars, have opened a tasting room for their new label, R² (R squared) at 653 Broadway in Sonoma. Grand Opening Week was June 10-17. R² Wine Company offers single vineyard and appellation blended value wines including Pinot Noir, Chardonnay, Rhone Red and Rhone White, Grenache Blanc and Rosé. In addition, limited production wines are sold only through the tasting room and to wine club members. Visit the website at www.r2winecompany.com.
WOW Wine Festival West Sonoma County Vintners (not to be confused with West Sonoma County Wineries above) is having an inaugural event, the West of West (WOW) Wine Festival August 5-7, 2011, in Occidental. The highlights on Saturday are a seminar on older Pinot Noirs with Burt Williams and Ted Lemon, a Grand Tasting of wineries in the association, and a Whole Hog Feast with season 3 Iron Chef contestant Duski Estate of ZaZu Restaurant. Open houses will be held Sunday at all participating wineries including Peay, Red Car, Littorai, Failla, Freeman, Freestone, Flowers, Martinelli, Cobb, Hirsch, Miramar Torres, Patz & Hall, Ramey, Boheme, Ceritas, Evening Land, Benziger, Fort Ross, Small Vines, Benovia, Chasseur, Lioco and Whetstone. For information and tickets, visit www.westsonomacoast.com.
2008 DRC Retail Prices Brother, can you spare several hundred c-notes? Echezeaux - $650, Grands Echezeaux - $825, La Tache - $1,700, Montrachet - $2,850, and Romanee-Conti - $9,000.
Sta. Rita Hills Wine & Fire 2011 The Sta. Rita Hills AVA is celebrating its 10th Anniversary with a revival of the Wine & Fire event, August 12-14, 2011. On Friday, August 12, tastings in locations on the eastern and western boundaries of the region are offered. Saturday morning will feature an in-depth tasting with the important winemakers and wines of the past decade, and a look at the future of the Sta. Rita Hills. The seminar will be held at Rancho El Jabali, Richard and Thekla Sanford's heritage vineyard. Panelists will include Richard Sanford, Rick Longoria, Bruno D'Alfonso and Kathy Joseph as well as upcoming winemakers, who will each select a wine that they believe is their best representation of the AVA over the past ten years. Saturday evening there will be a wine tasting reception in the courtyard of the historic La Purisma Mission in Lompoc that will include fire-grilled foods. Winery members of the Sta. Rita Hills Winegrowers Alliance will be open to all visitors through the weekend. A full listing of events will be posted on the Sta. Rita Hills Winegrowers Alliance website (www.staritahills.com).
George Rose Photography For decades George Rose has covered Hollywood, sports stars, Western landscapes and wine country. He led a remarkable career at the Los Angeles Times, USA Today, Rolling Stone, and Time Magazine. In 1990, he traded a career in photojournalism for wine, focusing on wine country photography. Currently, Rose is Public Relations Director at J Vineyards & Winery. Visit the website at www.georgerose.com to order the book "The Art of Terroir," or to purchase other wine country photography and fine art prints.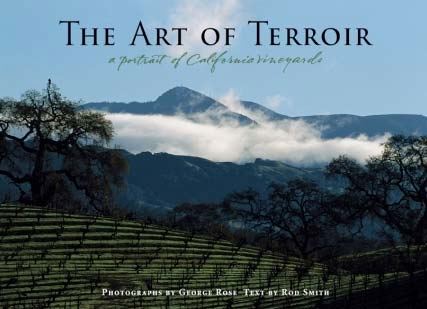 Sogno del Fiore 6th Annual Wine Tasting Dinner Jerry Fiore hosts this annual event at his beautiful home in the Santa Ynez Valley (2045 North Refugio Rd., Santa Ynez) on Saturday, August 20, 2011. Benefiting People Helping People and the Juvenile Diabetes Research Foundation, "The Gathering II" includes a Champagne reception, wine tasting with prominent California wineries, and food from recognized chefs in Santa Barbara County. Featured Pinot Noir wineries include Arcadian, Carr Vineyards & Winery, Kosta Browne, Melville, Paul Hobbs, Pisoni, Roar, Sinor-LaVallee, Seagrape Wine Company, and Siduri. Featured chefs are from The Ballard Inn, The Brothers Restaurant at Matteo's Tavern, Chef Rick's Ultimately Fine Foods, Full of Life Flatbread and Trattoria Uliveto. Tickets are $145 per person with a discount for Friends of Friends Wine Club Members (see www.sognodelfiore.com).
Pinot Family Reunion The 7th Annual Pinot Family Reunion will be held Sunday, July 10, 2011, at John Ash & Co. at Vintners Inn in Santa Rosa. The event includes a Wine & Food Tasting from 1:00-4:00 ($50) followed by a Family Style Dinner at 5:00 ($120 all inclusive). Proceeds benefit the Sutter North Bay Woman's Breast Care Center and the Healthcare Foundation of Northern Sonoma County. Participating Pinot Noir vintners include: Alysian, Amphora, Benovia, Dionysus, Emeritus, Ferrari-Carano, Gracianna, Graton Ridge Cellars, Hartford, Holdredge, Iron Horse, James Family Cellars, John Tyler, Kokomo, Kosta-Browne, La Crema, Lazy Creek, Littorai, MacMurray Ranch, MacPhail, Martin Ray, Martinelli, Merry Edwards, Moshin, Old World Winery, Orogeny, Paradise Ridge Winery, Paul Hobbs, Roessler Cellars, Siduri, Small Vines Wines, Suacci- Carcierre, T.R. Elliott, and Trecini Winery. Visit www.vintnersinn.com for information and tickets.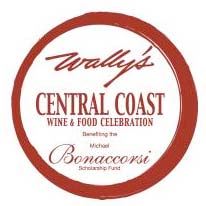 Wally's 8th Annual Central Coast Wine & Food Celebration This annual event will be held Sunday, July 31, 2011, from 1:00 to 4:00 at Wally's (a wine retailer) in West Los Angeles. The Michael Bonaccorsi Scholarship Fund at University of California Davis Department of Enology is the benefactor. Many notable Central Coast wineries will be pouring along with signature dishes from renowned restaurants including Hitching Post II, Spago Beverly Hills, CUT, Bouchon Beverly Hills, Lucques/ A.O.C./Tavern, The Hungry Cat, Osteria & Pizzeria Mozza, Bouchon Santa Barbara, The Wine Cask, La Brea Bakery, Jar, Melisse, and Chef Rick's Santa Maria. A silent auction includes special wines, winemaker-led-tours, tastings, luncheons and dinners, and travel packages. Tickets are $95 ($149 for VIP ticket). Visit www.wallywine.com.
Oregon Cult Pinot Noir Cruise 2012. On June 25, 2012, join Oregon winery founders and winemakers including Rollin and Corby Soles of Argyle and ROCO wineries and Dick and Nancy Ponzi of Ponzi Vineyards, on a 10-day cruise from Barcelona to Athens. Visit www.foodandwinetrails.com or call 800-367-5348 for details.
Chehalem Winery has Wine on Tap To celebrate its 25th harvest anniversary release, Chehalem Winery has started a new program in the Newburg, Oregon tasting room, offering wine on tap. Consumers can buy a 1-liter branded bottle for a $5 deposit, the fill it up with the 2009 3 Vineyard Pinot Noir or the soon to be released 2010 INOX Chardonnay. The refillable bottles hold significantly more wine than a 750 ml bottle, yet are priced the same. Visit www.chehalemwines.com.
Society of Wine Educators' 2011 Conference The 35th Annual Conference will take place in Providence, Rhode Island, August 3-5, 2011. Both pre-conference and conference activities will be held on the campus of Johnson & Wales University, the largest educator of hospitality professionals in North America. This year's plenary session will focus on Portugal, including a comparative tasting of fortified wines including Port, Madeira and Moscatel. Over 50 guided lectures and tastings on wine, beer and tea will be offered. A winery tour of Rhode Island will follow the conference. If you are not a member of the Society of Wine Educators, you can still get the member rate to the full Conference by using code PRCON11. Visit www.societyofwineeducators.org.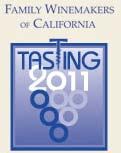 Family Winemakers of California 21st Annual Wine Tasting The public is invited to theFestival Pavilion Fort Mason Center in San Francisco for this huge annual wine tasting. More than 325 wineries will be pouring a variety of wines at this showcase for small, family owned wineries. This year there will be take away wine sales offered. Visit www.familywinemakers.org for information and tickets. As in 2010, Family Winemakers of California is co-sponsoring a resolution in the California Legislature opposing H.R. 1161.
Sacré bleu! French Drinking Less Wine A report recently from The Telegraph (www.telegraph.co.uk) stated that French wine consumption had dropped by three billion bottles to just four billion in two generations. That is equivalent to one bottle per adult each week. 16.5% of the French wine population are regular wine drinkers, but the younger generations are drinking less often regularly with meals and show decreased awareness of the significance of wine in French culture.
J. Christopher Winery Begins Phase II Construction The winery and its "Appassionata" Vineyard are a joint venture project between German winegrower, Ernst Loosen, owner of Dr. Loosen and a Pinot Noir lover, and veteran Oregon winemaker, Jay Somers, founder of J. Christopher. Phase I of construction, the underground barrel cellars, was completed in 2010 and Phase II which includes fermentation rooms, crush pad, bottling room and lab space, will be completed in time for the 2011 harvest. At full build-out, the winery will have a production capacity of 8,000 cases of Pinot Noir and 2,000 cases of Sauvignon Blanc and other white wines. The construction is being undertaken with the utmost care and respect for the environment. The adjoining Appassionata Vineyard will be dry farmed and managed using biodynamic principles. The winery is located at 17150 NE Hillside Drive, Newberg, Oregon. For more information, visit www.LoosenBrosUSA.com.
Napa Valley Mexican-American Vintners Association (NVMAVA) Mexican-American vintners, growers and wine industry notables have organized NVMAVA, a nonprofit organization formed to promote Napa and Sonoma County wines produced by Mexican-American vintners and the contributions of Mexican-Americans to the California wine industry. To commemorate the founding of NVMAVA, a wine and food event called Bautizo (Spanish for "Christening") will be held on Saturday, July 30, 2011, at Maldonado Vineyards in Calistoga. At the event, the NVMAVA log will be unveiled and attendees will be able to sample wines from member wineries including Alex Sotelo Cellars, Ceja Vineyards, Delgadillo Cellars, Encanto Vineyards, Maldonado Family Vineyards, Marita's Vineyards, Mi Sueño, Renteria Wines, Robledo Family Vineyards, Rios Wine Company and Voces Wines. Napa Valley chefs will offer small bites. Tickets are $85 per person in advance. Only 200 attendees will be admitted. For tickets and information, visit www.nvmava.org.
Bronco Wine Company's Charles Shaw Wines Win Top Medals Charles Shaw wines sell for $1.99 per bottle ($2.99 in some states) and over 600,000,000 bottles have been sold at Trader Joe's. The wine has become known as "Two-Buck Chuck." The 2009 California Pinot Grigio won Best of Class/Gold Medal and the 2009 California Shiraz won Double Gold/Best of Class and nine other medals in three major wine competitions (2011 Pacific Rim International Wine Competition, 2011 California State Fair Wine Competition, 2011 Jerry D. Mead's New World International Wine Competition. Several other Charles Shaw wines won lesser medals in 2011. Is it possible they can do it with Pinot Noir?