Ads Appear in the PinotFile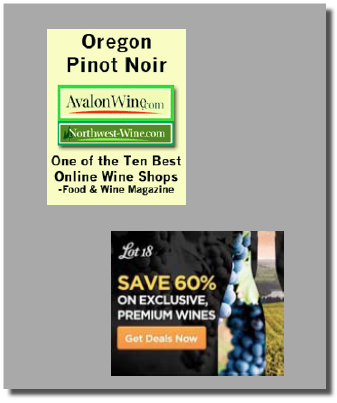 It has always been my intention to refrain from advertisements in the PinotFile other than promoting Pinot Noir and other wine related events. Fortunately, the financial rewards of my previous career as an ophthalmologist have allowed me to pursue wine writing in its purest and most independent form. I accept no press junkets to wineries or regions, pay for most of my travel expenses, purchase a significant number of wines I review, and have no financial interest in any winery, wine business, or distributor.
The PinotFile is free to subscribers, and although it remains a noble and thoroughly redeeming endeavor, I have chosen to improve my coverage of the ever-expanding Pinot Noir West Coast universe by adding some modest income by permitting wine related advertisers that hold special merit on my site.
Avalon Wine (www.avalonwine.com or northwest-wine.com) is a top source for getting your mitts on Noiregon juice. This retailer dates back well over twenty years when it was founded by Jean Yates. She has been well connected in the Oregon wine industry since its early beginnings and seems to know practically everyone who crafts wine in the state. Her computer background and writing skills lend educational and visual interest to her website. Yates also operates a retail store in the over 100-year-old Corvallis Arms Hotel in downtown Corvallis. Oregon has an open and non discriminatory direct-shipping law allowing Yates to ship wines throughout Oregon and any other state that permits wine shipments. You can even phone Jean personally on her direct line for any special requests or inquires: 541-424-8004. Sign up for frequent e-mail blasts announcing new releases and special offers.
Lot 18 (www.lot18.com) is a flash wine sales site based in New York City founded by Kevin Fortuna and Philip Jones. The site offers premium wines averaging $27.95 in price at an average discount of 39% over retail price. The wines are in limited quantities and only offered for a short time. Lot 18 began operations in November 2010, had sales well past $1 million in April and recently announced they had raised $10 million from investors to expand. Lot 18 leads the other five leading flash sites in average price per bottle. In other words, they sell relatively higher quality wines including Pinot Noir. Lot 18 is simply an advertising platform for wineries who sell directly to consumers that order through Lot 18. You must join, but are under no obligation to buy, to receive the daily offers by e-mail which are quite informative and include reviews by professional sommeliers and wine critics.